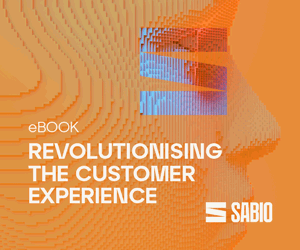 Matt Dyer of Sabio discusses the need for physical support of chatbots. 
For years it's been accepted that a bad IVR interaction can damage the overall customer experience. So why are some organisations now in danger of repeating the same mistakes when it comes to deploying the latest AI-powered chatbot solutions?
The sheer volume of invitations currently landing in my inbox for seminars promoting the shift to conversational AI indicates that there's an accelerating move towards the world of bots – but what's actually happening at the CX coalface?
The reality is that things are quite confused – particularly with regard to who's actually responsible for driving the success of today's major chatbot projects. The CX team is keen to get their chatbot initiatives underway, and launching them is relatively straightforward as there are plenty of available bot frameworks for IT to get started with. Unfortunately, IT is perhaps less committed to supporting CX when it comes to populating and training their new bot so that it has all the right application personality traits and capabilities.
It's the same story with Marketing, who – quite rightly – are keen to own the chatbot's design and branding but generally don't want to think through the impact of their latest corporate design on the customer experience. Given Marketing's enthusiasm to liberally apply expensive tools such as Hotjar and CrazyEgg to track user feedback and overall web performance, it's perhaps surprising that they're less keen to apply the same kind of focus to a critical customer journey element such as the chatbot.
Chatbots require a rigorous focus if they're to be successful
At Sabio we believe that chatbots demand a serious focus if they're to succeed in delivering against an organisation's critical CX goals. Of course, chatbots can be used to perform basic functions such as handling contact deflection, but there's so much more that they can do if they're nurtured properly.
Conversely, if they're left to their own devices, there's a real danger that chatbots could quickly start to be seen as just a next-generation IVR, with the potential to actually damage your overall customer experience.
So you need to rigorously track your chatbot performance, apply best-practice design principles and drive improved results through continual tuning. That's why it's really important to have the right people looking after your bot applications. This could involve a dedicated business analyst in place to understand digitisation opportunities, an app developer with the capability of integrating to some back-end process, or even a content curator/story teller with domain expertise that creates and develops the chatbot's persona and engagement style.
With this kind of support you stop thinking about your chatbot as just a means of deflecting contact demand, and instead really focus on how to train your AI-powered chatbot solution to do much much more. Tight integration with your robotics process, for example, could take the burden away from Know Your Customer activities, while a lot of the onboarding process can also now be handled effectively by the bot.
That's why it's so important that new chatbot projects are backed by the right levels of support from across the business. Marketing needs to get involved to introduce new chatbot services to customers and direct people to the right part of your website. Digital teams should ensure that bots are sited effectively, and that their design doesn't just conform to brand guidelines but is also structured to support effective customer conversations. CX teams also have to provide the critical machine learning data that's required to get any effective chatbot up and running, as well as ongoing chatbot optimisation services.
So it's important that anyone launching a new chatbot service is aware of both its potential and the additional resources required to ensure its long-term success.
This blog post has been re-published by kind permission of Sabio – View the
Original Article
For more information about Sabio - visit the
Sabio Website