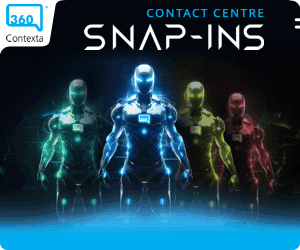 Andrew White at Contexta360 examines the latest multiple-source data that highlights the monumental journey our industry has endured in 2021.
2021 has been a challenging sea of Cs for contact centres across the globe. Coronavirus consequences, change, complaints, control, confusion, compliance and closure, to name but a few.
While we must credit contact centres for keeping the wheels on the track during 2021, it has stretched operational and leadership teams to the limit. Contact centres have responded positively, providing consistency and confidence to customers during these very difficult times, but is it enough to save them?
The Challenges Ahead for 2022 and Beyond Due to COVID-19
Even if we could wish COVID-19, Alpha, Beta, Delta, Omicron, Omega or Zita variants away tomorrow, the wave of destruction and change surrounding us is significant and there are still huge challenges ahead.
On reviewing multiple data, depending on where you are in the world, the dramatic swing to home-based agent capacity has increased to 82 per cent and, in some unique sectors, even higher. There is now significant financial attention focused on whether physical locations are still required.
You don't need to be psychic to predict further office closures in 2022.
Call automation is increasing, reaching nearly 30 per cent of all interactions. But customer frustration is also on the rise. Contact centres are reactive and are deploying agents to pre-call handling to appease frustrations and to reduce call times.
In a world of net promoter scores (NPS), the customer is truly king and contact centres are falling over themselves to retain customers at any cost. Customer experience (CX), customer satisfaction (C-SAT) and CES (customer effort score) barometers are running hot as leaders attempt to navigate change while also trying to reduce their call costs.
Call duration times are up a staggering 79 per cent. This indicates a wave of broken processes and missing knowledge due to the rapid redeployment of human capital, process and policy that have occurred throughout the coronavirus pandemic.
Increases in call duration cannot be attributed to customers wishing to know more about buying or ordering products, or services and much more to do with failures in process or the customer journey.
This is further exacerbated by average call time to answer increasing between 200 and 500 per cent and First Call Resolution (FCR) decreasing. The result is a perfect storm.
It is a Massive Conundrum
We have seen great change in the way we work and the way that customers interact and buy. In parallel, we have taken on significantly more compliance challenges. Remote agents have information outside of the physical and technical DMZ. Overall, I think we have done an amazing job, all things considered.
The consequences of the pandemic are far-reaching, from the customer service we deliver to agent welfare and experience management. Stress has two sides, internal and external, so we need to start changing how we do things and react and embrace these new market and service forces.
Automating and augmenting internal workload and the monitoring of customer journeys are now critical in my view. We are in a world where so much has changed and will continue to change. We clearly have a super-tight labour market, so looking after and developing our amazing staff is critical.
We also need to know what is working and what is not as this is directly linked to customer and staff stress. Automating CES, C-Journey, C-SAT, CX and QM are critical ingredients to understanding "why". Why is the FCR so low? Why are call waiting times so high? Why is the call length doubling? How much of the automation is helping or hindering?
The list goes on but, in short, I predict the need for a new paradigm of metrics and measurement that goes way beyond the meta data we currently extract from our switches, clouds, IVRs and CRM. In short, clarity. The data proves it.
This blog post has been re-published by kind permission of Contexta360 – View the
Original Article
For more information about Contexta360 - visit the
Contexta360 Website