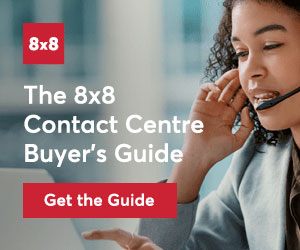 8×8 has announced a new secure payment process and quality management capabilities for its 8×8 Contact Center solution.
The announcement comes alongside recognition from TMC, which named 8×8 Contact Center as a 2019 Customer Experience Innovation Award winner, presented by CUSTOMER magazine.
With 8×8 Contact Center, companies can significantly boost agent engagement, collaboration, and productivity.
The Winter '20 Release delivers new features and capabilities to further help companies, including inside sales teams, achieve meaningful gains in revenue, customer satisfaction and loyalty through:
Strong support for compliance initiatives – 8×8 Secure Pay, a fully integrated, secure payment process option provides an increased level of security for credit card handling while minimizing agent effort.
More efficient outbound campaign and number management – Enhanced dialler capabilities, including Dynamic List Management, automatically update dialling lists by pulling directly from the CRM system in real time.
Live monitoring of interactions on multiple screens – Expanded Quality Management capabilities maximize impact and provide managers and agents with a more efficient and convenient approach to coaching. Includes additional whisper, barge, and take-over enhancements.
"Secure, exceptional customer service is not optional today," said Janice Rapp, Vice President of Product Marketing for Contact Center at 8×8, Inc.
"Any business that has a vision for growth needs a reliable, secure solution that supports customers throughout their journey — regardless of channel — while at the same time growing their agents' ability to deliver a great customer experience."
"8×8 Contact Center provides our customers with everything they need."
8×8 Contact Center is a complete standalone solution including ACD, IVR, digital channels, outbound dialler, reporting, customer experience analytics, quality management, speech analytics, customer surveys and knowledge base, all delivered on one unified, secure, and reliable platform featuring single sign-on and centralized administration.
Pre-built CRM integrations make it easy for agents to access and view customer data.
8×8 Contact Center also offers customers the freedom to use either their own PBX or take advantage of 8×8's best-in-class Unified Communications as a Service (UCaaS) offering.
8×8 Honoured for Customer Service Technology Innovation
The 2019 Customer Experience Innovation Award recognizes best-in-class companies setting the standard in delivering exceptional customer experiences through all channels, including social.
"8×8 Contact Center has been selected for setting the standard in delivering world-class customer experiences across all channels," said Rich Tehrani, CEO of TMC.
"We're pleased to recognize this achievement and know we will continue to see great innovation from 8×8 in 2020 and beyond."
"We are honoured to receive TMC's CUSTOMER magazine 2019 Customer Experience Innovation Award for 8×8 Contact Center," added Rapp.
"This award validates 8×8's AI-centric and intelligent approach to helping companies drive engagement and loyalty by supporting every touchpoint throughout the customer journey."
In addition to receiving the 2019 Customer Experience Innovation Award, 8×8 Contact Center recently won the 2019 CRN Tech Innovator Award, and was named as a Challenger in the 2019 Magic Quadrant for Contact Center as a Service, North America. This is the fifth consecutive year 8×8 has been recognized in this report.