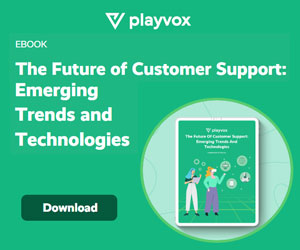 Quick Overview
A Customer Access Strategy can help you run your day to day contact centre operation, and should include the following components:
Customer Segmentation
Contact Types
Access Alternatives
In this article Brad Cleveland explains what a Customer Access Strategy is and why you need one.
---
What Is a Customer Access Strategy?
A Customer Access Strategy is a well-documented, overall plan that guides your contact centre. It helps to think of it as a blueprint for your day-to-day operations.
It is "a framework—a set of standards, guidelines and processes—describing the means by which customers and the organization can interact and are enabled to access the information, services and expertise needed" (Brad Cleveland, Leading the Customer Experience, page 93.)
It consists of 10 components that are there laid out and defined logically, step by step.
Why Do You Need a Customer Access Strategy?
As you develop customer service in your contact centre, the need for a plan becomes very clear. There are many decisions your team is going to have to make around policy changes, new products, and new services. Even more so if you're in a regulated industry.
Having a Customer Access Strategy that's clean, effective and well documented helps you make far better decisions when faced with challenges and questions you need to answer.
Having a Customer Access Strategy that's clean, effective and well documented helps you make far better decisions when faced with challenges and questions you need to answer.
Covering everything from how your contact centre should be organized (with skills and knowledge), what your employees need, and more, it really helps to support the overall direction and longer-term strategy of your organization.
Those that don't have a Customer Access Strategy in place risk decisions being more fragmented and haphazard and wasting a lot of time along the way.
Developing and maintaining a Customer Access Strategy is therefore an investment in time that pays off handsomely.
★★★★★
The 10 Components of a Customer Access Strategy
Your Customer Access Strategy needs to be a vibrant, dynamic, ongoing guide to building your services.
Here is a brief overview of each component of a Customer Access Strategy that you'll need to consider in turn when you map out your plan:
1. Customer Segmentation
A key element of a Customer Access Strategy is customer segmentation. You need to be clear on your customer profiles before you go any further. Who are your customers? How do you define them? How do you segment them so you can serve them effectively?
To find out about segmenting your customer base, read our article: Customer Segmentation: How to Segment Your Customer Base
2. Contact Types
For each of the defined customer profiles, you should ask why would they need to interact with you? For sales? Service? Support? Get as detailed as you need to here, so that you can build the contact centre services that are going to be appropriate.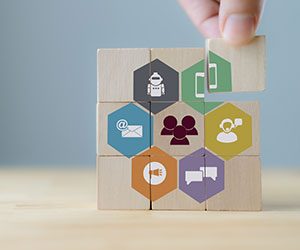 3. Access Alternatives
Based on the above, think about the additional channels you need to roll out. Will your customers prefer text? Chat? Video? Self-service?
It's key that you think through all the alternatives that make sense.
4. Hours of Operation
When you've settled on your choice of channels, you need to consider when you want these options to be available to your customers, as well as what your customers' needs and expectations are here.
This may vary for different channels too. For example, self-service is 24/7, but maybe chat, phone and video run to different schedules of availability?
5. Service Level and Response Time Objectives
Based on your channels and hours of operation, you need to determine what your targets are, and decide how quickly and easily your customers should be able to reach the services that they need.
For the best formula, methods and advice on how to calculate service level (SLA), read our article: How to Calculate Contact Centre Service Level
6. Routing Methodology
Quite simply, this is a case of reviewing how you are going to get the work to the right agent.
7. People and Technology Resources Required
Discuss the people, technology, and additional resources that you'll need to handle this work effectively, as well as the skill sets required.
8. Information Required
At this point you need to stop and think about the frontline employees handling this work.
What systems do they need access to? Do they have the information that they would need to handle any of the work that comes their way? If you aren't sure, speak to your frontline teams.
9. Analysis and Improvement
Customer service is important, but learning from customer service is critically important to ensure that you're always helping your organization to innovate.
Learning from customer service is critically important to ensure that you're always helping your organization to innovate.
Stop and think… How do you capture what you learn in the course of handling interactions? How can you use this insight to improve products, services, and processes?
10. Guidelines for Deploying New Services
Change happens all the time! At some point, you're inevitably going to say "hey, we're going to do this" or "we've got this new product" or "we've got a new policy".
This is your opportunity to map out what happens to each of the other 9 components when this inevitably happens, so you can continually evolve your Customer Access Strategy to remain up to date and relevant.
★★★★★
How to Get Started With Creating Your Customer Access Strategy
If you are looking to get started on creating a Customer Access Strategy for your contact centre, here are some initial steps to follow:
1. Put Your Working Group Together
Who should be in your working group? The first point to note here is that you don't want a huge team of people that are cumbersome to progress.
However, you do need and want representation from different departments, so that you've got cross-functional input that's going to help guide this process, including but not limited to:
Marketing to help with customer segmentation
IT to support the technology components
The contact centre manager (of course!)
An agent (or two) to represent the voice of the frontline.
2. Take a First Pass at the 10 Components
Together, work through each of the 10 components quickly for a first pass at which ones you feel you have well in hand and which ones need some work.
3. Circle Back on Your Weaker Areas
Next, you can circle back and begin working more comprehensively on what needs to be done to fill in the gaps. You want to think about which components you have, which need attention, and then just how you're going to go out and address all this.
Here's where any pre-existing business plans, insights, and experience of particular managers (that may just exist inside their heads) can prove useful resources.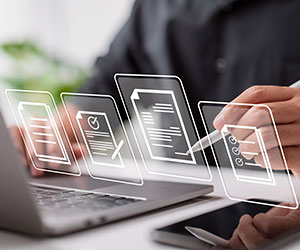 4. Document What You've Discussed
Make sure you document everything! There are no fixed rules on how this should look either – as long as it includes the 10 components, is easy to use, and up to date, it's fine!
This could even be an internal website linking to multiple pages, logically drilling down into the details of the different sections and useful information (including phone numbers, social media logins, etc…)
5. Decide Who Is Responsible for Keeping It Up to Date
Don't forget to document who is responsible for keeping the plan up to date too!
As a general rule of thumb, different components can be delegated to different departments (e.g. Marketing) but the contact centre leader or VP of customer service should ultimately be responsible for the full Customer Access Strategy and take a lead role in ensuring everyone plays their part in keeping it up to date.
Top Tip – It's critical that your Customer Access Strategy is kept up to date if it's going to be relied upon to make decisions that would impact any of these areas.
★★★★★
Mistakes to Avoid
Being conscious of these common mistakes can help you get your Customer Access Strategy off to the best possible start:
Don't Strive for Perfection
You're never going to have a perfect plan, but a good plan is far better than no plan, so do what you need to do to get over that initial hurdle. Get your plan in place, and get it working – whatever it looks like. You can refine as time goes on!
Make Sure It's Not an Academic Exercise
I've seen organizations that invest a lot of time and energy into their Customer Access Strategy and create some fancy PowerPoint slides – and then it just gets shelved, and they don't really use it.
So, make sure it's not just an academic exercise for your team! Get into the habit of using it to guide decisions. This takes a little practice at first, but like anything, you quickly get better at it.
Have Fun With It

Make it uniquely yours and don't compare your brand to others. You want YOUR brand to shine through and for the spotlight to be on your customers, why they interact with you, and how you're going to create a great experience for them. So much so that your customers rave to their friends and family about you!
Further Reading / Additional Resources
With thanks to Brad Cleveland, Consultant, Keynote Speaker and Course Instructor
If you are looking for more great insights on customer service strategies, read these articles next: