A customer access strategy is a well-documented, overall plan that guides your contact centre. It helps to think of it as a blueprint for your day-to-day operations.
As you develop customer service in your contact centre, the need for a plan becomes very clear, but how many people actually have a customer access strategy in place?
To find out, we asked our LinkedIn community if they had a customer access strategy in their call centre.
257 industry professionals responded to the poll and we have put the results together for you: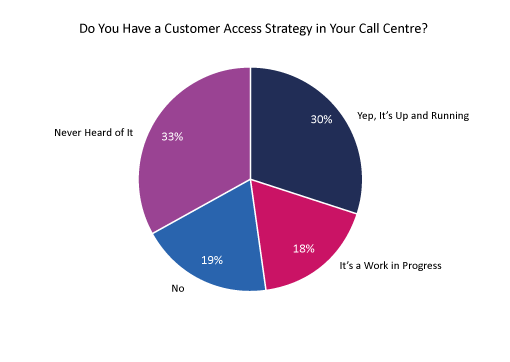 | Have a Customer Access Strategy | Response % |
| --- | --- |
| Yep, It's Up and Running | 30% |
| It's a Work in Progress | 18% |
| No | 19% |
| Never Heard of It | 33% |
A surprising 33% of respondents said they had 'Never Heard of It' and 19% outright stated they didn't have one. This means that 52% of respondents are likely to be lacking a cohesive, end-to-end strategy for their customer interactions.
Only 30% said they had one up and running, and an additional 18% said it's a work in progress, but with this equalling less than 50% of respondents, there is definitely room for improvement in an industry where CX is a defining factor in success.
To learn more about customer access strategies, read our article: An Introduction to… Customer Access Strategy
★★★★★
Key Steps to Consider
Here are some key steps to consider when creating a customer access strategy for your call centre:
Determine Your Customers' Needs
It is important to understand the needs of your customers and what channels they prefer to use when contacting your call centre. Conducting customer surveys and analysing call centre data can help you identify common customer issues and their preferred communication channels.
Optimize Your Channels
Based on customer needs, optimize your communication channels to ensure that your customers can contact you through their preferred method. This may include voice, email, chat, social media, or other digital channels.
Set Clear Communication Protocols
Establish clear communication protocols to ensure that customers receive consistent and timely responses across all channels. Develop a process for tracking and resolving customer issues and enquiries to ensure that they are addressed promptly and efficiently.
Offer Self-Service Options
Self-service options such as interactive voice response (IVR) systems, chatbots, and online knowledge bases can help customers find the information they need quickly and reduce call volume for your agents.
Thanks to Aneek
If you are looking for more great insights on customer service strategies, read these articles next: