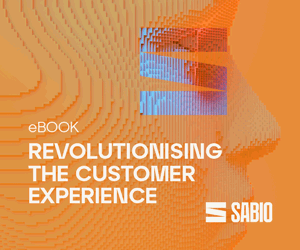 James Hughes at Sabio explains how looking after advisors' mental health and well-being needs to be top of the contact centre management agenda for 2022.
According to a recent UK recruitment survey, almost a quarter of UK employees are planning to change their jobs in the next three to six months.
These findings are increasingly being aligned to 'the great resignation', a global trend that sees people taking the initiative and looking for new opportunities following the cumulative pressures of lockdown, working from home and general job dissatisfaction.
For the contact centre industry, this should be of particular concern.
The annual rate of advisor attrition increased from 15% to 21% through 2020 and into 2021. Although in its own right a real concern, it should cause additional sleepless nights for contact centre management with attrition potentially at risk of spiralling further if the great resignation really starts to bite.
Experts agree that we are likely to lose 30% of advisors from the industry altogether in the next 12-18 months.
For an industry where current attrition rates already cost a typical 500-seat contact centre over £1m annually, with firms having to replace those advisors and train their replacements, any escalation would have huge implications. That's why looking after advisors' mental health and well-being needs to be top of the contact centre management agenda for 2022.
However, discussions around global trends such as the great resignation mask the day-to-day reality of working in contact centres for many advisors.
Today's advisor workloads are changing dramatically. A third now report feeling acutely stressed multiple times each week, and very few are given the tools they need to deal with the increasing complexity of their roles.
Factor in the fact that hybrid working is already removing geographical barriers for advisors in terms of new employment opportunities, and it's clear that retention is set to become even harder in 2022.
Recognising That Advisor Workloads Have Become More Stressful
A recent Harris poll suggested that 46% of all customer interactions are already automated. This level continues to grow, with the pandemic clearly accelerating brands' determination to simplify processes and enable more effective digital access for customers.
And with AI computational power currently doubling every 3.5 months according to McKinsey, you can expect to see automation and AI become even more prevalent as it helps brands to free up customer service resources and make more informed decisions.
While it is logical that effective automation programmes should result in a requirement for a smaller but higher skilled group of advisors, it's essential that brands don't overlook both the initial and longer-term impact of these changes on their people.
Unfortunately, the reality is that – as overall customer call volumes fall – advisors are being left with the more complex, urgent and emotional customer journeys to handle. The impact of such a sustained workload of challenging interactions is undoubtedly placing considerable stress and emotional pressure on advisors.
Working from home has also introduced additional concerns for advisors. While we are seeing some reluctance from knowledge workers, civil servants and managers to return to the traditional workplace, it's wrong to assume that this experience has been universal.
For much of the contact centre advisor demographic, working from home has involved work/life balance compromises and inevitable distancing from their teams and colleagues. This too has had an impact on advisor mental health and well-being during lockdown.
Time to Place an Increased Focus on Advisor Well-Being
Brands need to recognise the impact that major changes such as automation and working from home have had on their contact centre advisors.
We know that advisors already have one of the most monitored, scrutinised and analysed roles that exists anywhere – telling managers exactly what their advisors have been doing. But very rarely do organisations stop to ask what people actually need to do their job better.
What would actually help them to be more productive? What could enable them to feel more empowered?
Placing an increased focus on monitoring advisor well-being also makes smart sense, particularly in terms of identifying what can be done to reduce advisor frustrations.
At a time when optimising agent retention and reducing attrition could prove critical, it's also essential that a contact centre's management team does everything it can to support the mental health of their employees.
It's one of the biggest contributors to attrition and absence in the workplace, with the impact of an unhappy workforce now a £250 billion problem across the European economy.
Well-being starts in the workplace, and we believe that a key goal for 2022 should be to make sure that your culture is centred on the health and well-being of your people.
Even percentage point improvements in advisor well-being can make a positive impact – unlocking measurable improvements in absence and attrition. Happy Advisors = Happier Customers!
For more information about Sabio - visit the
Sabio Website