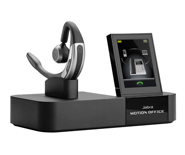 The new Jabra MOTION Office Bluetooth Headset has been launched.
The headset delivers triple connectivity for mobile, softphone or deskphone through Bluetooth technology.
More companies are adopting the hot-desking philosophy in which people share workspaces and laptop docking stations native to this type of office environment. The headset's base can serve as a community desktop docking station, pairing with any other Jabra MOTION headset and creating an instant workspace for the visiting user.
Jabra MOTION follows the user's every move from the office to the open road in one smooth transition, connecting to all your phones with one headset and transferring calls between phones as you head out the door. Using motion-sensor technology, the headset also adapts volume to fit the changing sound environment.
"The main objective with the Jabra MOTION Office has been to let knowledge workers and remote teams gain the full benefits from their mobile devices and collaboration technologies," said Nigel Dunn, Jabra Business Solutions Managing Director, UK & Ireland. "The Jabra MOTION Office is the headset which bridges the gap between the users and the promise of productivity and innovation, allowing the free flow of information."
---