Call blending is an element of outbound calling which has perhaps not yet reached its full potential, as it stands against some of the conventional wisdom of the traditional contact centre industry, which implies that the more one can segregate the contact centre into a series of production lines, the better run the operation will be.
Call blending gives the ability to deliver both inbound and outbound calls seamlessly to the agent, regulating outbound call volume based on inbound traffic. When inbound traffic is low, outbound calls are automatically generated for a specified campaign. When inbound traffic picks up, the dialler dynamically slows the number of outgoing calls to meet the inbound service level. Results can include increased agent productivity, streamlined staffing, and improved customer service. However, this process needs to be understood and managed carefully, as not all agents are adept at dealing with both inbound and outbound calls.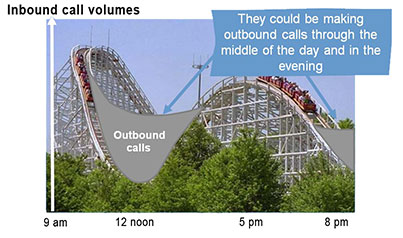 Sales to both new and existing customers are obviously still key reasons why companies carry out outbound calls, and the hybrid method – customer service leading to a cross-sell/up-sell opportunity – is seen as a good way of circumventing the increasing numbers of people registering for the Telephony Preference Service. However, businesses must be careful not to pester customers or abuse the relationship they have built up with frequent calls about products and services that are not tailored to the customer.
Use of call blending
Call blending is used in about 50% of call centres. However, most of this is done on a piecemeal ad-hoc basis. Only 20% of call centres use call blending in a structured way.

Improve productivity with call blending
For many call centres, the biggest question that bugs management is how to manage a balance between inbound and outbound operations, so that there are enough agents to handle calls when the call volume rises. Outbound call centres hold an important place in the present business scenario. Though some call centres work only on an inbound operation, most work on both. These are usually the bigger call centres that have separate groups of trained agents specialising in inbound and outbound calls.
However, smaller call centres can't afford to have entirely different sets of agents specialising in incoming and outgoing calls; they usually rotate their agents from time to time between inbound and outbound operations. For these call centres, the biggest question is how to maintain a balance between inbound and outbound operations, so that there are enough agents to handle calls when the call volume rises and the productivity doesn't fall when the call volume falls.
Here, call blending plays its role. Simply defined, call blending means using outbound agents to receive inbound calls, or using inbound agents to make outbound calls. For example, if the agents receiving calls remain idle for a particular amount of time, they can be used for outbound operations. Similarly, in a process handling collections, receiving calls is as important as placing calls, so the agents can be used for both. Thus, by integrating inbound and outbound services, call blending allows any call centre to maximise its agents' skills as well as their time.
Outbound calls when incoming volumes are low
Most call centres have more or less fixed daily patterns of call volume. The mornings are usually high times for incoming calls, and blending will allow agents handling outbound calls to share the load. Then when the call volume is low, even the agents handling inbound calls can be used for outbound calls. These calling patterns can be fed into the contact centre's predictive dialler program. Most of the diallers use complex pacing algorithms that enable constant modification by monitoring the queue of unanswered calls and the system parameters of the agents.
For example, a company is introducing a new product, and wants to take up a telemarketing campaign to introduce it. Hiring temporary agents may raise quality issues, but utilising existing agents will hamper other operations. Call blending is the best option in such a scenario.
Call blending technology
If a call centre handles multiple processes involving customer service, telephone orders, and outbound telemarketing, then there will be different groups of agents having specific skills for different operations. But some agents are more adaptable than others and can be used as blended agents. These agents' primary responsibility would be handling the inbound calls, but when the call volume is low, the predictive dialler program will send a message or a signal to them, indicating that they have been switched to outbound mode and ring their phones.
A CTI (Computer Telephony Integration) link will prompt the script for outbound calls to run on their respective terminals. Once an agent is through with the call, depending on the call volume in the inbound ACD (Automatic Call Distribution) queue, they may continue in the outbound mode, or be switched back to receive inbound calls.
This sort of blending results in higher productivity from the agents as well as maximum time utilisation, resulting in satisfied customers. Hirsch Kohli, one of the senior managers of a call centre in Noida, India, echoes the same feeling after implementing call blending, "In our company, the implementation of the system gave us a return on investment in a very short period of time, in the form of savings due to higher agent productivity".
As with the low call volume periods, blending can also be effectively utilised during peak hours. For this purpose, during the training and induction period supervisors note the agents who can be used as blended agents during peak hours. When the call volumes are high, calls are transferred to these agents, significantly reducing the time a caller has to wait.
Managing call-backs
But one of the major factors usually overlooked in call blending is managing call-backs. Ashish Saluja (27), one of the supervisors in an upcoming Indian call centre warns from his personal experience, "Call-backs that are to be made by a blended agent must not be lost in the transitions. If the agent placing an outbound call has to call back, but the system is not that high-level to manage that, then it is the responsibility of the call centre supervisor to manage the call-backs."
Another important factor of call blending is that it can even have an adverse effect on your business, if applied blindly. To avoid this, call centre managers need to learn the proper ways of blending. They will have to know the proper application of blending so that the fluctuations in call volumes are levelled, agent productivity is maximised, and agent staffing level is streamlined.
Lack of proper planning
Research has revealed that lack of proper planning in implementation of call blending can reduce customer satisfaction by 10 to 15 percent, and employee satisfaction by 20 to 30 percent. Both these figures are cause for concern as customer satisfaction is paramount in the present times, and soaring attrition rates give sleepless nights to management. As Gautam Sinha, chief executive of TVA InfoTech Ltd. of Bangalore, commented, "The industry's wage bills have risen at least 20 percent in just one year because of the high attrition level and the relative cost advantage of this business will be compromised if companies have to pay substantially higher to retain young graduates".
Therefore, it is very important for managers and supervisors to know when to switch an agent from inbound to outbound mode, and how to do it effectively. This requires a perfect combination of data, knowledge and technology. Even while hiring, managers should be clear about the required agent groups, their skills, and conduct cross-training for agents marked for blending. Studies show that only 10 to 15 percent of agents have the ability to work effectively in inbound as well as outbound mode. Thus, it may be necessary to provide scripts to inbound agents when they are taking up outbound calls.
Divide agents into three groups
It is, therefore, best to divide the agents of any call centre into three specific groups, one each for inbound, outbound, and blended. If the blended agents are handling inbound and outbound calls in a shift, then it is very important that calls should be of a similar nature. Another important aspect to monitor is the pattern of the blended calls. If there is a constant switchover from one mode to the other, agents may lose their concentration and productivity may go down. Thus, proper transition rules should be formulated and applied so that an agent is switched over to outbound mode only after a certain time period with no inbound calls. Even when switching over to outbound mode, some of the agents should be kept in reserve for inbound calls as a precautionary measure.
Last but not least, there should be proper indication systems to let the agents know when they are changing mode. This would rule out scope for any confusion among the agents, and ensure quality of service, as well as productivity.
Call blending is, therefore, a cost-effective way to wipe out abandoned calls, lower queue time, and increase agent productivity. And with agents having the ability to perform inbound and outbound operations with equal expertise, the future for integrated call centres seems bright.
Further reading
Contributors
Steve Morel at Contact Babel
Shusmul in Bangalore
Paul Weald at RXP