With 300 staff handling upwards of 50,000 calls per week, keeping everyone motivated during the holiday months is vital. Ipswich-based Call Connection, the Sunday Times top company for giving a 'fair deal' to staff, knows just how to do it.
The award winning call transfer agency kicks off its annual 'Big Summer Holiday' competition for employees today, with up to £20,000 worth of prizes to be won over a three-month period. This year's theme is the big sporting events, and employees at Saxon House in Cromwell Square will compete by teams over a number of activities. July's games are based on Wimbledon and the Tour de France, whilst challenges in August will focus on the Olympics. In September staff can look forward to an in-house twist on the Ryder Cup golf championship.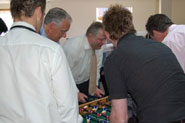 As well as a number of sport-based competitions, employees will also be given points for individual work-related achievements, such as the highest number of call transfers and the most improved performer each month, all aimed at increasing work rates.
Managing Director Graeme Kalbraier commented: "The Call Connection staff work hard and they deserve to be rewarded. The summer holiday competition is an excellent way to spur them on through the summer and encourage teamwork and camaraderie, whilst having fun at work. Figures from last year prove that performance rates were up throughout the competition."
Last year, prizes for the winning teams in the big summer holiday competition included a trip to Paris, a meal at Claridges in London, plus trips to the Newmarket Races, Go Ape and top London shows.
Pictured above – some of the Call Connection employees battling it out over a game of table football.