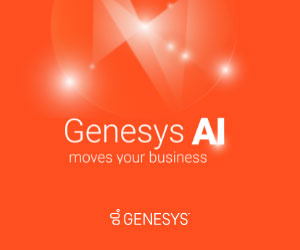 Jason Alley of Genesys encourages increased contact centre spending, as interest rates around the world start to fall.
The US Federal Reserve lowered interest rates on Wednesday July 31st for the first time since the Great Recession. Now is the time for call centres to act as we approach the next major market correction.
I remember the 2009 call like it was yesterday. My boss and mentor informed me that he could no longer keep me on as a salaried employee. The Great Recession finally hit home. It would be over a year until I landed my next full-time gig. Times were tough.
Companies were hit hard, too. Many went out of business or suffered setbacks from which they'd never fully recover. However, some not only survived, they thrived.
In a recent Harvard Business Review article: "What Companies Should Do to Prepare for a Recession", Kevin Laczkowski and Mihir Mysore explain that "the resilients" can deliver greater returns, minimize performance dips and pull away from the competition by enhancing flexibility, spending wisely, maintaining customer loyalty and avoiding haphazard price reductions.
This is useful insight to prepare for the next economic downturn, which many predict will hit between late 2019 and 2021. Kind of crazy to think about bad times when times are so good. However, as hard as it is to admit, we feel it in our bones.
We've been here before and realize it's not a matter of if — but when — things tighten. Like the Federal Reserve, "the resilients" are taking action. Are you?
What Contact Centre Leaders Should Do
You might wonder what this has to do with call centres. True, as a call centre business or technology leader, you don't manage your company's investment strategy or cash position. However, you do have the power to make the business more resilient by modelling the behaviour described above.
Enhance Flexibility
Cloud, cloud and cloud. Did I say cloud? Set yourself up to move quickly and efficiently with little to no IT involvement.
The cloud helps with that — especially if the platform offers a broad set of capabilities built to work together from the start. You'll still want the flexibility to build your own stuff; however, having more capabilities built into the platform that are ready to use will help when IT resources are spread thin.
Aside from technology, think through how to simplify your organization and processes to enhance flexibility. Doing more with less will be the name of the game.
Starting now will keep you in the driver's seat — instead of having to pull off the track to figure things out while others pass you by.
Spend Wisely
Don't wait for mandatory budget cuts before you start managing costs down. There are ways to do this without cutting jobs.
Make it easier for customers to buy and service themselves online — and on the go with mobile devices. Use chatbots to offload repetitive and boring tasks.
You may even go as far as getting artificial intelligence (AI)-based workforce engagement to apply talent more economically. Move to all-in-one platforms to streamline technology.
Do these things now is my advice, while you still have budget to make moves. And be sure to partner with technology providers that are a safe bet, meaning they're financially sound, not overvalued and who consider contact centre their core business (e.g., where the investment dollars will go when money is tight).
Maintain Loyalty
With the possibility of fewer new customers on the horizon, take even better care of the ones you already have.
Use analytics to identify high-value customers and AI to increase your chances of arriving at desired outcomes with limited resources.
Let machine learning make automation more efficient. Extend the love to the masses and show every customer that they matter. Make sure your cloud platform always delivers innovation to keep up with the needs of your customers.
Use the precious human capital you do have to win hearts. And make your contact centre a source of hope and comfort for customers and employees. You can also create special loyalty programmes and provide relief to those struggling the most.
Sure, it's a business. However, loyalty is a matter of the heart. Love customers and employees during tough times and, while they may not always like you, they'll be more likely to stick around and invest when times are good.
A Time to Lead
Go for it! Be the voice of reason and catalyst for resilience. Model healthy behaviour to effect change. Add flexibility, spend more wisely, and cultivate better relationships with customers and employees.
Turn this potential challenge into an opportunity to pull away from your competition as they sputter off the track into the pits of "What hit me?"
Looking back, I'm grateful for getting that call back in 2009. My faith and family relationships strengthened, my spending habits got healthier and a professional opportunity surfaced that I never would have considered — one that gave me the chance to work with some of the most amazing people on the planet.
Here's to thriving in the face of adversity!
---
Recommended Articles