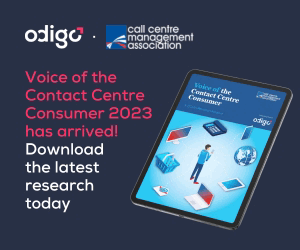 Andy Watts at Odigo explains how customer demand has been driving digital adoption across the financial service sector for a number of years.
This has allowed institutions to take advantage of the agility and service optimisation which can be delivered by migration to cloud-based contact centre technology and transitioning away from legacy financial service systems.
What exactly are the benefits though and how is a smooth migration achieved?
The Why and How of Cloud Migration for Financial Service Contact Centres
The financial service sector used to be divided into two extremes; Fintech and well-established high-street institutions.
Traditionally face-to-face personal service and bricks-and-mortar establishments were the tried and true service style offered in contrast to modern digital convenience.
Now however, what was once a differentiator between the two, digital service, is now an established customer expectation placing pressure across the sector. How does cloud migration help financial service institutions overcome challenges and meet these new demands?
The Challenges Driving Cloud Migration in Financial Services
Technological capabilities and necessity have been driving many changes in the financial services sector. Advances mean that verifying customer identity is now safer, easier and more secure for both sides.
Certainly during the pandemic when face-to-face was out of the question, being able to set up a new account solely online was a huge step forwards in terms of customer convenience and stand-out service innovations.
More and more services, typically conducted in-branch, are now being offered digitally. International transfers and depositing cheques are easier and more accessible than ever before. This empowers end users in new ways with self-service functionalities that can be real loyalty winners for busy customers.
The crux of providing such service is visibility, accurate record keeping and fully integrated channels. These are an absolute must and are challenges that financial service organisations can address through cloud migration.
Customers need to know how much money they have and where it is, not only completed payments but pending ones, it's an absolute necessity for trust and a functional modern business!
Legacy systems pose some very real challenges in this regard when trying to keep pace with digital change, both due to information silos and a lack of real-time transactions.
Despite the limitations of legacy technology there are many myths that hinder cloud migration in financial service organisations. These include some high sensitivity industry topics such as data protection and regulatory compliance.
The truth is that migration to the cloud actually offers many benefits in this regard.
The Cloud Migration Benefits for Financial Service Contact Centres
No customer experience should be neglected, together they inform and influence customer opinion. Of course optimising these experiences with the aid of technology needs to be efficient, economical and adaptable to gain maximum return on investment (ROI).
This is within reach of financial service contact centres undergoing cloud migration. Analyst acclaim supports Contact Centre as a Service (CCaaS) solutions as one of the most impactful strategies and investments when it comes to customer experience (CX).
When addressing the specific pain points of the financial service industry, migration to a natively cloud-based CCaaS solution delivers numerous capabilities in line with the need for enhanced digital service and real-time accuracy.
In fact many benefits of CCaaS solutions speak to the needs of the financial service industry:
Scalability easily allows additional agents to cater to the needs of a growing business or a sudden call spike.
Flexibility enhances speed of service by adapting to demand thanks to metric based alerts which supervisors can use to inform short or long term changes in strategies.
Operational efficiency – call management and routing technologies, workforce management tools and intuitive interfaces streamline contact centre activities.
Real-time omnichannel visibility allows accurate up-to-date advice and interactions.
Accurate record keeping is facilitated by next-step suggestions for agents and AI analysis of speech and text.
Security is not an afterthought, CCaaS solutions are secure-by-design and include numerous features to improve risk management.
The importance of these capabilities working in an omnichannel environment is backed up by the numbers.
A Qualtrics report recently revealed that companies with the strongest omnichannel customer engagement strategies retain an average of 89% of customers, compared to 33% of the rest.
With the cost of attracting new customers known to be higher than keeping hold of existing ones, the increased retention facilitated by omnichannel CCaaS solutions can have a huge impact.
A Change of Focus; During and After Migration, Cloud Technology Puts Financial Service Customers First
The disruption of the customer-facing experience while modernising systems is another concern which can hold organisations back.
This doesn't need to be a pain point however, carefully conducted cloud migration minimises disruptions to financial service customers and ultimately elevates service quality. Ensuring long term performance standards and enhancing customer services should not be considered optional.
Migration is a customer-centric decision; by navigating short term challenges major pain points can be addressed in the long run.
The many tools and capabilities of a CCaaS solution mean that this customer-focus continues after migration as an inherent part of contact centre operations.
Personalised customer interactions and enhanced agent visibility speed customers towards resolution thanks to features like intelligent routing and 360-degree customer views.
This blog post has been re-published by kind permission of Odigo – View the
Original Article
For more information about Odigo - visit the
Odigo Website