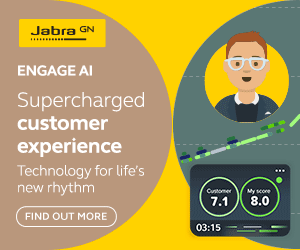 In today's world of remote and hybrid working, it is harder for companies to retrieve equipment from employees when they leave.
There is also the question of what equipment should companies ask employees to return when they leave.
This is why we wanted to share the answers of 627 industry professionals in our LinkedIn Community who responded to Tony's question "Should companies require any company-supplied headsets to be returned if/ when the employee leaves?"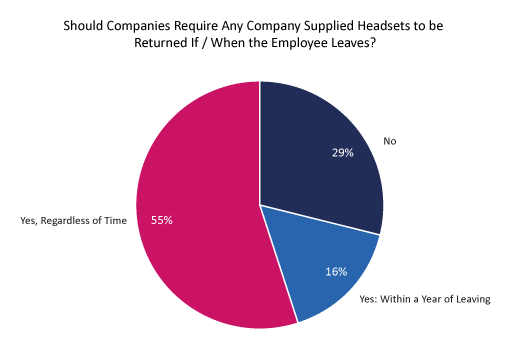 | Opinion on Headset Return | Response % |
| --- | --- |
| No | 29% |
| Yes: Within a Year of Leaving | 16% |
| Yes, Regardless of Time | 55% |
The results show that most respondents believe that headsets should be returned to the company that provided them, and only 29% responded that they do not think the employee should return them.
With 55% of respondents stating the employee should return the headset regardless of the time they have had it, and an additional 15% saying it should be returned within a year of leaving, there is a clear favourite amongst the industry professionals.
This could be due to a number of factors, including company costs, as well as property ownership, but could also be due to changing attitudes on sustainability and environmental impacts.
★★★★★
Several of the respondents also added comments to the poll, outlining their answers and providing additional information on the topic, and we wanted to share some of these with you:
Contractually Yes
Contractually yes, but the quality of most of these headsets isn't even good, especially when they claim it is so expensive.
Thanks to Natalie
Yes – Within a Year
I said yes within a year. The policy must be the same for everyone so let's imagine you have a new employee, and you give them a nice new Jabra Evolve2 75 or Plantronics, sorry Poly, Voyager headset.
Then let's say the employee leaves after 3 or 6 months. You are going to write off the capital as a loss?
Sorry, but no way. Not every headset ends up in the bin or storage cupboard. They can be recycled when purchasing new headsets.
There is an argument for the lower end of the scale, but I still say no.
Thanks to Adam
No as They Are Typically Stored in a Closet
No, I know from experience these don't get reused. Typically, they are stored in a closet because the company orders new ones anyway.
Thanks to Walt
Not With Lingering Covid
Before Covid I would have said yes, but now as it's still lingering, the answer is no. I'm not interested in their keyboard, their mouse or their headset.
Thanks to Deborah
Not Financially Viable to Chase After Headsets
With office-based roles, the equipment is usually kept on site anyway, so collecting is a very simple and cost-effective process.
With the WFH model, a lot of businesses just go for the BYOE (bring your own equipment) option, which makes returning anything irrelevant.
Most WFH operations supplying equipment just ask for the main elements such as laptops and monitors back, as the headset, keyboard and mouse supplied are usually basic and treated as disposable. Even if returned, they're probably going to end up in a box in an IT room somewhere.
So it's definitely not financially viable to chase around after headsets – although there are businesses out there that hold back a sum of money from the employee until equipment is returned.
Thanks to Simon
Is It Worth It?
Do you ask for pens back too?
The answer is in the cost to repurpose the returned headset.
Let's say that's a $60 headset new.
Return shipping costs, handling, and cleaning costs (you're going to pay someone for this), shipping it back out to a new employee.
"Oh, hey welcome to our company, NEW employee Joe. We're glad you are here. You're important. Here's Janet's old headset… but we cleaned it real good, though" (this comes with a cost too).
Worth all this?
Thanks to Greg
Nope
Nope. They'll end up in a closet or trash can if returned.
Thanks to Na'ama
Yes, if They Are Refurbished and Sterilized
Returned – if you have a plan for getting them refurbished and sterilized. If not, then from a hygienic point of view, they should keep them.
Thanks to Benjamin
It's a Consumable
I see it as a consumable.
Thanks to David
People Should Get New Ones
I don't like the practice of having to wear someone else's headset. Didn't the pandemic teach us anything?
There are all kinds of infections for ears. Headsets are cheap as chips. People should get new ones if it's a replacement or a new employee.
Thanks to Ian
It's Company Property
It's not the agent's headset – it's company property.
Thanks to Stephen
You Use Restaurant Cutlery
I appreciate what you are saying, but if you have ever eaten in a restaurant or drunk in a pub you are re-using cutlery or glasses other people have used.
Thanks to Adam
This comparison prompted brief responses from Zak, who stated that "headsets can't go in a dishwasher", and Adam, who countered with "they can be sterilized, though".
Headsets Are Not Designed for Re-Use
Dishes and cups are designed for re-use. Headsets are not. There are many nooks and crannies. In addition, how long will a used headset function?
Furthermore, what does it say about a company that they have to give employees used headsets?
Thanks to David
Agree to Disagree
We will just have to agree to disagree. Many of my clients re-use headsets and one of them was a 40k-seat operation.
If headsets were single use only, companies that purchase/sterilize/repurpose headsets simply wouldn't exist.
Thanks to Adam
Source: Poll conducted in our LinkedIn Community Sample size – 627 Date: 2022