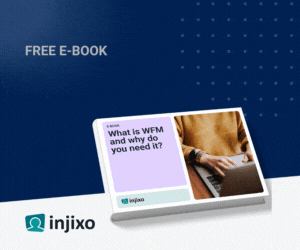 Writing for injixo Todd Gladden explores continuous improvement as a model for WFM success.
When it comes to any type of process, it's important to define what success looks like and what steps are needed to achieve the desired result. Reviewing and refining existing processes is an ongoing task that should never be neglected. The review should always involve all stakeholders.
Embrace the Continuous Improvement Process
There are four components that enable us to objectively look at our contact centre and WFM processes and not only identify gaps or needs, but also test those changes to ensure that the change accomplishes our goals.
Planning: Identifying an opportunity and planning for change
Doing: Implementing the change on a small scale
Checking/Validating: Using data to analyze the results of the change and determine whether it made a difference
Repeating: If the change was successful, implementing it on a wider scale and continuously assessing your results
For example, let's say we've had challenges in the forecasting area in our methodology and outcomes. As part of our CI planning process, we would:
Analyze our current process
Document the steps we took to arrive at the forecasted information
Identify opportunities for improvement
There are multiple ways to identify improvement opportunities, such as:
Brainstorming
Research other forecasting groups' methods
Read articles, or attend association webinars and conferences
Be sure to document the changes and measure whether they are meeting expectations on a regular basis.
In this example, our "Doing" is choosing a forecasting group that we can implement the change with on a smaller scale, say one group of inbound sales associates that manage Chat customers.
We would think of this phase as a trial run of the process change, where outcomes reflect what we could expect on a larger scale. This enables us to analyze, evaluate and tweak the process as we test the validity of our decisions.
In our "Planning" step, we determined the success measurements for the change. We also established what data we needed to review in order to validate those measurements.
This data, and the measurements derived from it, must be valid, accessible and trustworthy in order to properly assess the outcomes and build trust in the process.
Further on in this article, we'll look at some common WFM measurements that can be used in this situation. This checking and validating comes at various intervals, as change does not necessarily occur automatically.
This allows us to see incremental change and adjust the process, as needed, to come to a desirable outcome. We must also consider any external impactors to our forecasting process outcomes as a result of these changes. Being aware of these external impacts should help prevent false outcomes.
As an example, shrinkage has an impact on the actual resource requirements scheduled. If shrinkage percentage, those "other" activities like meetings, training, coaching, etc., is not properly accounted for, and scheduled resources are not adequate, it can adversely affect the actual volume and handle time outcome. This skews the forecast accuracy measures and can give a false outcome when analyzed.
Once we've come to a desired outcome with the change, we can implement it universally. We want to:
Introduce the process changes
Follow the same steps
Perform the check/validation to ensure the changes translate on a larger scale
In our forecasting process example, we could roll it out to the entire customer service, billing and sales teams, continually assessing the outcomes to ensure improvement over time.
I would like to note that one must be careful not to implement too many changes at once, as it not only potentially creates conflicting outcomes, but can also cause confusion and angst with your teams. Best to ease into large scale change and understand any external impactors that might be occurring.
For example, it would be unwise to attempt a forecasting methodology change while implementing a new product sales program and incentive program. Stability does have a significant impact.
Understand the Pros and the Cons of a CI Process
The Pros
As in any business endeavor, there are certainly pros and cons of including a CI process when implementing a WFM solution. However, I've rarely seen instances where the drawbacks outweigh the benefits.
The benefits of stepping back and truly evaluating the gaps in not only your WFM processes, but your contact centre processes in general, far outweigh the efforts needed to appropriately conduct a CI process.
We really want to move beyond the mindset of, "Here's the button to push," to instead, "Here's why we're pushing the button and its ultimate impact on our KPIs."
Consider the decision-making process for evaluating and selecting a WFM solution as a starting point. The technological advancements that have been developed in WFM solutions:
Create opportunities for contact centres and WFM groups to improve time to proficiency (T2P) of associates
Add value to your customer experience
Fine-tune the WFM planning and management process
Increase revenue through sales opportunities
In order to maximize and realize these gains, organizations need to evaluate their current processes and identify potential gaps that prevent them from realizing the gains. They then need to map those to their desired specifications so that the WFM solution enhances those processes and outcomes.
TIP: While recognizing the need to move into a deeper and more robust technological solution in your WFM area, many organizations rely solely on their technology departments to take the reins and run with the "best" solution for their contact centre.
It is advisable to have the technology group involved in order to ensure compatibility with existing systems and software, and integration into the overall corporate technology plan.
While these departments are very knowledgeable about the technological side of the business, customarily they aren't as familiar with the process side of the WFM or contact centre and, therefore, may not be fully prepared to evaluate and analyze the benefits and value of the continuous improvement process as it relates to the contact centre and WFM. This can create a gap in your existing processes if not addressed early on.
The Cons
The most common "con" or reservation in conducting a continuous improvement event usually involves time.
However, a quick fix is often offset by the lack of sustainable change or improvement. CI takes time and involves people and their time, which is why many groups tend to shy away from the idea of a "lean resource" organization.
Setting up a CI program alone takes a great deal of effort, education, and is a strategic process. The time required can cause some organizations to cut corners and avoid in-depth evaluations and process mapping to truly capture the value and benefits of the program.
There are other "costs" to conducting continuous improvement efforts, aside from the time involved. Involving the right team and set of stakeholders along with educating them on the revised process can be a challenge.
Just because someone works in the contact centre or WFM and performs functions daily does not necessarily make them the best team member to evaluate their own processes.
That old saying, "we can't see the forest for the trees", may come into play if individuals have been doing things the same way for some time and may not readily see the value or need for change.
There needs to be a blend of objective eyes that know the current process and may be able to see gaps that are preventing the best outcomes.
Common Barriers to Successful Continuous Improvement Programs
An unrealistic focus on the "quick-fix"
Lack of support from senior leadership
Little or no professional development or training on CI concepts
Poor prioritization
Inadequate employee engagement
Your organization may already have one or more CI teams or programs in other departments or areas. These programs likely have CI processes in place, as well as program managers that are experienced in conducting Continuous Improvement efforts and running these programs.
Utilizing these teams to either duplicate the CI process, train others to conduct these reviews and improvements, or create an entirely new team to perform these functions will save time, take advantage of in-house expertise and get a broader "buy-in."
Building the right team is critical to the success of not only the process improvement effort, but also the implementation of any WFM solution selected.
Remember, the resource and time costs must have significant and measurable benefits tied to desired outcomes to justify the expenditures.
This will create the best path to success. Merely saying that things will be better or faster is not nearly enough for leaders to buy into the process.
Set the Stage, Communicate, Get Buy-in
At the outset, the primary goal of any continuous improvement project is to set the proper stage through communication to all impacted groups.
Change is always challenging, and continuous improvement efforts are no different. If people aren't informed and educated, there may be resistance and delay that can sabotage any effort underway.
There is an acronym that I've used in consulting with organizations around communications and content called "WIIFM." It stands for "What's In It For Me?"
Understanding what's in it for your target audience is critical and helps mold the content appropriately. Executives and other groups have limited time to read voluminous documents, so brevity and clarity are essential.
It's certainly advisable to bring in your corporate communications group, if one exists, to help frame the formats, timing and content of any communications.
Ensure everyone involved understands:
The rationale and reasoning for the CI process
Important milestones
Desired outcomes
What success looks like and how individuals and groups contribute
Getting everyone on the same page will enable a smoother process transition and even help set the stage for the WFM solution implementation.
Set and Continuously Monitor Your KPIs
As Forrester explains: "Executives need strategic KPIs to prove the business case for good customer service operations, while operational managers need to gather more comprehensive metrics in near real-time to make the right decisions about the management of service requests of their workforce."
Some typical WFM Improvement KPIs:
Forecast/Actual Accuracy:
This measurement relates our forecasted volume to the actual volume achieved for that time period. The most accurate measurement of this is on the interval level, normally 30 minutes, for larger groups and longer for smaller groups, say several hours or session. What impact has the change made on this accuracy?
Average Handle Time Accuracy:
Part of the forecasting process is to assess Handle time, as it is the 2nd component of workload, which then translates to resource requirements.
Validating the actual to forecasted handle time ensures we understand the impact this is having on our resource outcomes.
Service Level and Response Time:
Although there are multiple impacts external to the Forecasting process, measuring any change impact on service level and response time (in the case of back-office operations such as email and application processing) is valuable.
One must understand the other impactors to adequately assess any real impact your process change may have in this area.
Forecast Accuracy from Real-Time (Interim Adjustment):
If the WFM team is managing a real-time planning process, this metric can be valuable to assess what impact the real-time management planning process is having on the actual volume and handle time forecasting.
Performing interim re-forecasting in near-time should bring us closer to actual workload and enable the team to provide more accurate resource requirements for contact centre operations.
We should have better and more accurate information on AHT and Volume the closer it gets to the day, based on what has been happening and what we now anticipate to occur in these areas.
Shrinkage % (or inversely, Rostered Staff Factor):
Shrinkage is all the other activities that go on in the centre around the forecasted group activity. Meetings, breaks, training, coaching, projects, Team Lead functions, research, etc. You get the picture!
These are the activities that take away from the Base staff you've forecasted you need to manage the workload at a particular service level.
This is normally accounted for in a %, which is then converted to an overlay Rostered Staff Factor that culminates in your "Scheduled Staff" figure.
The scheduled staff calculation is Base Staff / (1-Shrinkage Factor %). Understanding shrinkage is critical to achieving appropriate staffing and scheduling requirements in centre operations.
In Summary
If organizations miss the opportunity to continuously improve upon their WFM and contact processes while considering a WFM solution, it can result in longer-term issues around acceptance of the solution, distrust in the processes and negative impact to the results utilize to determine success, to name just a few. There are also potential impacts to employee engagement, turnover, and customer satisfaction as well. My hope is that your organization will realize the long and short-term value that including the CI process will bring when implementing a WFM solution.
This blog post has been re-published by kind permission of injixo – View the
Original Article
For more information about injixo - visit the
injixo Website