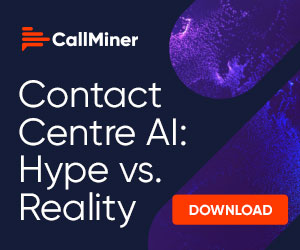 With the proliferation of customer communications channels (voice, email, live chat, social media, etc.), contact centres often find they're swimming in customer data.
The question then becomes: How do companies use all of that data to provide the type of experience that customers are looking to have?
Conversation analytics and speech analytics software is one solution. That's because this type of technology allows organizations to look for specific language patterns that influence company metrics, leading to an improved customer experience (CX) overall.
Let's take a look at the importance and impact of conversation analytics software across all areas of the enterprise.
Conversation Analytics: Not Just for the Contact Centre
One of the primary benefits of conversation analytics and speech analytics technology is its ability to uncover the root cause of customer concerns or issues, which can result in a host of positive outcomes: improved customer satisfaction, increased sales, etc.
In fact, according to recent PWC research, 1 in 3 customers would walk away from a brand they love after just one bad experience.
On the other hand, organizations that deliver great customer experiences can charge a 16% premium to their customers, while still maintaining customer loyalty.
CX, of course, extends to more than just contact centre interactions, encompassing the complete customer journey.
Therefore every interaction, at every touchpoint, across every channel contributes to a customer's overall experience with your brand. There may be problems with field service agents, issues with products, or complaints related to company processes.
When you can understand what's happening in each customer interaction, you can more effectively identify issues, gaps and areas for improvement – from agent performance to better products or services.
The result is improved performance across all departments within the organization as well as enhanced CX overall.
A Closer Look at Conversation Analytics Throughout the Organization
Let's say, for example, that conversation analytics and speech analytics software has identified that sales campaigns have been falling short of meeting customer expectations. How can the sales department leverage that information to drive more effective campaigns?
For performance marketers who rely on customer conversations to effectively target and promote marketing programs, identify new sales opportunities, and drive company revenues, conversation analytics can be the linchpin to improving agent performance.
With conversation analytics technology in place, supervisors receive immediate performance feedback that can help them determine where agents excel and where they may need additional coaching.
Having this data in hand allows managers to implement training programs to hone best practices and improve sales effectiveness overall.
But that's just one example of evangelizing conversation analytics capabilities throughout the organization.
Companies are tapping into conversation intelligence to improve business performance, drive product innovation, detect fraud, increase compliance and reduce risk, manage their brand reputation and experience, understand customer expectations, and more.
Let's take a look at two examples of companies that leveraged conversation analytics capabilities beyond the call centre.
Radial Leverages CallMiner for Cross-Departmental Business Improvements
Radial, an outsourced ecommerce technology and services company, leveraged CallMiner to deliver cross-departmental business improvements. The platform replaced surveys as a means to gain feedback to improve the customer experience.
Recognizing the value of customer conversation insights to other departments, Radial pulled data into its business intelligence product, enabling the company to view its data in the context of the customer journey and share it across every department.
Radial discovered that its clients had interest in how order delivery service, such as last mile local delivery, impacts customer experience.
After conducting sentiment analysis, Radial shared the key opportunities with its client, and the client was able to work with its delivery partner to improve delivery processes.
Robin Gomez, Radial's director of customer care innovation, explained, "These insights created visibility across the customer journey to direct and indirect touchpoints that impact the CX. Real, cross-functional insights help us increase sales, grow and retain customers, and bring new products to life."
Qualfon Leverages CallMiner to Expand Its Talent Pool and Inform Marketing Campaigns
Qualfon, a business process outsourcing (BPO) provider, wanted to transition from a transactional approach to a consultative approach to making sales.
After defining the components of a call that could be measured with conversation analytics, Qualfon leveraged agent performance scorecards to identify areas for improvement, recognize top-performing agents, and provide targeted coaching with a wealth of data.
Doing so reduced the time it takes new agents to reach full sales potential from eight months to three or four months, and the percentage of calls in which agents satisfy all the process requirements for a sales call increased from 61% to 80%.
Qualfon's sales agents can perform self-analysis to uncover performance trends, listen to previous calls, and review their rankings. Likewise, managers can leverage data to identify trends and improve their coaching practices.
Qualfon successfully transitioned to remote work during the pandemic while maintaining consistently high performance benchmarks.
Additionally, insights allow managers to effectively coach team members regardless of where they're located, enabling Qualfon to hire talent nationwide rather than restricting its candidate pool to local talent.
Qualfon's marketing team also leverages data to gain insight into customers' frequently asked questions. These insights inform campaign development, allowing the team to craft targeted marketing campaigns that answer the most common questions and eliminate confusion around pricing and other factors.
After realizing the many benefits to the contact centre, companies like Radial and Qualfon are increasingly exploring ways to apply conversation intelligence to other business functions.
Conversation analytics can be applied to business performance improvements across the enterprise to produce significant improvements in a variety of business processes.
Final Thoughts
In order to realize the full benefits of conversation analytics and speech analytics across the enterprise, proactive companies are using the technology for root cause analysis across all departments (sales, marketing, legal, etc.).
With customer data growing exponentially, capturing and analyzing critical customer information can be both a strategic asset and a long-term investment in a company's customer base.
This blog post has been re-published by kind permission of CallMiner – View the
Original Article
For more information about CallMiner - visit the
CallMiner Website