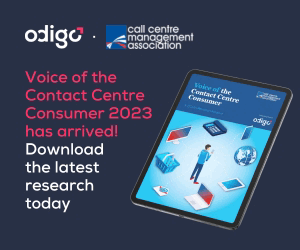 Melissa Cowdry at Odigo explores how it happens all the time, not just in the customer service sphere, disappointment, frustration or delight when experiences either fail to meet or exceed our expectations.
When it comes to customer service, however, being clued into customer opinions can help optimise services in line with expectations to avoid potential failures and plan outstanding moments of satisfaction.
In episode #120 of the Get Out of Wrap podcast hosted by Martin Teasdale, Stephen Yap, Research Director of the CCMA, pointed out that what customers want is simple:
"People ask me this question a lot: what do consumers want? And in a way that is actually the simplest question to answer, I don't need to commission a survey of 2000 people to tell you what consumers want. When it comes to customer contact, people want their questions and their queries resolved quickly and painlessly. That's it… Of course delivering that is not easy. Delivering that is getting harder and expectations are changing."
So how can organisations meet this deceptively simple basic need and how are expectations making this harder?
Rapid Responses
Average speed to answer has more than doubled in recent years, from 40 seconds in 2019 to 82 in 2020 and then to 106 in 2021.
This obviously doesn't meet the need for a speedy resolution and is likely affecting customer opinion and experiences.
The 2022 Voice of the Contact Centre Consumer research by the CCMA, supported by Odigo, showed that 30% of customers thought service standards were worse than in 2021. Interestingly, in the over-55 age range it was significantly higher at 43%.
A slightly different set of questions in the 2021 edition of the same report showed that this age group had reached for the phone, rather than other channels, 15% more than the 18-34 demographic.
A further 1 in 3 people at that time also expected to use the phone more in the future, probably contributing to declining opinions in the time leading up to the 2022 survey.
As Stephen remarked in the podcast, "if you are somebody who tends to gravitate towards the phone as your primary customer contact channel, then you're more likely to have experienced poor service."
If customers want rapid responses but almost a third expect poorer service and the reality is long wait times, current net promoter scores may not be rosy, but an opportunity exists to exceed expectations and differentiate organisations from their competitors. With this in mind, managing wait times can be seen as a crucially important, albeit perpetual, task.
Updating and reviewing qualification processes so they reflect the changing services on offer and current customer concerns, means that waiting does not need to be a waste of time.
In fact, that idle time can be used to answer questions or offer self-service options that customers did not know existed.
Well-planned topical information provided as part of IVR messages can even mean customers no longer need to speak to an agent. Additionally, speech analytics during qualification help identify customers and the reason for their call.
Advanced routing then directs them to the best matched agent who is primed with the extra details collected during qualification. Technology is crucial when contact centres are trying to meet customer and business expectations in the digital age.
Self-Service
Rapid resolution and convenience is how organisations want customers to view self-service which, according to Stephen's definition of what customers want, is ideal. But as Neil Titcomb explained in a virtual think tank, that's not always the case.
"Customers now recognise digital deflection tactics well, which risk creating resentment and churn when organisations fail to articulate meaningful benefits (e.g., less time and effort via self-service) as compared to speaking with an agent," says Titcomb.
To some extent, customers are now identifying these benefits themselves and are becoming savvy as to which self-service experiences actually meet their needs for quick, painless resolution.
Low complexity, low emotion and low urgency queries are well accepted. When it comes to delivery enquiries, for example, 51% are willing to self-serve.
As Stephen Yap put it, this is quite mainstream and normalised. Now the expectation is not only that these services are offered, but also that they live up to previously encountered standards.
This is when being aware of the services on offer, even across sectors, is important. Organisations need to be mindful that new self-service processes need to launch at a higher standard now, or reception will be frosty at best and adoption poor.
Here to Help
What happens when things aren't simple, painless and quick to resolve? Although undoubtedly desirable for customers, it seems unlikely that notification of loss and the insurance claims process, for example, can achieve this.
Customers are for the most part realistic, but that won't stop them becoming frustrated by slow, drawn-out processes. Which leads to the question: what do customers expect in these situations?
The answer may lie in industry perceptions. The CCMA asked participants what each industry did best when it came to customer services.
The insurance sector scored highly for helpful and friendly service, but not as well when it came to being trusted to do the right thing or having a customer's best interests at heart.
This is not surprising, as even claims declined for obvious reasons can cause a certain amount of friction or disappointment.
This places emphasis on living up to expectations for friendly, helpful service and trying to improve in lower scoring areas.
When it comes to inherently problematic, complex situations when emotions can run high and trust low, what can organisations do to mitigate the bias towards negative customer experiences?
There are two main things. Firstly, in line with the CCMA survey questions, try hard to resolve queries in a timely manner. It may not be fast but it's not prolonged.
Secondly, consider the point Stephen Yap makes in the podcast, that in the current cost-of-living crisis the "need for reassurance is going up massively."
Empathy can be key not only to finding the right way to reassure people but it can also make bad news a tiny bit more palatable.