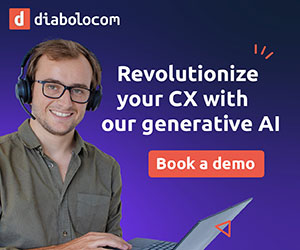 Diana D'Angelo of Diabolocom shares insights about the importance of customer knowledge.
"The more I know about my customer or future customer, the better the experience I offer him or her will be."
What's the key to a successful customer experience? According to Diabolocom's latest eBook, the answer is your customer knowledge…
Good customer knowledge consists of knowing how to collect, keep, analyse and mobilise very quickly the maximum amount of information – data – possible related to your customers and prospects, whatever the channel used.
Often, a lot of information is collected by companies but no added value is derived from it. To be able to build a lasting relationship with customers, you need to be able to know who they are and what they need without them having to say it.
A recent study from PwC shows that one in three consumers have turned away from a brand they liked after one bad experience. While not necessarily surprising, it does highlight why it's so important to increase your customer knowledge and give a each and every customer a personalised experience when interacting with you.
Below are three ways to enrich your customer knowledge at each stage of the customer journey.
1. Before Each Interaction: Direct Calls to the Most Relevant Department
Reduce waiting time on the phone by optimising your call routing and categorising incoming calls with an "intelligent" IVR.
For example, calls that do not require the intervention of an agent, bank account balances, train timetables, and the like, can all be automated and routed to bots that don't require agent intervention.
Optimum call routing also allows you to review your overall operations. If one department is getting an increase in calls, increase the number of agents in the department or investigate any root causes, ultimately enabling your agents to improve your overall call centre performance.
Requests with high added value: thanks to the context and data in your business tools such as your CRM, calls are qualified, prioritised and directed to the most relevant agents with perhaps specific sales training to respond to requests in a relevant and timely manner using a tool such as intelligent IVR.
2. During Each Interaction: Improve Your Agents' Efficiency
Having a contact centre solution integrated with your business tools allows your advisors to access all the data they need in real time, through a single interface. All calls and emails are managed in one place, allowing your agents to effectively resolve any queries and reduce call handling time.
An incoming call? Thanks to the plethora of data, the agents are informed of any history of previous interactions as well as the qualifying steps made in the IVR system.
A real value add for agents is the capability to remove ambiguities and update customer data in real time whilst on the call, ensuring all information is up-to-date.
Within the framework of outbound call campaigns, agents can utilise this knowledge and set up strategies according to the wealth of data they now have have, improving their reachability rate, call scripts and sales performance.
Call scripts guide your call centre agent's conversations, allowing agents to easily respond to queries, contextualise and personalise their exchanges.
Using this approach, an agent is more efficient in resolving customer requests and are also more productive.
3. After the Interaction: Proactively Contact Your Customers
To go further, agents can enhance their customer knowledge base by integrating the information exchanged into their business tools, such as their CRM. This information can be used for post-call actions.
A customer has communicated information on a personal project? Contact him a few weeks later to propose a new service or a new offer! An appointment has been made? Send your customer an SMS automatically to remind them. If you don't, others will do it for you. Maybe faster and better. The key word is proactiveness. This proactivity is possible thanks to the data you have at your disposal.
These workflows are also useful internally. Your agents can, for example, be notified of the end of a contract by sending an automatic reminder a few months in advance. Similarly, supervisors can receive an email if a call is too long, signalling they might need to support their agent.
To guarantee a quality experience, data is key. Make the most of all the information from your conversations. Capture it in an intelligent way and return them in an constructive way. Your customer knowledge will be richer, fed by the set of data collected.
Advice, guidance and tips about improving your utilisation of data are provided in Diabolocom's latest eBook
This blog post has been re-published by kind permission of Diabolocom – View the
Original Article
For more information about Diabolocom - visit the
Diabolocom Website