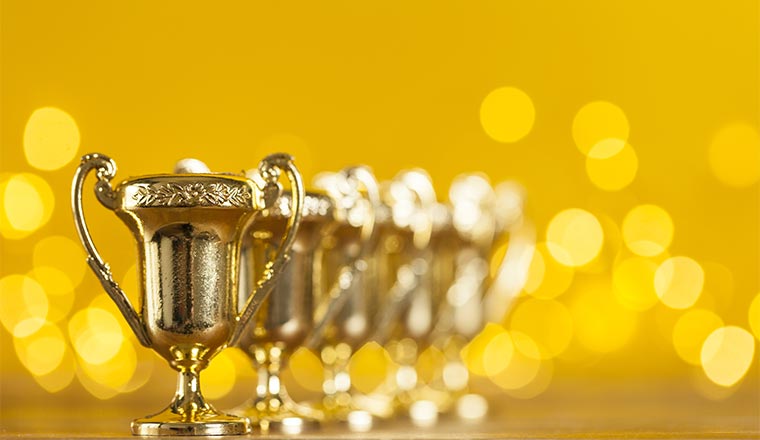 © ink drop - Adobe Stock - 187612728
Mile-high Denver, Colorado, is known for being surrounded by beautiful mountain peaks. They love their beer, and they love their Denver Nuggets.
This year, Genesys added their own love to Denver with Xperience19, the company's flagship customer experience conference.
Xperience19 is all about learning. With an array of sessions on product enhancements, top innovations, in-depth breakout sessions and expert advice, attendees go back to their jobs better informed and ready to take action.
But, alongside all of this, Genesys wanted to spread that love a little bit more by announcing the Genesys Customer Innovation Awards winners.
The 2019 Customer Innovation Award Winners
The 2019 Customer Innovation Awards were focused on sharing strategies about how different organizations have addressed business challenges and pain points in new and creative ways using Genesys technologies.
This knowledge-sharing is at the heart of the Genesys Customer Innovation Awards and it's the part of Xperience19 that many love best.
It's an honour to recognize these companies who have achieved exceptional customer experience and customer service innovation and transformation.
Homecare Medical — The CX Game Changer (Making a difference with CX technology)
Homecare Medical achieved greater scalability by adding digital tele-health support channels, resulting in a 92% increase in annual interactions across voice, webchat, email, SMS and social media.
Microsoft — The CX Globetrotter (Best global roll-out)
Microsoft moved a complex legacy on-premises system to the cloud to provide a streamlined customer experience in 37 languages across 60 regions.
Swisscom — The CX Innovator (Best omnichannel implementation)
As one of the first Genesys customers to deploy its integration with Apple Business Chat, Swisscom unlocked messaging for consumers, shifting contacts from the company's IVR and website. It tripled volumes within six months and thereby achieved efficiency gains of more than 10%.
Lowell Norway — The CX Mover (small, less than 100 agents – Best implementation: Time to achieve value)
Lowell Norway streamlined its operations and processes by replacing unconnected, disparate systems with a Genesys solution, resulting in a 94% average response rates, 25% reduction in average call handle time, 90% first call resolution rate and a 14-second drop in wait times.
3 Denmark — The CX Mover (mid-sized 101-500 agents – Best implementation: Time to achieve value)
3 Denmark, one of the largest mobile operators in Denmark, moved to a cloud-based contact centre, resulting in a 23-second decrease in queue time and a 10% increase in agent efficiency.
Coca-Cola Business Services, North America — The CX Mover (large – more than 500 agents – Best implementation: Time to achieve value)
Coca-Cola Business Services, North America, achieved a 50% reduction in TCO and 99.9% Day One system availability, with 75% of calls being routed to the right team the first time.
Affin Bank Berhad — The CX Sales and Marketing Performer (Best sales and marketing deployment)
Affin Bank Berhad moved from multiple systems to a single streamlined omnichannel customer experience solution from Genesys, enabling a 60% improvement in telesales performance, 84% reduction in call abandonment rates and a 50% boost in agent productivity. It also reached $1 million in sales within five months of implementation.
Tokio Marine Management Australasia — The CX Team Player (Team productivity)
The multinational insurer improved agent schedule adherence by 30% by deploying workforce management since moving its contact centre to the cloud.
Whirlpool Corporation —The CX Visionary (Moving to Genesys from another platform)
Whirlpool, the global leader in appliance manufacturing, successfully migrated several disparate on-premises contact centre software solutions to a single cloud-based omnichannel Genesys platform.
Since deployment, the company has realized key operational metrics, including a 50% reduction in call transfers due to smarter routing, improved average speed to answer by 90% and increased contact centre efficiencies overall.
Congratulations to all of the winners! We're grateful for the opportunity to partner with these businesses on such amazing initiatives.
This news story has been re-published by kind permission of Genesys – View the original post
To find out more about Genesys, visit their website.
---