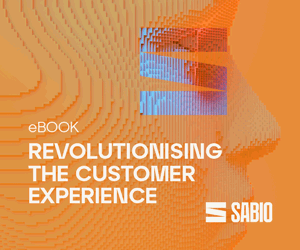 In this video Sabio's Lynsay McEwen explains the differences between UCaaS and CCaaS.
The Difference – UCaaS and CCaaS
The main differences between UCaaS and CCaaS – they are obviously both cloud-based platforms, but they do have very succinct differences.
So UCaaS is generally for back-end things, so it will generally be for employees to communicate with each other. It's usually more simplistic in terms of its features and functionality, but it will provide you with slightly more functionality than maybe an older PBX system.
So it will generally have integration into things like calendar functionality, it will allow employees to schedule meetings with each other.
You'll get things like video conferencing, it's usually got voice messaging functionality, and it normally allows for things like SMS and email. So slightly more channels than you would normally get on an older PBX style system.
And implementing something like UCaaS, or a UCaaS system, is generally a good way to get all of your employees onto one system, so for communications, streamlining, collaboration, things like that UCaaS is really good for that.
Where CCaaS is generally slightly different to that, is that it's used primarily for kind of agent to customer communications.
So you'll normally have larger call volumes, you might be managing a contact centre, and it's generally used for functions like customer service or sales where you tend to have more features in the platform.
So you have a requirement for things like IVRs, you might have analytics, skill-based routing, queue-based routing, which really just allows organizations to manage those higher call volumes and kind of give a better customer experience.
CCaaS platforms are generally linked to a company CRM system, so they allow the customer, or the company, to track the lifecycle of your call.
And it usually keeps records and things like helpdesk tools that the CCaaS platform is linked in to, so it will allow you to understand the full order of the customer's query.
So that's generally the main differences. UCaaS is for back-end employee conversations, and CCaaS is generally for agent-to-customer communication.
For some great information on using technology to empower advisors, read Sabio's eBook: Empowering Advisors with Cloud Solutions
If you are looking for more great video insights from the experts, check out these videos next: