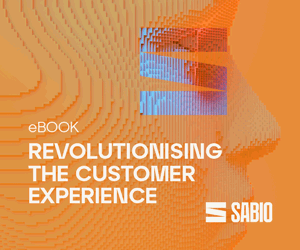 Matt Dyer discusses how to get the most from your IVR, believing it to be an opportunity for Customer Experience (CX) innovation.
While organisations are encouraged to delight customers at every touchpoint, it's also important to be realistic – particularly for routine interactions. For cost-efficient, low-effort engagement it's perhaps wiser to focus your resources on reducing customer effort.
Unfortunately, that's one of the areas where traditional Interactive Voice Response (IVR) systems are most criticised.
When a customer calls into your IVR it's likely to be the first point of contact they have with your business from a conversational perspective, and first impressions count. And with industry research firm J.D. Power estimating that 30% of a customer's interaction with your contact centre is typically through an IVR system, it's clear that having an effective IVR solution is an essential element within wider omnichannel customer service strategies.
Unfortunately, too many contact centres still see their IVR as a largely static channel. It's often out of date, and a potential drag on overall CSAT and NPS scores – particularly as it's estimated that 38% of customers switch to a competitor after a poor service experience.
Given widely acknowledge customer preferences for self-service rather that waiting on hold for human assistance, it clearly doesn't make sense to leave a third of your customer contacts struggling to work their way through a clumsy IVR. As IVR is effectively the de facto front-end to your business for many of your customers, it's time to bring things up to date.
IVR – an Opportunity for CX Journey Innovation
Organisations need to consider this an opportunity for CX journey innovation, rather than just a retrofix for legacy IVR engagement issues. Instead of merely fixing known IVR engagement issues, it's important for customer journey designers to take advantage of evolving visual IVR capabilities, the latest AI and speech recognition improvements, as well as access to back-end services accessible through web integration.
Together these capabilities can help turn legacy IVRs into an augmented self-service channel, free of the frustrations typically found in traditional systems.
Certainly for organisations looking to drive more value from their valuable IVR asset, the opportunity to create context-sensitive customer journeys that embrace IVR technology is much more achievable when using a combination of Say Anything IVR solutions and an integrated ID&V capability. And unlike previous generation solutions, where initial cost and customisation expenses were a barrier to optimisation, the latest agile IVR solutions offer a massively decreased cost of entry.
With cloud-based processing, it's now also possible for customer journey teams to trial the latest transaction-based IVR, tracking automation capabilities against target voice goals – and validating performance using innovative benchmarking tools such as Bright Index.
At a minimum, features such as active selling or OnDemand surveys to gather real-time customer feedback can be deployed while customers wait in the IVR – allowing organisations to drive more value from IVR investments. However, a more strategic focus needs to derive from how CX teams deploy voice as part of their wider engagement strategies.
For example, are you content just using IVR software to support optimised routing, or do you want to transition towards best-practice queue management using solutions such as callback and visual IVR? Or looking further, do you see next generation as part of a joined-up CX journey that offers a more anticipatory proactive service where customers can gain direct access through their preferred channel?
This blog post has been re-published by kind permission of Sabio – View the
Original Article
For more information about Sabio - visit the
Sabio Website