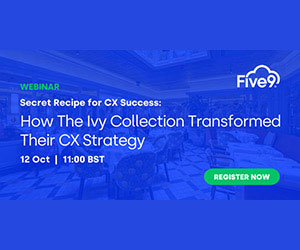 Five9 announced the execution of a definitive agreement to acquire Inference Solutions, the most widely deployed intelligent virtual agent (IVA) platform.
"Intelligent and personalized self-service has become the preferred approach to service for customers," said Donna Fluss, President, DMG Consulting, LLC.
"IVAs, which are AI-enabled omnichannel self-service solutions, are going to play a major role in the future of customer service as they provide an outstanding service experience, while automating activities that previously required the attention of live agents."
"The acquisition of Inference by Five9 gives them a leading IVA solution, greatly expanding their self-service offerings."
As a result of the global pandemic, customers are engaging with brands through contact centres more than ever. Typically, customers who call into a contact centre must first get through frustrating touchtone menu trees, or deal with inefficient and limited speech recognition, leaving them frustrated by the time they talk to a live agent.
Consequently, to deliver a better self-service experience and relieve stress on agents, companies are increasingly looking to intelligent virtual agents.
IVAs utilize artificial intelligence (AI) to communicate like humans, recognizing speech and text, understanding intent, deciphering different languages, and responding in a way that mimics human conversations.
IVAs are rapidly becoming a requirement of the modern contact centre and represent a major evolution from touchtone or voice-activated IVRs, which depend upon structured, fixed grammar interactions.
By contrast, IVAs are conversational, more accurate and user-friendly. IVAs are being viewed as effective 'digital workers' for businesses, resulting in significant savings through increased call deflection rates, better-informed agents, or both.
"We believe adding Inference to the Five9 portfolio accelerates our leadership position in AI while also providing customers with a market leading IVA at a time when customers need efficient real-time assistance," said Rowan Trollope, CEO, Five9.
"Customer engagement is now more paramount than ever. Inference is a proven leader with a best-in-class IVA solution. We are excited to build upon our successful partnership with this acquisition."
In addition to its market-leading solution, the acquisition of Inference adds to the company's global footprint with operations in Australia and expands marquee global service provider relationships, such as Evolve IT in Europe, Telstra in APAC, and AT&T in North America.
The Inference platform allows organizations of any size to benefit from the latest advances in speech-enabled IVA technology. Previously, such technologies were only available to large organizations with significant budgets and highly skilled in-house development teams.
Inference essentially democratizes these technologies and dramatically expands the addressable market.
Specifically, the Inference platform provides:
A comprehensive drag-and-drop UI: All virtual agent applications can be configured and managed via a browser-based, no-code, visual builder. Using the Inference portal, non-technical business users can create content across multiple channels and IVA tasks.
A gateway to conversational AI from leading cloud providers: Inference brings together a selection of market-leading AI and speech services with the flexibility to switch between vendors at any time. Whether you need NLP from Amazon, tone-analysis from IBM Watson, or text-to-speech from Google, you can easily access these tools using pre-built connectors within the Inference UI.
Omnichannel: Inference supports both voice and text-based channels, including SMS, WhatsApp, and web-based chatbots. Channels can share common reporting within a single web front-end.
Multilingual capabilities: Support for more than 125 languages and language variants for speech recognition, and more than 180 text-to-speech voices across 30 languages.
Pre-packaged integrations and tasks: Inference provides access to a library of pre-configured IVA tasks, allowing organizations to design IVAs with minimal experience. Additionally, the task library includes integrations to popular CRM platforms, such as Salesforce, and CPaaS platforms, like Nexmo. Inference is also fully PCI compliant and provides more than 15 different payment gateways for credit card processing.
"Intelligent virtual agents enable a quicker, more efficient, self-service experience," said Callan Schebella, CEO and Founder, Inference Solutions.
"To meet today's heightened customer expectations, we need to continue to innovate with disruptive technology. Our team at Inference is proud to join Five9, a recognized industry leader, and we look forward to shaping the future of customer service."
The transaction is expected to close no later than January 5, 2021.
This news story has been re-published by kind permission of Five9 – View the original post
This blog post has been re-published by kind permission of Five9 – View the
Original Article
For more information about Five9 - visit the
Five9 Website