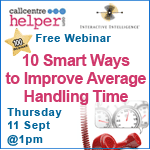 Average Handling Time (AHT) is one of the most widespread contact centre metrics.  It can be used as a simple efficiency metric and is also essential for workforce planning calculations.
This webinar explored the use of Average Handling Time as a metric and 10 smart ways in which AHT could be reduced.
Agenda
Introductions – Jonty Pearce, Call Centre Helper
What's all the fuss about AHT – Carolyn Blunt, Real Results
Click here to view the slides.
Technology Tools for AHT – Mike Murphy, Interactive Intelligence
Click here to view the slides.
Winning tip – "One of the things that I did was to analyze hold reasons and compare them against different agents handling the same types of calls. What was found out showed that agents were using different methods to get the same information with systems. Based on that we created cheat sheets for popular call types so as to streamline how applications were used for the more common types of queries."
Well done, Mark33
Interactive Q&A – Live Questions from the audience
Topics discussed
Average Handling Time vs First Contact Resolution
Reducing the time a caller is on hold
Controlling 'runaway' callers
Best ways to train agents
Designing call flows
Streamlining processes
Use of Knowledge bases
Buddying-up agents
Technological solutions
Clever use of the IVR
Top tips from the audience
Original Webinar date: September 2014
---