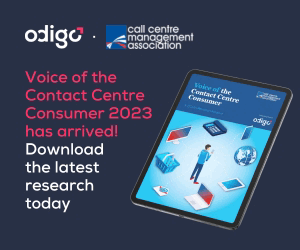 Neil Titcomb of Odigo discusses how to reshape user experience and improve agent satisfaction through gamification.
In an age when ever younger agents are becoming brand ambassadors, keeping them happy is key to ensuring world-class customer service. Demographic and cultural shifts in contact centres have resulted in new criteria for achieving agent satisfaction.
Money still counts, but creating a positive work environment often carries more weight than financial gain. This is why leading companies showcase flexible hours, comfortable environment and brand values as means of motivating their workforce.
But perhaps the most influential strategy is the gamification of user experience.
Gamification's Impact on User Experience
Gartner defines gamification as: "The use of game mechanics to drive engagement in non-game business scenarios and to change behaviours in a target audience to achieve business outcomes."
The most common elements used are points, badges, challenges, public leader boards and levelling up (advancing to a higher level).
This concept is based on the notion that people are naturally competitive, meaning they are programmed to participate in, and enjoy, games. The motivation to do well, whether as a result of internal drive or external peer pressure, is a way to increase employee engagement and productivity.
Contact centre managers know that without an empowered, engaged workforce, there is no customer experience. Moreover, the cost of implementing gamification into user experience is low, as the point is not a financial bonus, merely recognition and reward, often in subtle ways.
The first step to take is to establish criteria for achieving a winning streak. This could be adherence to company protocols and regulations, sales-related or project-based. Software is easily installed into a workstation and tabulation and accreditation are done automatically.
Take for example a contact centre that employs 200 agents. Responsible for claims for an insurance provider, the inbound calls tend to be repetitive and combative, as policy holders are disgruntled and have a complaint.
Needless to say, 40 hours per week of these types of calls can be demotivating. After logging in on time for 14 days in a row, an employee receives a badge, coins or a ticket to win a prize, which all their colleagues are notified about.
Better still, the director of the contact centre is informed and sends a virtual high five. This positive recognition and reinforcement has an impact ­– the employee sits up straighter in their chair and exhibits more enthusiasm to their job.
Delivering Increased Agent Satisfaction Through Gamification
Beyond anecdotal evidence, a consensus is building on the overwhelming impact of gamification on agent satisfaction, both in terms of training and professional responsibilities.
Peoplemanagement.co.uk reports that 79 percent of employees would like to see a gamified system introduced in their workplace. People enjoy games and staff who get to incorporate a gaming mentality into their work are more likely to feel included, appreciated, motivated and engaged.
This engagement and connection is vital to retaining competent staff. Research from McKinsey & Co. reveals that roughly 70 percent of employees are likely to stay at their position if they strongly support their organisation's mission and enjoy the nature of the work.
Gamification has always been present one way or another, only now it is digitised and leverages cutting-edge computer science and artificial intelligence to address workers' evolving preferences into how they are encouraged.
Given the trying times many organisations are having at the moment as a result of COVID-19, along with the new reality of remote work for many agents, the gamification of user experience can also be used to instil best practices and impart advice, according to another recent report by McKinsey & Co.
Implementing Gamification Increases Agent Satisfaction and Decreases Cost
As with any solution, there is not a one-size-fits-all strategy, so before simply adding gamification to users' experience, certain steps need to be taken. Capgemini advocates organisations first:
Learn about employees' workstyles and needs

Adjust to national culture

Adapt to organisational culture values

Consider digital literacy
Just as the key to meeting customers' expectations is knowing them through data, elevating agent satisfaction levels follows a data-driven approach, with tailor-made solutions for every country, branch, even department. The gamification of user experience is a low cost with a huge reward.
Combating poor attendance, lack of motivation and staff turnover can all be accomplished through the gamification of user experience.
Staff turnover can cripple a company, as the Chartered Institute of Personnel and Development reveals the average cost for call centre staff turnover is over 6,000 pounds and as high as 9,000 pounds for senior positions.
Companies looking to improve agent satisfaction should turn to workforce management solutions, invest in agent consoles and leverage data to ensure user experience.
Beyond these tools, establishing a positive atmosphere through friendly competition that acknowledges achievement, rewards competence and inspires diligence can be done cost-effectively through gamification.
This blog post has been re-published by kind permission of Odigo – View the
Original Article
For more information about Odigo - visit the
Odigo Website