What is After Call Work?
After Call Work or ACW for short, refers to the actions that a contact centre advisor completes after each customer interaction.  After Call Work (ACW) is also known as "post-call processing", and examples of ACW include:
Logging the contact reason
Logging the contact outcome
Scheduling follow-up contacts and actions
Updating colleagues
Once an advisor completes their tasks, they go back to being available for another call. So, the pattern of an advisor's working day will look like this: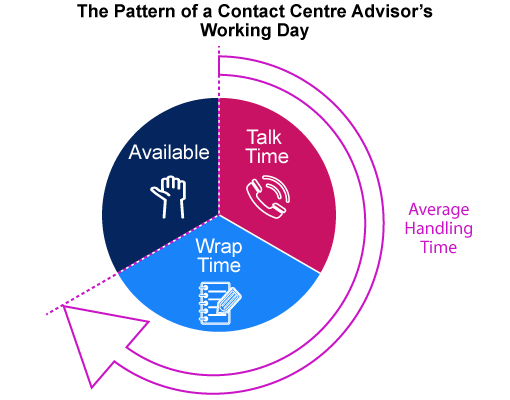 After Call Work Is Performed in "Wrap Time"
The total time that an advisor works on ACW is known as "wrap time" or "wrap-up time" and, although the customer is not involved at this stage, ACW is a part of the interaction and is therefore included in the total handling time for the call.
It is important to remember this when calculating your contact centre's Average Handling Time (AHT), which is a vital metric to calculate when determining how many staff are needed in the contact centre – if you use an Erlang Calculator.
To reduce wrap time, and therefore AHT, some of the ACW can be carried out during the call, so long as the quality of the call isn't impacted by the advisor doing so.
For more tips on lowering AHT without affecting advisor performance, read our article: 49 Tips for Reducing Average Handling Time
How Long Does After Call Work Usually Take?
There are four factors that will influence the length of your wrap time. These are:
The sector that your contact centre is in
The call type
The contact centre's internal processes
Advisor behaviour
Due to the impact of these four factors, the proportion of time that is spent on ACW compared to talk time will differ from call to call and contact centre to contact centre.
Let's take a quick look at each one of these factors and the impact that it might have.
Sector
Generally, some types of contact centres like to spend as little time possible on ACW to optimise service level, while others prefer to record as much extra information as possible.
Uttam SenGupta, one of our readers, says: "Online retail and sales often have the shortest wrap time to make sure they have the best availability on the floor."
"In contrast, IT projects, insurance claims or banking adjudication will have a longer wrap time as you spend more time speaking with customers to solve more complex queries."
Call Type
If the contact is simply transactional, a long wrap time is unlikely. However, if the call is of a more unique nature, logging the contact outcome may take longer.
As Ericc Whetstone, a contact centre workforce management manager, says: "I've had healthcare groups that spend 5 seconds on ACW with an AHT of 120 seconds, while I've also had healthcare groups that spend 60 seconds on ACW with an AHT of 700 seconds."
Internal Processes
Some contact centres like advisors to do things such as add extra customer information into the CRM during ACW, which is an example of how an internal process can prolong wrap time.
Cormac Donnelly, another of our readers, adds: "If you maintain a knowledge base or support total ticket ownership, both practices can have lengthy impact on ACW but will support your business strategy."
Advisor Behaviour
The time that it takes to complete ACW could also come down to the behaviour of advisors, as some may like to prolong wrap time to avoid handling another contact, while some may just be slower at typing than other.
Find out more tricks like this in our article: 7 Tricks That Call Centre Employees Play
How Long Should After Call Work Take in Your Contact Centre?
The general principle in contact centres is to keep wrap time to a minimum. But, while it may appear so, this isn't to hurry advisors into taking the next contact, according to Martyn Rushin, a Billing Care Centres Manager at Anglian Water.
The less time spent on ACW, the better… you want the customer to hear you do what you've said you'll do as opposed to doing it all afterwards.

Martyn Rushin
Martyn says: "The less time spent on ACW, the better. This is not to crack the whip; instead you want the customer to hear you do what you've said you'll do as opposed to doing it all afterwards. That builds trust, reassurance and advocacy."
This doesn't mean that the advisors shouldn't log useful information, but they should instead try to do it on the phone, while explaining what they're doing for the customer and how it benefits them.
Your ACD System Should Account for After Call Work
It is important that advisors feel as though they have enough time to complete ACW before being made available for the next call.
Luckily, most ACD systems will automatically keep advisors in a "not ready" state, in order for them to carry out ACW.
Remember that if an advisor is placed back in the queue immediately after each call, it is likely that the quality of their ACW will suffer. With less time, advisors will record less accurate data about call types and resolutions.
How Can You Reduce After Call Work?
Here are four quick things that help you manage how advisors handle their ACW.
Encourage Detailed Note Taking
It's advisable to ensure that advisors make meticulous notes of any action they take after a call. While calls are usually recorded, ACW can be difficult to track – detailed notes make this much easier.
Recording progress this way is as much for the advisor's benefit as the centre's. Staff might need to demonstrate that they followed a procedure or performed a task, when requested to do so by the customer.
For example, a customer may call to chase progress on a payment query they have raised. It is much easier to help them if the original handling advisor left detailed notes showing the action they took.
However, not all of these notes need to be made after the call. As discussed earlier, note taking during the phone call, while telling the customer what you are doing and how it can benefit them, can be a good tool to build trust.
Use Shorthand Abbreviations
Advisors can be taught to reduce the time spent on ACW by using shorthand and abbreviations in their notes.
Advisors can be taught to reduce the time spent on ACW by using shorthand and abbreviations in their notes. Because it is so important that their notes are easy for future users to understand, it may help to develop a style guide for staff reference.
Another key concern with an advisor's notes is the visibility of those notes to customers. In the UK, customers can place a request obliging any company to release information held on them. This includes the notes written by your advisors.
It is very important that you brief advisors on the situation they could potentially create by recording a personal opinion of a customer in their notes. The best advice you can offer them is not to write anything they wouldn't say on a call.
Some Example Abbreviations
| Abbreviation | Meaning |
| --- | --- |
| CUST | Customer |
| INFO | Information |
| DOB | Date Of Birth |
| AOS | Already On System |
| COT | Change Of Title |
| MISG | Missing |
| DLVY | Delivery |
| AUTH | Authorise |
| IMPT | Important |
| MAX | Maximum |
Ensure After Call Work Is not Used as an Excuse for a Break
Some advisors may spend a significant amount of time pretending to do ACW tasks, such as note taking and updating the CRM, in order to delay the next call they receive.
While trace reports will tell you how long advisors are spending on ACW, do not pick up on one or two examples of prolonged wrap times – as these contacts may have been special cases – but look for averages, to see the bigger picture.
If this is happening frequently in your contact centre, it is likely due to a culture issue or advisors feel "burnt out".
To test if it is the latter, check your occupancy rates and ensure that they do not go above 85%. If occupancy rates are higher than this figure, advisors are being overworked, which will likely lead to high rates of absenteeism and attrition.
Implement an ACW Timer
An ACW timer defines a wrap time for the team to complete their ACW, giving advisors a countdown before they are once more made available to take calls.
Having this timer is a psychological trick to help advisors reduce ACW and refocus for the next call and it will help put an end to advisors using wrap time as an excuse for a break.
If the call is a "special case" … advisors can extend their allocated time, so the time "pressure" is kept to a minimum.
If the call is a "special case", that will cause advisors to spend longer than their permitted time attending to ACW, advisors can extend their allocated time, so the time "pressure" is kept to a minimum.
The function of allowing advisors to extend wrap time is important, as if your pre-set wrap time is too low, advisors could resort to forcing customers to stay on the call longer than necessary or rushing through ACW tasks and leaving customer records incomplete or inaccurate.
For more tips like this, read our article: 10 Top Tips to Reduce Call Centre After-Call Work (ACW) Time
In Summary
ACW refers to the tasks that an advisor completes in the wrap time after a call.
These tasks generally include logging call reasons and outcomes, as well as other, more unique, tasks that the contact centre may like its advisors to accomplish, such as updating the knowledge base.
How long it will take to complete ACW depends on the sector of your contact centre, call type, internal processes and advisor behaviour.
It is good practice to reduce ACW time by completing tasks while on the phone, as long as advisors communicate what they are doing with the customer. This way the customer is kept in the loop.
Another way to lower wrap time is to use abbreviations when logging call reasons and outcomes, while a final best practice when it comes to ACW is to encourage detailed note taking.
For more on some of the topics discussed in this article, read the following stories: