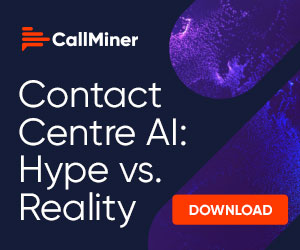 Our panel of experts explain everything you need to know about process automation, from its key features to cost considerations.
What is process automation technology?
Process automation technology mechanises the activities required to resolve a customer query in a contact centre, in the fastest possible time.
It involves the use of technology to automate manual desktop processes that tend to be simple and transactional in nature, requiring little (if any) analysis or subjective judgement. This frees contact centre advisors to focus on more challenging, higher-level tasks of greater value to the business.
The defined process integrates with your contact centre technology to support advisors and the back office, whilst also achieving the quickest resolution.
How does process automation work?
This depends on which type of process technology automation that you are using, but there are generally two options.
1. Using human advisor input
The automated process moves step-by-step through the options set out below. It is then up to the advisor to choose the most appropriate route that most efficiently handles the customer's request.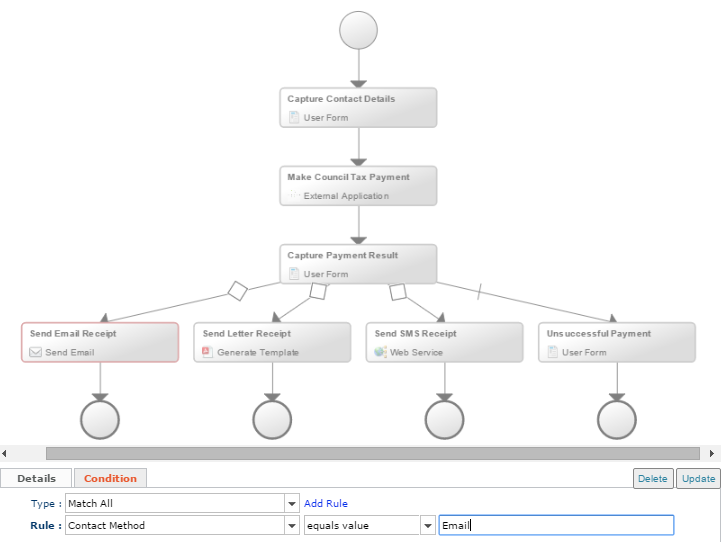 2. Robotic process automation (RPA)
RPA simulates a "virtual person" and drives existing application software in the same way as a human user.
This "virtual person" software is deployed and managed on a virtual machine, which allows for great flexibility, control and easy scaling across the robot farm. This robot farm is pictured below.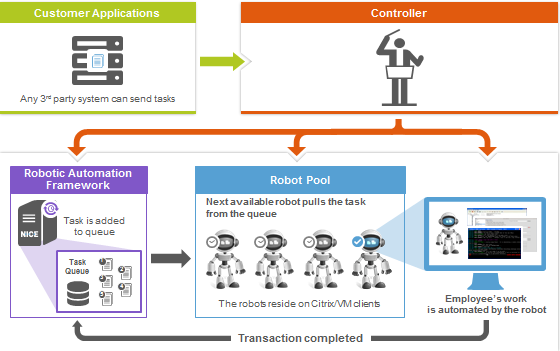 Key features
Well-constructed automated processes empower advisors by making day-to-day operations simpler, allowing you to resolve customer requests on time, every time. Here are eight key features of process automation that allow it to do this:
1. Automation of routine desktop activities such as applications launch, mouse selections, field entries, information copy/paste, template auto-fill and calculation.
2. Integration with third-party systems including CRM, billing, home-grown or Citrix applications, to automate cross-application desktop activities.
3. Central control system to monitor and manage task queues and process execution.
4. A centralised document-management system stores files and documents, available for everyone to view, reducing the use of paper as it breaks down silos between departments.
5. Automated performance feedback can be provided to advisors and supervisors to manage any quality assurance processes more efficiently, e.g. regulatory compliance adherence.
6. Customers receive progress updates on their enquiry status, for example sending a text that says "Your claim number 2789074 has reached the assessors' department."
7. Real-time alerts are sent to supervisors (via a dashboard, email, or other) about any outstanding issues that require their immediate attention.
8. Reliability and availability via health-check reporting and a watchdog mechanism to automatically restart the robot in the event of failure.
Which areas of the contact centre can it help to improve?

Automation has a place both in the front and back office of the contact centre. Beyond that, there is a strong case for implementing process automation in other departments like IT and HR. Below are six benefits that process automation can bring to your entire contact centre.
1. Speed and accuracy can rejuvenate back-office duties
Back-office activities such as data validation, reconciliation or retrieval can be automated and run at regular intervals. Perhaps more importantly, these activities will be performed with zero errors.
2. Automatic updates are beneficial for internal processes
For internal processes, for example payroll, process automation can execute updates of all relevant files with information like new starters or leavers, contractual or temporary changes, absence and holiday records, deductions, etc.
3. Automated alerts can relieve a busy IT department
The IT department can benefit from process automation, which can automate system health checks, updates, alerts and various other standard or event-triggered processes that ensure a fail-safe continuity plan for the contact centre.
4. Employee desktop support aids advisors
Some processes can be fully automated and don't require any human intervention. Such automation can take place via a server. But other types of processes still need to be performed in part by a person while other parts can be automated.
In these cases, automation takes place on an employee's desktop, supporting the employee and allowing him or her to perform tasks much more quickly and accurately.
5. Consistent customer communication and experience benefits the customer journey
Process automation delivers a clear definition of what information the customer needs to supply and the steps that they need to take to complete their action. Customers may also receive automatic messages that inform them of their query's progress as it updates your customer portal.
6. Automated task allocations and escalations ensures efficiency
Efficient task allocation across departments to the most appropriate advisor to handle the call improves customer service and call efficiency.
Also, if the estimated time for the task overruns, tailored alerts update managers or other members of staff to ensure that the task receives the necessary attention. These are known as automated escalations.
What to watch out for
Don't neglect advisors in the process review
Include advisors, as well as business analysts, when you review your processes, to ensure that any developments integrate well with the people that they serve. This can be crucial, as advisors will be able to identify process areas that will hinder your back-office support.
Don't try to reinvent all call centre procedures
Only focus on relevant processes; trying to reinvent everything is time consuming and you may get lost along the way.
At first, you should target one or two specific processes, so that you do not risk compromising your customer service for a prolonged period of time by overwhelming staff with change.
Don't underestimate the time, money and resources required for successful process automation
Whilst successful process automation implementation will save you time in the long run, it does require a significant investment of time, money and human resources. So, you must firstly inspect and analyse all of your current processes in the call centre and highlight where process automation would prove to be a substantial source of assistance.
How much should I budget?
To work out a sufficient budget for process automation, you should first gain an understanding of current processes and identify areas that need improvement. You can do this using workshops with relevant team members. Using colleagues from other departments and drawing on cross-functional skills may appear costly; however, the 360° view significantly improves results.
Then you will need to consider the software that is needed to implement automated processes, which ranges from an advisor guidance system to a full customer experience management tool.
An advisor guidance system delivers step-by- step support onto an advisor's desktop, whereas a full customer experience management tool provides the same tools as the agent guidance system and also integrates both front- and back-office processes. The budget required will therefore similarly vary from tens of thousands to approaching a hundred thousand pounds.
Thanks to the contributors who helped supply the information for this article (photographs left to right):
Lynley Meyers at Netcall
Karen Inbar at NICE
Garry White at Business Systems
Maureen Szlemp at CallMiner