THE DATE: 21st June 2018
Time: 12pm – 2pm
THE LOCATION: 1 Northumberland Avenue Trafalgar Square, London, WC2N 5BW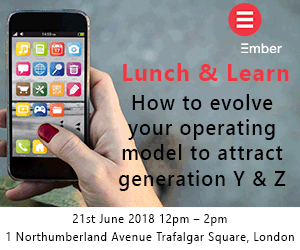 THE DESCRIPTION: This round-table discussion, led by senior Ember consultants, explores this topic in detail.
During this session you will learn:
How this generation likes to interact with brands and the challenges it brings to CX operations
What does loyalty mean today and how to achieve it
Key considerations and strategies to continue remaining relevant.
Delegate information:
This event is for delegates who are responsible for the customer experience and operations within their organisations. In order for the delegates to maximise the opportunity to learn from one another, we will not be able to accept registrations from independent consultants or tech vendors.
THE ORGANISERS: Ember Services
THE WEBLINK: http://www.embergroup.co.uk/our-events/lunch-learn-gen-y-z/
---