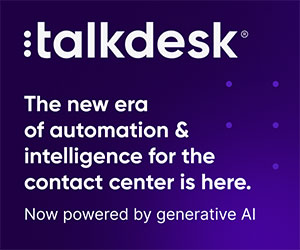 Talkdesk announces three platforms at Opentalk 2021:
Talkdesk Healthcare Experience Cloud
Talkdesk Financial Services Experience Cloud
Talkdesk Retail Smart Service
Read the press releases below for more information on each.
Talkdesk Healthcare Experience Cloud
Talkdesk Healthcare Experience Cloud is the industry's first enterprise-grade contact centre product built for healthcare.
Initially reimagining the patient experience, the first solution – Talkdesk Healthcare Experience Cloud for Providers – empowers healthcare providers to deliver synchronized, personalized, and convenient patient experiences across all digital and voice communication channels.
In recent years, patients have raised their service expectations of healthcare providers, demanding the same frictionless and convenient interactions delivered by consumer goods and services companies.
With digital health solutions accelerating the transformation of the healthcare industry, the contact centre is increasingly evolving into the hub of today's patient experiences.
According to Talkdesk Research, 70% of patient experience professionals view the contact centre as a high priority and strategic asset. Additionally, 71% say the digital transformation of their contact centre is a top priority.
Talkdesk Healthcare Experience Cloud for Providers helps healthcare providers harness this strategic asset and meet expectations for more unified patient journeys.
Combining next-generation contact centre as a service (CCaaS) technology with healthcare-specific content, capabilities, integrations, and powerful pre-trained AI, the groundbreaking solution gives providers a comprehensive tool for managing patient interactions, maximizing efficiency, empowering staff, and improving patient experience.
Out-of-the-box integrations with digital health solutions securely connect data across communication channels to drive personalized and contextual interactions. With its ease of implementation, the solution can be up and running in as little as 24-hours, and configured to support existing teams, processes, and systems to rapidly deliver business value.
"When patients contact healthcare providers, it's not just about accessing a service – it's about taking care of their health," said Tiago Paiva, chief executive officer and founder, Talkdesk.
"We see significant opportunities for healthcare contact centres to connect disparate touchpoints and move beyond fast call resolution to proactively and intelligently tailoring patient support throughout the journey.
Talkdesk Healthcare Experience Cloud is the first CCaaS solution built specifically to enable that transformation."
This healthcare industry-specific focus enables:
Seamless integration with EHR systems for more personalized and proactive conversations
Ready-to-launch healthcare workflows to proactively engage patients automatically on the channels they prefer, managing conversations efficiently at scale
AI capabilities pre-trained with powerful medical-grade speech-to-text, Natural Language Processing, and sentiment analysis, allowing tailored and efficient patient self-service
Healthcare Experience Cloud Providers also helps providers impact every component of the Quadruple Aim:
Better Outcomes – With a 360-degree view of each patient, contact centre staff are empowered with vital information needed to enhance the quality of care and deliver better patient outcomes, while delivering higher levels of patient satisfaction and activation.
Improved Patient Experience – Hospital contact centre teams can instantly see vital detailed clinical and demographic data from the EHR, facilitating more tailored and patient-centric conversations. Patients can also interact with the healthcare organization through their channel of choice, with always-on access, making the experience convenient, easy, and friction-free.
Improved Clinical Experience – Staff can see a single view of patient interactions across channels, with actionable context, and recommended actions to make conversations easier and more efficient.
Lower Costs – Providers can more efficiently serve patients with AI-powered self-service capabilities across digital and voice channels, while automating agent workflows. Core contact centre functions such as scheduling, reminders, wayfinding, post-discharge follow-up, referral management, and satisfaction surveys can all be powered by Talkdesk Virtual Agent and supported by staff using Talkdesk Workspace to improve care plan adherence and reduce no-shows.
The introduction of Talkdesk Healthcare Experience Cloud follows several key industry-related announcements made by Talkdesk in recent weeks, including new leadership appointments for healthcare strategy and product.
Last month, the company announced its integration with Epic EHR and listing in App Orchard.
Talkdesk Financial Services Experience Cloud
Talkdesk Financial Services Experience Cloud is the industry's first enterprise-grade contact centre product built for financial services.
Initially reimagining the banking experience, the first solution – Financial Services Experience Cloud for Banking – enables financial services companies to deliver connected, intelligent, and secure client interactions more effortlessly, across any communication channel.
"The financial services industry faces a rapidly evolving landscape. Legacy systems have created dozens of silos that prevent banks from providing a holistic, secure, and seamless experience for customers," said Tiago Paiva, chief executive officer and founder, Talkdesk.
"We saw a critical need to take our CX expertise and innovation and apply it to guiding financial institutions through this new landscape, giving them a way to unify the client journey to make it seamless, personalized, and trustworthy."
According to a Talkdesk Research report, The CX Revolution in Financial Services and Insurance, more than half of the financial services institutions surveyed had siloed engagement channels.
As the pressure to deliver exceptional client experiences increases, 77% of CX professionals consider the contact centre a strategic asset to their business. Talkdesk Financial Services Experience Cloud breaks down these walls with an initial solution uniquely designed for banking.
Featuring out-of-the-box integrations to core banking systems, the digital-first, contact centre as a service solution ties together data from across the client journey and delivers immediate time to value.
The platform is also infused with AI and machine learning capabilities to drive agent productivity by promoting real-time assistance and prioritizing activities that result in high-value interactions.
Product highlights:
Digital lending – supports borrowers throughout the loan process, from origination to servicing. Cobrowsing enables screensharing with highlight and markup abilities, so agents can assist visitors with complicated online tasks. Agents can also initiate video chats for face-to-face conversations with clients.
Account servicing – resolves client issues quickly and seamlessly across the bank through tools like visual interactive voice response, which clients can access directly from a smartphone for self-service. Branded and verified calls help reduce call spoofing, increase client response rates, and reduce contact centre volumes.
Collections – streamlines the collections process and provides greater transparency with omniaccess payment reminders via two-way SMS messaging and omniaccess collections for automating client outreach and payments over digital channels.
Financial services integrations – connects key client data from core processors, third-party utilities, and customer relationship management systems, giving agents more context and information they can use to better serve clients. Routine requests for account balance, password resets, recent transactions, etc., can also be automated.
Compliance and security – ensures compliance with industry banking regulations and meets rigorous security and privacy requirements with 30+ certifications, including PCI-DSS Level 1 and GDPR. Built-in voice biometrics offer an added layer of security to seamlessly authenticate client calls ensuring KYC compliance.
AI capabilities – infuses the power of AI to resolve more cases through automation. By leveraging Talkdesk virtual agent, agent assistance, knowledge base, and AI trainer tools, financial services organizations can boost client self-service and optimize experiences with added knowledge, recommendations, and insights.
The introduction of Talkdesk Financial Services Experience Cloud follows several key industry-related announcements made by Talkdesk in recent weeks, including new leadership appointments for financial services strategy and product.
The company also rolled out a Digital Lending solution earlier this year.
Talkdesk Retail Smart Service
Talkdesk Retail Smart Service, the new AI-powered industry solution helps retailers deliver quality, automated self-service options for customers while allowing contact centre agents to focus on higher touch, revenue-generating engagements.
As growing customer service expectations put added pressure on companies to address requests and resolve issues faster than ever, many retailers are not yet prepared to meet the demand. In fact, Talkdesk
Research reveals only 31% of retail industry CX professionals currently use AI in the contact centre. Talkdesk Retail Smart Service provides the key for retailers to unlock the value of their contact centre and opportunities for offering customers more personalized recommendations and engagements.
Powered by best-in-class customer relationship management and e-commerce integration capabilities, Talkdesk Retail Smart Service makes self-service smarter, convenient, and easy.
AI and automated tools, including digital and voice virtual agents, interactive voice response, and SMS, enable retailers to automate the majority of the most common customer inquiries related to product order issues, shipping status updates, and post-purchase returns.
AI agent assistance can also be used to monitor the context of a customer interaction and surface relevant prompts, speeding agent responsiveness, and giving them insights for making effective upsell and cross-sell suggestions.
Significantly reducing the time agents spend handling manual or repetitive tasks, Talkdesk Retail Smart Service not only drives operational efficiencies through automation of routine tasks, it prioritizes the experiences that matter most, redirecting agent time to assisting customers with more complex needs or those requiring a greater degree of empathy.
"Many retail contact centers have outdated technology and operate very reactively. Some have tried implementing AI-based self-service tools, but the bots weren't very intelligent and the experience was clunky," said Charanya Kannan, chief product and engineering officer, Talkdesk.
"With Talkdesk Retail Smart Service, there's a better way for them to capitalize on the power of AI, managing inquiries smarter and faster, so they can focus on more impactful brand-enhancing and revenue-generating activities."
Talkdesk Retail Smart Service is the second retail-specific solution introduced by Talkdesk in 2021. In May, the company launched the Talkdesk Flexible Shopping solution, an end-to-end CX solution designed to help retailers ready their contact centres to support post-pandemic shopper expectations.
These platforms will be featured throughout Opentalk 2021, June 15-16, with opportunities for attendees to learn more during multiple session formats. Still time to sign up here https://opentalklive.talkdesk.com/  
For more information about Talkdesk - visit the
Talkdesk Website