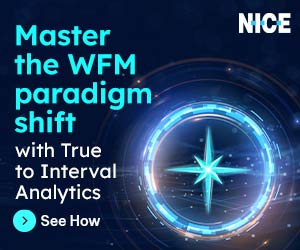 NICE has announced the upcoming Digital CX Week 2022, a virtual conference giving an unprecedented view into how to digitally transform customer experiences.
The event is set to take place September 27-29 with a series of six online sessions presented by industry thought leaders, as well as the experts driving innovation at NICE and the customers who have harnessed these innovations to deliver brand-differentiating, AI-powered customer experiences.
Sessions to include:
A panel discussion led by Dan Miller, lead analyst and founder of Opus Research, who will examine emerging trends and recent survey results to assess the current state of play in digital CX. The panel will reveal how organisations can optimise their existing people, technology, and data sources to transform self-service into customer empowerment opportunities. The panel will also demonstrate how organisations can utilise data insights from customer conversations in real-time and consolidate operational data siloes to create more satisfying customer journeys.
Leaders with Splunk, a premier data platform, will walk participants through their selection and implementation of a new knowledge management system. They will explore common pitfalls in knowledge management, why Splunk needed a new solution, how they chose and implemented the new system, and the results they've seen since then.
A sit-down interview with Dr. Nicola Millard, a principal innovation partner at BT. Millard is an award-winning presenter who was listed as one of the top 20 UK CX Influencers by Customer Experience Magazine two years in a row. Millard will share how proactive customer care can be truly transformative. She will dispel common misconceptions about what it means to implement proactive customer care and how organisations can avoid accidentally overwhelming their contact centres.
Paul Jarman, CEO, NICE CXone, said, "We are eager to welcome you to this year's Digital CX Week where you can gain valuable insights and perspectives on the capabilities organisations need to stay ahead of the curve and deliver industry-leading customer experiences.
We will show you how leveraging insights and revolutionising CX may be easier than you think. The future is digital CXi (Customer Experience Interactions). The future is NICE."
NICE Website