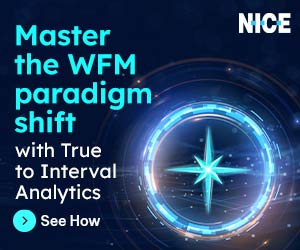 NICE has announced that it has been recognised as a Technology Leader by Quadrant Knowledge Solutions for its advanced robotic process automation solutions.
The global advisory and consulting firm's SPARK Matrix": Robotic Process Automation (RPA), 2022 report stated that NICE RPA products "enable intelligent process optimisation while releasing the power of employees to provide an excellent customer experience."
The SPARK Matrix report provides market insights, competitive evaluation and rankings of the key market participants based on several technology excellence and customer impact parameters.
The NICE RPA portfolio examined by Quadrant Knowledge Solutions included attended and unattended automation products, desktop analytics, automation discovery and design tools.
Among the market drivers highlighted in the report was the challenge faced by most organisations in identifying and prioritising processes for automation.
In that context, Quadrant Knowledge Solutions analysts named NICE's AI-driven automation discovery tool Automation Finder as one of its technological differentiators.
It can "quickly identify and recommend which processes within the organisation should automate to maximise the bottom-line effect," the report said.
Also singled out were the "comprehensive insights" delivered by the combination of NICE Desktop and Speech Analytics, as well as how the suite of NICE RPA solutions "help organisations provide a seamless, consistent, and personalised customer experience across the customer journey."
A key feature of this personalisation is NEVA, NICE's attended automation solution, which was highlighted for its ability to "interpret and understand what employees want to achieve and react in real-time with contextually rich and relevant facts."
Regarding unattended automation, the report noted that NICE's advanced OCR technology is key to processing unstructured data sources, such as scanned documents, charts and text messages.
In addition, the report acknowledges NICE's robust global presence and strong customer base, which includes leading brands across an array of industry verticals.
Noting NICE's "sophisticated technology solution and comprehensive functional capabilities," Quadrant Knowledge Solutions analysts assessed NICE to be "well-positioned to expand its market share in the global robotic process automation market."
Barry Cooper, President, NICE Workforce and Customer Experience at NICE: "We are very pleased to be recognised once again by Quadrant Knowledge Solutions as a leader in the RPA market, which reflects how our dedication to innovation continues to bring value to customers.
This is especially important in today's world of rapid change, when intelligent process optimisation is part and parcel of unleashing the full potential of your employees and boosting business outcomes.
As a one-stop-shop for automation discovery, robot design and virtual assistance, we are bringing people and technology together as we reinvent customer service."
For more information about NICE - visit the
NICE Website