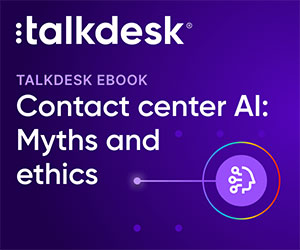 Jay Gupta at Talkdesk explores the top contact centre KPIs you can track and improve for the success of your contact centre in a post-pandemic era.
This post was first published in Smart Customer Service.
Remote work is a relatively new concept for contact centre agents. By one estimate from Contact Babel, just 13 percent of agents were permanent remote workers before March 2020 when the pandemic shut down most offices.
Just three months later, in June 2020, that number surged to 86 percent, according to Talkdesk's data, and more than a quarter of our customers have indicated they intend to remain remote for the foreseeable future.
In a matter of a few months, technology adoption leap-frogged years of development. This sudden and forced shift naturally brought new challenges for the majority of businesses that were, understandably, ill-equipped to support a majority-remote contact centre environment long term.
Most quickly realized the need for significant adjustments and operational reforms to keep work-from-home agents effective and efficient.
Contact centres are the lifeblood of many businesses—without effective customer support, loyalty and revenue drop—and key performance indicators (KPIs) might be the most critical measurement of their effectiveness.
With massive, lasting shifts in how contact centres are structured (in-office, remote or hybrid), and the level of customers' digital adoption, a critical question arises: How can contact centres optimize their KPIs for this new reality?
Below are tangible steps business leaders can take to optimize four core contact centre KPIs.
Average Abandonment Rate (AAR)
We define abandonment rate as the percentage of calls terminated by callers after being added to a queue.
This KPI gives an insight into how many calls were terminated before customers were connected with an agent. Pandemic-driven increases in call volumes and limited staffing created challenges for AAR.
To optimize average abandonment rate, consider the following:
Employ workforce management tools and improve call peak forecasting.
Automate repetitive tasks so agents can focus on delighting customers.
Deflect calls with an omnichannel strategy. Many simple issues can be resolved via virtual agents (chatbots) or self-service support options.
Implement a call-back option. Seventy percent of customers place importance on a call-back option versus waiting on the phone.
Use in-queue time to deliver important information.
Average Talk Time (ATT)
Defined as the amount of time agents spend talking with customers—excluding other activities they might need to complete an interaction—ATT doesn't provide a complete picture of quality of service on its own.
Having a higher or lower ATT is neither inherently good nor bad; its importance lies in the impact on average handle time and customer-facing metrics like customer satisfaction and Net Promoter Score.
To optimize average talk time, consider the following:
Drive training improvement insights by listening to calls.
Leverage faster responses with intelligent call routing.
Simplify agent effort with agent assistance technology.
Average Hold Time
This KPI is defined as the amount of time customers were put on hold when on a call with an agent (not to be confused with wait time). A long hold time hurts the customer experience, and many businesses saw average hold times increase due to higher call volumes and staffing challenges over the past year.
To optimize average hold time, consider the following:
Assist agents with AI-powered tools: Eighty percent of CX professionals believe AI will provide a better overall contact centre experience for customers.
Leverage faster response with intelligent call routing.
Identify the root causes of long hold times by listening to every interaction.
Help agents and customers help themselves with an intelligent knowledge base.
Average Speed of Answer (ASA)
We define average speed of answer (ASA) as the amount of time it takes agents to answer inbound calls, including time when the agent's phone rings.
Rather than looking at average speed of answer as a stand-alone metric, businesses should tie it with average wait time to determine the total time a caller spends before reaching an agent. When contact centres improve ASA, there is less time between when the phone rings and the agent answers the call.
To optimize average speed of answer and average wait time, consider the following:
Streamline staffing and scheduling while reducing administrative tasks.
Decrease agent attrition by examining common causes for turnover.
Simplify your IVR and routing strategy.
Evaluate different customer requirements on waiting time and diversion strategies.
Use self-service to drive more productive conversations.
As businesses push forward after a challenging year, they are reimagining systems and digitizing the customer experience. Some might revert to staffing their call centres on-site, offer a hybrid working arrangement, or have agents remain permanently remote.
Regardless, by centring on business intelligence, like the above KPIs, they will be well positioned to gain the competitive advantage required to not only recover but also reach and exceed their goals.
This blog post has been re-published by kind permission of Talkdesk – View the
Original Article
For more information about Talkdesk - visit the
Talkdesk Website