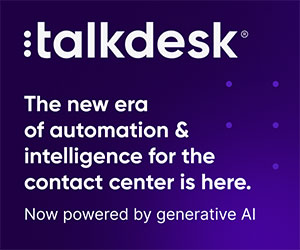 Filipa Silva at Talkdesk outlines how to achieve the best business results by optimizing the average speed of answer and average call wait times.
What Is Average Speed of Answer and Average Wait Time?
Average speed of answer (ASA) – as an agent's performance metric – shows the average time it takes for agents to answer an inbound call. This includes the time the agent's phone rings but excludes the time the caller spent in the queue or interacting with an IVR.
Average speed of answer provides contact centre managers with information about whether agents have the necessary setup and tools to reach the best performance levels. A low ASA means that customers reach agents in less time and find a solution faster.
Average speed of answer =
Total time calls spent ringing
Total # answered calls (in seconds)
Average wait time (AWT) measures the time a caller was waiting, including queue time. Adding queue time and ringing time to average speed of answer (ASA), you will have the AWT or the total time a caller spends waiting until being answered by an agent.
What Does It Mean to Your Contact Centre?
Instead of solely focusing on improving the ring time (ASA), you need to focus on improving the overall average wait time. When looking at AWT, you need to critically evaluate the impact of driving this metric up and down.
Like many other contact centre KPIs, AWT doesn't live alone and needs further contextualization with other metrics, such as average abandonment rate (AAR) and first call resolution (FCR).
For example, reducing the AWT might seem like a good strategy, but it may impact FCR rates as agents rush through calls to increase the number of handled calls.
If you already have a low AWT and a high FCR but are still experiencing a high AAR, it might indicate highly demanding customers for an understaffed contact centre or lack of self-service options.
How to Optimize Your Contact Centre Average Wait Time?
AWT is a key indicator of the performance of your contact centre. Follow the tips below to ensure its ideal level.
1. Optimize Staffing and Scheduling While Reducing Administrative Work.
Inadequate staffing is one root source of increased AWT. Still, most contact centres rely on outdated WFM systems that require heavy administrative work and ad-hoc analysis, lacking the needed flexibility for unexpected events.
For example, one factor that highly contributes to the increase of AWT is unexpected spikes of inbound calls. It could mean your contact centre will not be able to respond promptly to this increased demand, as calls forecast are no longer reliable.
Next-generation of workforce management tools rely on AI and automation, combining powerful artificial intelligence and automation to help you optimize staffing and scheduling decisions, reducing administrative effort.
Additionally, by relying on AI, these tools effectively anticipate customer demand and plan more effectively with accurate, omnichannel forecasts based on historical and real-time data, while making it easy to manually edit forecasts and intraday adjustments.
Through a real-time comparison of call predictions versus actual real-time data and with an analysis of adherence by activity and agent, you can quickly identify broken processes or the reasons for targets not being met.
While providing another layer of intelligence, these tools can optimize schedules by automatically accounting for agent skills and scheduling rules, giving you the best options for each time period.
An adequately staffed contact centre prepared to handle the predicted volume of incoming calls, with room for unpredictability, will be more efficient in answering calls and reducing the AWT.
2. Reduce Agent Attrition by Understanding Its Causes.
As long as you are maintaining your best agents, you are supporting a healthy AWT metric. Trained and experienced agents can answer calls faster and better, not only reducing AWT but also promoting a better performance on FCR and customer satisfaction.
One way to promote agent retention, in addition to HR-driven strategies such as career plans and progressions, is to provide them with the right tools for the job, such as agent assistive technology or intelligent knowledge bases.
A secure and supportive environment reduces agent effort and stress, giving them the right information to successfully handle interactions. Additionally, and as mentioned in the first tip, smart scheduling helps to ensure you're taking into consideration agent skills and schedule rules to promote a happier environment.
By pondering operational efficiency and employee satisfaction, contact centres can reduce attrition rates and improve ATW.
3. Reconsider and Simplify Your IVR and Routing Strategy.
You have the best agents, very knowledgeable on the product or service, but your FCR rates are low, the average abandonment rates are high, and your AWT could do better. What can you do to change this?
Maybe you are not delivering calls to the agents most capable of addressing a particular issue or topic. If this is the case, you need to improve the routing strategy.
Skill-based routing functionality reduces transfers and average handle time while improving FCR. Also, infusing your IVR with conversational AI, paired with a human-like voice experience, promotes a more natural interaction between the callers and the IVR, providing a convenient, hands-free IVR experience for customers with natural language processing.
Additionally, it fosters agent availability to handle more complex issues and access relevant customer information before picking up the call. As a result, your contact centre will not only have a low AWT but also a high CSAT.
4. Evaluate Clients' Different Responses on Waiting Time and Divert Strategies.
Different clients have different waiting time sensitivity, leading to different call abandonment outcomes, depending on who is calling, the issue, or even the time of day.
Before thinking about redirecting your strategy, start by analyzing trends on FCR, AAR, and correlations with AWT.
Customizable call data reports, paired with speech analytics capabilities, can drive essential insights, such as what issues or topics cause higher abandonment rates for the same waiting time, what customer profiles are more time-sensitive, or the times of day or week AWT is underperforming and why.
These insights empower you to adapt the queue strategy depending on the most impactful variables for the metric. For example, some client clusters may be worth answering faster than others, or an issue may have a higher priority.
This is not only an opportunity to reduce AWT where it matters the most but also to provide a personalized and differentiated level of service, matching it with the overall experience your customers expect.
5. Use Self-Service to Direct More Productive Conversations.
Implement customer self-service tools in different channels. As mentioned before, conversational virtual agents through IVR are a great option. By mimicking a real conversation, it helps customers go through IVR options more efficiently and can provide answers on FAQs, cutting the need to have a human agent picking up the phone.
If customers still ask to talk to a human agent, all the information gathered by the virtual agent and real-time call transcripts is transferred with the call. The end result is a decrease in AWT.
Also, sudden spikes in customer service demand don't necessarily mean pressure to contact centres. Analyze what other contact channels you can add to the different stages of your customer's journey. Not only does it help you deflect calls, but you can also drive the benefits of digital channels for 24/7 and on-demand availability.
Self-service provides contact centres a way of narrowing down agents' workload, maintaining top performance, and providing great customer service.
Benchmark Average Speed of Answer and Other Contact Centre Metrics.
Average speed of answer and average wait time are interesting metrics to identify gaps in the contact centre performance, helping you pinpoint improvements to the overall customer experience.
This blog post has been re-published by kind permission of Talkdesk – View the
Original Article
For more information about Talkdesk - visit the
Talkdesk Website