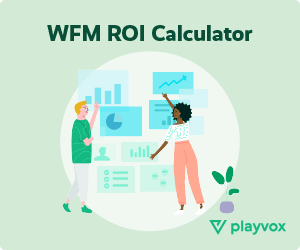 Donna Lightfoot at Playvox explains the role of real-time data in workforce management.
Maximizing workforce management efficiency through real-time data is an often-overlooked advantage for contact centres.
With real-time information, you can make crucial intraday adjustments that improve your efficiency and your customer experience.
There are several roles within the workforce management space, and each one is important in its own way.
Making sure you fill these key roles can separate you from the competition — but only if you also have access to the real-time data they'll need to perform these roles.
The WFM Forecaster
A forecaster's job is to predict upcoming volumes using historical data – such as volume, handle time, and shrinkage.
They must also know when certain events – such as a weather event or a marketing campaign – will occur. These are the basics of building a good forecast, and accurate forecasts are the foundation for the workforce planning and workforce management process.
The WFM Scheduler
The scheduler's role is to ensure enough people are staffed for the forecasted 30-minute interval volumes to meet the customer demand, while also meeting labor requirements.
This person's job is to make sure that they have the exact right number of people scheduled. If too many people are scheduled, you'll see downtime between interactions, lower occupancy rates, and lower employee productivity for the agents. Essentially, you are spending money on labor you don't need.
If not enough people are scheduled, you will often see agent burnout due to minimal breaks between interactions, a higher-than-ideal occupancy rate, and higher overtime costs. Neither is a good situation to be in and both can lead to unexpected operational costs for the company.
WFM forecaster and WFM scheduler are typical roles in a bigger business. In smaller businesses, these roles could be combined as forecaster/scheduler.
The Importance of Real-Time Data in Forecasting and Scheduling
Even if you have the perfect forecast and an efficient schedule for every agent to handle the forecasted demand for both daily and interval levels, you can still have problems if you're not working with real-time data.
If individual employees aren't adhering to the schedules or you have high absenteeism, it won't matter one bit. Why is this?
The simple answer is you must keep your thumb on the pulse of the business throughout the day for all areas to have a chance to succeed.
The most impactful information on a daily basis in a contact centre is real-time data, so it's vital to have someone monitor the data in real time.
What Is Real-Time Data Monitoring in Workforce Management?
Real-time data monitoring means monitoring all queues at all times in as close to real time as possible. This ensures changes can be made to business fluctuations quickly to reduce the impact of high hold times, abandoned interactions, and an overall bad customer experience.
Best Practice Tip
To get real-time insights, your data has to really be arriving in real time. Delays in data from three minutes and up can sink your service levels and other KPIs before you have a chance to take corrective action to balance the workloads.
It is always best to have real-time data refresh every 15 seconds to one minute to ensure you are getting the most recent relevant data.
Any interval refreshes lower than that can cause a burden on the system, depending on the number of users accessing the data at the same time.
Having someone monitoring the queues at all times provides valuable insights into metrics such as Speed of Answer, Average Handle Time (AHT), and Abandon Rate to ensure these are minimized and customers can reach an agent as quickly as possible.
When these metrics are negatively impacted, agents easily become burned out, customers become irate, and the overall customer experience suffers.
At best, this could cause negative customer sentiment. At worst, it can mean a decrease in customer loyalty and lead to high customer churn.
When these metrics are out of range due to things such as a high idle time or low occupancy rate, this quickly becomes a cost burden to the company that can lead to agent dissatisfaction and/or unnecessary labor costs.
Because of this, it is imperative to not only have real-time data but also to have an analyst continuously monitoring the data.
The WFM Real-Time Data Analyst
The basic role of the real-time data analyst in WFM is to make recommendations based on both historical and real-time information.
Their job is to make sure that the team meets the metrics set by the business, such as service level. While the role can vary from company to company, there are usually three basic components to the role of a real-time data analyst.
Common Duties of the Real-Time Analyst
One of the most important roles of the real-time analyst is attempting to rebalance the workloads when one or more is overloaded with volume.
When one channel is overloaded, the real-time analyst reviews other channels for availability, considers agents who are skilled in that particular channel, and strategizes how to move agents to where they're needed the most.
On the other hand, if workloads are low, the real-time analyst is the first to see the trend and recommend the appropriate adjustments to maintain productivity levels.
Best Practice Tip
In the case of low occupancy and high idle times, look to offer unpaid Voluntary Time Off (VTO). This allows the agent to leave early without repercussions.
It also lets the company save money, rather than paying agents to sit idle. If VTO is not an option, schedule any unresolved training, team meetings, or one-on-ones to keep agents busy and productive.
Another role of the real-time analyst is employee attendance tracking. This allows the contact centre to know exactly how many agents are working versus how many were scheduled but did not show up on time for the scheduled shift.
When this occurs, the real-time analyst makes necessary adjustments to coverage for workloads to ensure a successful day. Clear attendance policies will help you enforce attendance and make adjustments when needed.
Best Practice Tip
Code the absenteeism as soon as possible to ensure gaps are covered quickly before a negative experience occurs. An example of this would be recruiting for overtime due to the low staffing level and high workloads.
In these cases, it's always best to stay ahead of the issues and allow agents time to consider the available options for overtime rather than implementing mandatory overtime. Using mandatory overtime will lower employee satisfaction and increase labor costs.
Lastly, the role of a real-time analyst is to monitor agent adherence and activity management. This is the easiest aspect to monitor and attempt to correct to maintain a positive customer experience. The real-time analyst is the first line of defense in ensuring agents are following their schedules.
When an agent is deviating from the scheduled activities within a shift, it's up to the real-time analyst to call out this behavior in an attempt to get the agent back on track.
Remember, the scheduler will schedule agents to ensure coverage by interval, including lunches and breaks. Having one or more agents not following their schedule can lead to a negative impact on interval-level coverage as well as a negative customer experience.
Depending on the workload and how many agents are not following their schedules, this can make you miss your targeted service levels (SLAs).
This means you'll not only miss your SLAs at an interval level but also for the day. Missing your SLAs decreases customer satisfaction, which in turn, can lead to customer churn.
How Does Real-Time Analysis Make or Break Your Contact Centre?
While overall these all seem like simple processes, the role of real-time data within the WFM system is critical. Real-time data can make or break your perfectly laid plan.
With the increasing popularity of chats, emails, and social media, the role can be even more important when real-time data is not being used to monitor those digital channels.
Since most workforce management software solutions were built for phones and are not compatible with digital channels, they can quickly become hard to manage.
This too can cause negative impacts on your overall customer experience and employee experience — and create a blind spot for your forecasting and scheduling team.
The lack of real-time data can lead to ineffective schedules for the business when overall averages are used instead of actuals. Since averages do not provide a clear and accurate picture, this can lead to even more problems.
For your contact centre to succeed, real-time data and real-time visibility play an integral part in the daily operations of a contact centre.
It is important to ensure the workforce management software you choose provides real-time data so that you have a clear picture of what is happening in your contact centre.
It is also critical to have this data regardless of the channel, not only daily but also at an interval level. Lastly, someone needs to be able to monitor those channels in real time and make those manual reallocations as needed.
This blog post has been re-published by kind permission of Playvox – View the
Original Article
For more information about Playvox - visit the
Playvox Website