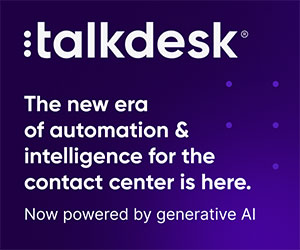 Seven out of ten customers demonstrate deeper loyalty to financial services and insurance companies that heavily invest in customer experience (CX), according to a new research study by Talkdesk.
According to The CX Revolution in Financial Services and Insurance, customers have options and they will no longer tolerate bad CX: two-thirds of the nearly 900 global respondents said one bad customer experience would impact brand loyalty.
While financial services and insurance companies have expanded digital touchpoints, the industry is struggling with legacy systems and data silos that are preventing a fully connected experience.
With strong customer demand for seamless omnichannel interactions, a lack of connected experiences can drive friction, and potentially churn.
Within the study, Talkdesk reveals more than 50 percent of financial services and insurance CX professionals identify customer experience as a high strategic priority.
"The CX Revolution in Financial Services and Insurance report clearly demonstrates the industry is at an inflection point with CX," said Tiago Paiva, chief executive officer, Talkdesk.
"The insights showcase that contact centres are a critical part of CX transformation, and can truly serve as business accelerators."
"Cloud solutions from Talkdesk offer the flexibility and operational agility for contact centres to emerge as revenue-producing assets, offering connected experiences that instil trust, drive loyalty, and attract and retain customers."
The study, a must-read for financial services and insurance companies evolving their customer experience programmes, addresses five key themes:
The rise of CX – Increasing client expectations for seamless experiences, coupled with the digital-first environment accelerated by the COVID-19 pandemic, is putting higher pressure on financial services and insurance organizations to prioritize integrated CX strategies and investments.
The challenge in driving better CX outcomes – Despite heavy investment in digital products and solutions, driving client satisfaction across the marquee financial milestones remains difficult, inspiring CX leaders to reevaluate the contact centre as the primary conduit in the CX journey.
Contact centres are the missing link in transforming CX – Forward-thinking CX leaders are now recognizing the potential for cloud-native contact centres to play an important role in transforming CX.
New ways to strategize deeper customer intelligence – Demand for client insights and intelligence shows no signs of letting up. With AI automation capabilities and integration across all customer touchpoints, contact centres offer up a rich repository of customer data, leading to deeper insights to share across the business.
Expanding from productivity to production – Extending beyond traditional problem resolution, agents are re-skilling to drive cross-sell and upsell opportunities, driving a new source of active revenue. Combined with the explosive amount of data being captured and used in a cloud contact centre, this evolution is expanding the perception of the contact centre from traditional operational efficiency to revenue production.
Talkdesk CX Cloud is the market-leading financial services and insurance solution designed to integrate every client and policyholder engagement across channels and lines of business.
Talkdesk CX Cloud maintains security and compliance through a rigorous, enterprise-grade platform with more than 30 security certifications.
With award-winning cloud-native solutions from Talkdesk, banks and insurers can rapidly deploy integrated communications across a flexible, secure platform to deliver differentiated client and policyholder experiences that build and retain loyalty.
"Talkdesk is uncovering new boundaries by building a new industry vision," said Zeus Kerravala, founder and principal analyst, ZK Research.
"I've been impressed with their focus and expertise to specifically address the unique CX requirements banks worldwide face, especially in light of the pandemic. Their vision to reimagine banking will transform the banking client experience."