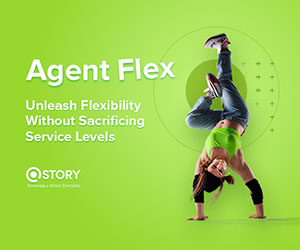 QStory has signed a partnership agreement with Resilient Operations to enable the optimization of workforce performance in ways that not only empower agents and allow workers to take control of when and how they work but also provide intelligent, science-backed recommendations on how to optimize work schedules while maximizing performance and wellbeing.
Founder of Resilient Operations, Ali Macdonald, said "Organizations with high-volume, process-driven, transactional business operations find it hard to retain talent, with multiple demands, including accurate forecasting, scheduling, skills development, and utilisation, being key challenges.
"We already know that established technologies like robotic process automation, intelligent automation and dynamic process orchestration combined with core Lean Six Sigma drive significant benefits but with the rapid adoption of augmented intelligence technologies, the demands on staff, particularly cognitive demands, place further pressure on employers to balance the needs of staff, clients and their shareholders to ensure that investments in recruiting and upskilling pay off.
"Taking a more holistic approach to the needs of these stakeholders to create a powerful optimization model with a much broader array of interventions and performance levers is key and QStory provides a fantastic platform to achieve that."
QStory Interim CEO, Wayne Thornhill, said "What Ali and the team at Resilient bring is unique. They have a really deep understanding of data and analytics in the human space, and they have applied this in exactly the area that we believe is critical, in optimizing where, what and how people work.
"The experience they bring specifically around workplace health, personal effectiveness, user experience design and human machine systems makes them a brilliant partner to support our further expansion into Europe and North America.
"We share the same core goals in seeking to maximize the efficiency and effectiveness of the workforce, ensuring quality of service and, critically, that the humans in the middle are looked after too.
"We believe this approach will significantly improve the value proposition that our clients can present to their staff and their customers."
This blog post has been re-published by kind permission of QStory – View the
Original Article
For more information about QStory - visit the
QStory Website