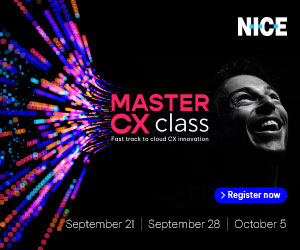 Lauren Maschio of NICE shares her advice for improving Call Quality Monitoring in the contact centre and greater utilsing technology.
Every contact centre engages in some form of Call Quality Monitoring in order to improve agent performance and customer satisfaction.
The goal is to identify calls that are failing to meet your standards for good quality, and to implement corrective measures.
Even with call quality programs in place, many contact centre managers find they are spending far too much time trying to obtain an accurate and fair picture of what is happening on interactions between staff and customers – and even more time getting to the root causes of why.
Call Quality Monitoring has to be done the right way from the start. Otherwise, you risk making wrong decisions based on incomplete or non-representative data, and therefore not achieving the results you want.
Here are three ways you can make sure your call quality monitoring practices are on the right track:
1. Record and Monitor 100% of Calls
We all want to make call centre processes better, faster and more satisfying for our customers. To achieve this goal, call centre managers need to be able to evaluate a representative sample of interactions.
When participants in a recent online webinar were asked how they select calls, a whopping 72% said their selection was random using a manual process. Unfortunately, listening in on a few calls selected randomly and tracking it manually is going to provide a picture that is partial at best.
One of the main reasons cited for agent mistrust of call quality assurance programs is that the sample selection is not representative. It often catches them at a bad moment, or focuses on a couple of substandard calls and ignores numerous interactions that ended successfully, creating a skewed picture of their performance.
For example, let's assume that busy call centre managers are able to review 1-2 randomly selected calls per agent each week. This means that only a few percent of interactions are being used for coaching and training purposes – especially if call volumes are high.
As a result, call centres tend to fall back on generic training practices such as coaching every agent on a regular basis, at pre-determined intervals, with sessions that cover random topics.
Unfortunately, not all agents need regular coaching on canned topics and this time could be better spent. Likewise, reliance on a coaching "schedule" doesn't enable managers to address knowledge gaps in real time.
Call quality monitoring is all about refining agent behavior and aligning it with business goals. To do that, call centres must record and monitor 100% of calls, so managers can get a true picture of how their agents interact with customers day-in and day-out.
In addition, call centres should employ an automated speech analytics system that efficiently analyzes 100% of agent conversations based on what was said and how it was expressed, highlighting both weak points and strong points that can be improved through targeted coaching.
With automated speech analytics doing the heavy lifting (sorting, aggregation and filtering), your agents and managers no longer need to spend hours on manual call sampling, freeing them from burdensome and inaccurate processes, while creating transparency and better conversations across the organization.
By monitoring 100% of calls using speech analytics, contact centres enjoy a 360 degree view of call quality, and ensure that the action items in their quality plan are based on empirical data and not anecdotal evidence and subjective observations.
2. Involve Agents in the Call Quality Monitoring Process
Best practices for call quality monitoring always stress the importance of defining what constitutes a quality customer interaction and how it is being measured.
Agents should play an active role in this process. They are the ones on the front lines, dealing with customers on a daily basis. Their experiences can provide valuable input in determining the benchmarks that make their customer interactions successful.
For example, top agents probably know best which phrases or words to use in tense situations, or how to simplify technical language in a call script to make it easier for customers to grasp.
Your scorecard might measure how long the call lasts, if a repeat call was needed, or how well the agent handled an irate customer.
Involving your agents in the call quality process also assures that they understand how their performance is being scored, and elicits a stronger commitment to measuring up to the benchmarks they helped define.
3. Keep Everyone in the Quality Loop
Quality assurance programs work best when everyone is kept in the loop, including executive management.
Once you've automated call recording, monitoring and analysis, the best way to feed quality scores and track how it impacts key business objectives to both agents and managers is with interactive quality management dashboards.
Call Centre Managers
Access to quality dashboards allows managers and supervisors to evaluate performance benchmarks for groups, teams, and individual agents. Through the dashboard, managers can assign training, reference knowledge resources, or suggest coaching resources based on evaluation scores and insights.
One such resource could be a "teachable" interaction. Sometimes, a call is simply pitch perfect. The agent checks off all the benchmarks and leaves the customer feeling perfectly satisfied. This is kind of call should be saved and shared as an example of how words, tone and actions were used to create an exceptional customer experience.
Call Centre Agents
Agents also prosper when they have access to dashboards that let them review their evaluations and if warranted, challenge how they've been scored. The ability to compare their performance against their peers, conduct self-evaluations, and learn from the experience of other agents provides valuable insight and motivation to do better. When your quality program is transparent and everyone is informed, it's easier to foster employee engagement and collaboration.
Executive Management
Management wants to know that quality assurance processes are aligned with the goals of the business. You've defined the target you want to achieve. You've developed a quality program to gather calls, evaluate them, and coach the right agent behaviors. You've also instituted call quality monitoring to assure that agents stay focused and don't revert to bad habits.
A critical link in the quality chain is to make sure that quality metrics and scores can be fed into meaningful reports for executive management so you can show and justify your quality recommendations for fiscal or calendar-year budgets.
This blog post has been re-published by kind permission of NICE – View the
Original Article
For more information about NICE - visit the
NICE Website