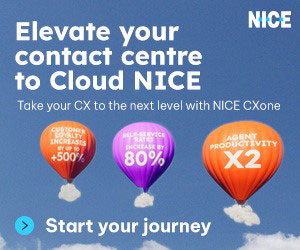 NICE has announced ScS Group Plc has found great success deploying NICE CXone to provide an omnichannel experience for its workforce and consumer base.
By employing NICE CXone Workforce Management, CXone Quality Management, CXone Interaction Analytics, Outbound Dialer, and Omnichannel Routing, ScS Plc has seen tremendous improvement in overall operational efficiency and employee satisfaction.
ScS Group Plc is a furniture and flooring specialist in the UK, with 100 stores employing over 1,700 nationwide.
Moving from their outdated on-premise solution to NICE's cloud platform that is agile and able to handle the remote widespread workforce was essential.
It enabled the digitalization of seven contact channels, including 250 back office workstreams, incorporating seamlessly with the CXone platform.
Integrating the Outbound Dialer and the SMS channel with multiple internal systems provided immediate value for the company's outbound sales team, skills-based routing, and call-back functionality at the queue level.
CXone enabled a 50 percent reduction in abandoned calls, an 11 percent improvement in answer rates and the ability to set, monitor, and manage against defined service levels, and a 10 percent improvement in advisor productivity compared to the same period with their incumbent on-premise provider.
Employee satisfaction scores have risen thanks to the NICE WFM implementation and use of the mobile app, providing an easy-to-use interface that allows for better scheduling control and flexibility.
The addition of NICE solutions and services enabled ScS to create several new roles specific to the platform aiding career progression and allowing for the continued leveraging of open API's for enhanced integrations, such as NICE Personal Connection and outbound campaign management.
NICE Quality Management allows ScS to drive the uplift in evaluation by removing the cherry-picking out of the process and they are now benefiting from NICE Interaction Analytics to build out insights that can be shared across the wider business to identify customer pain points and help with upselling opportunities.
Dan Bennet, Director of Customer Experience, ScS Group Plc, said, "In just four months, we have been able to drive some effective results with CXone: 50 percent reduction in abandoned calls, 11 percent improvement in answer rates, and 10 percent improvement in advisor productivity are just a few efficiency gains.
As ScS continues to scale its operations, CXone will allow us to identify and remove any customer pain points that emerge to ensure the best experience possible."
Darren Rushworth, President, NICE International, said, "We are pleased with the immediate success found at ScS Group Plc. NICE CXone's flexibility and ease of use has enabled the company to grow in ways that would have been difficult if they continued to rely on their previous, on-premises solution.
CXone enables ScS to effectively scale as they grow and respond quickly to evolving digital demand, providing exceptional customer experiences."
This blog post has been re-published by kind permission of NICE CXone – View the
Original Article
For more information about NICE CXone - visit the
NICE CXone Website