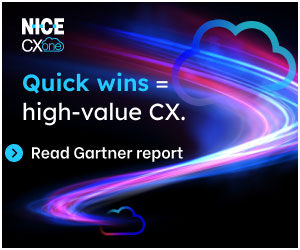 How can you ensure your contact centre staff are as productive as can be?
To find out, we asked our panel of experts for their top tools and techniques to boost advisor productivity in the contact centre.
Define Productivity

With an expanding number of customer touchpoints, what does doing 'more work' in the same timeframe really mean, and how do you measure it? More customer interactions? Reduced AHT? More time spent engaging with customers? Reduced wrap-up time and shrinkage?
Perhaps the best way to increase productivity is indirectly; by improving first contact resolution through upskilling, knowledge management, and optimized qualification and routing, more effective service will make the most of agent time.
Contributed by: Richard Gregory at Odigo
Start off on the Right Foot
Use personality and emotional intelligence tests in screening processes to identify the best talent for your contact centre's goals, customer needs, and culture.
For example, an empathetic agent would do well in a customer care role, while a digital native with a knack for solving problems would most likely make an engaging helpdesk agent.
Then, effectively onboard and train your agents in the way that best fits your workforce distribution model.
The past standard of all-day, classroom-based training is no longer feasible or effective. And while many are realizing that in-person delivery through a screen is not effective, contact centres will reconsider and enhance their training methodologies in 2023 to improve retention and engagement through:
Shorter bursts of learning modules
AI-driven training practice scenarios
Personalized feedback
Gamification
Contributed by: KellyConnect
Beware of the Delicate Line Between Empowerment and Alienation

Attempts to boost advisor productivity tread a delicate line between empowerment and alienation.
We want to provide the tools to help advisors grow in their role but not bombard them to the point of burnout.
Luckily, there are some steps to help us negotiate this tightrope:
Instruct advisors to use signposting right from the off. Signposting reduces AHT, boosts CX, and develops your advisors' sense of achievement when the call goes smoothly.
Encourage next-issue avoidance (NIA). Anticipating future problems and tackling them now heads off callbacks in the future.
Construct accessible knowledge-management systems around your top call drivers.
Implement adequate scheduling around peak call times and facilitate advisors' preferred schedules where possible.
Allow advisors to take frequent short breaks to keep energy levels high.
Implement a system of bite-sized, continuous training. Avoid downtime by delivering training via advisors' work interface.
Involve advisors in the improvement processes and encourage and incentivize a well-done job.
Contributed by: Caroline Leonard at Spearline
Boost Employee Happiness and Wellness
When discussing ways to improve employee productivity, it's far too easy to skip the most important step of ensuring employees are mentally prepared to be productive.
Contact centre managers and executives must lead the way in making job satisfaction and mental wellbeing integral aspects of company culture.
Research shows a strong connection between happy workers and satisfied customers, so it's critical to maintain employee wellbeing as a key part of the equation.
Contact centre managers and executives must lead the way in making job satisfaction and mental wellbeing integral aspects of company culture.
Start by having open conversations about mental health at work and providing employees with training and resources to have those conversations themselves.
You can also allow employees to take more frequent short breaks to reset. To go a step further, explore benefits programmes you can offer employees that support mental health and wellness, from free mediation services to monthly credits they can use on wellness activities as they see fit.
Contributed by: Cyara
Prioritize Mental Health
Approximately 70% of organizations made additional investments in wellbeing throughout the last two years, but a recent study reveals that these important benefits often go unused.
Providing wellbeing technology and resources is one thing. But providing time and encouragement to take advantage of them is another. Normalize the use of wellbeing resources from the top down by encouraging transparent conversations (as team members are comfortable).
Contributed by: KellyConnect
Keep It Interesting

Employee development and CX often centres around efficiency and volume, sacrificing the fun for function. While digital multichannel has driven remarkable efficacy in CX, the role of advisors has transformed radically.
Advisors can make an immediate impact in dealing with demanding customers, and this requires specialized and customized training tools and methods.
Workforce management (WFM) and AI learning need to be combined with gamification and incentives to ensure that your advisors have not only the knowledge and resources but also the motivation they need to support delivery of a consistent, exceptional customer experience.
Gather Feedback
In order to discover what your team needs and wants, you're going to need to ask them. This requires multiple channels of input for management to gather a complete picture.
Anonymous surveys as well as interviews or a simple chat can help make employees feel like their voices are heard and that their opinions matter.
Prioritize listening and options over predicted answers so you can understand how to support your team more. Be prepared to identify immediate areas of concern and schedule follow-ups for as soon as possible.
Contributed by: Jen Hughes at Alvaria
Listen and Act on Employee and Customer Feedback
The goal for most businesses is to provide great service that's as quick and easy as possible for employees and customers.
There are a multitude of tools that can help; from a well-maintained knowledge base, to canned responses for speedy replies and email templates that are quick and easy to use.
Some customer interactions include monotonous tasks. Automating or providing fast ways to accomplish these will improve productivity while also maintaining or improving your employee satisfaction.
These don't need to be overly complicated and can be as simple as having T&Cs that are played or emailed automatically after an interaction or by ensuring that when a customer and employee interact, all the information required is obtained beforehand, allowing the employee to immediately handle the enquiry.
Listen and act on feedback from your employees and customers around what frustrates them. Both will generally result in an increase in productivity and also have a positive impact on your customer satisfaction.
Contributed by: MaxContact
Use Quality Monitoring to Identify Skills Gaps
Quality management approaches cover call-recording and the monitoring and analysis of all calls. Identifying individual skills gaps can be difficult in a busy contact centre, particularly if agents are working remotely. Supervisors often only manage to analyse an average of about five percent of call recordings.
However, AI-based scanning of every interaction enables supervisors to flag conversations which contain trainable moments.
They can, for example, identify where an agent has used softer skills, such as empathy, to understand more complex problems and deliver reassurance and solutions that meet customers' needs.
Using technology in this way gives companies a much more complete view of quality, ensuring agents more consistently achieve best outcomes when engaging with customers.
Contributed by: Simon Adnett at Enghouse Interactive
Acknowledge Agent Success With Personalized Feedback

Positive recognition and reinforcement in contact centres proves invaluable when it comes to motivation.
Working in a high-pressure environment with rising customer demands and expectations, it's important to recognize contact agents for their achievements and efforts.
Personalized and tailored one-on-one coaching, coupled with real-time feedback, can allow agents to feel valued and motivated, therefore more likely to work harder and be more engaged.
Recognizing these positive behaviours can also take the form of improved training, with supervisors sharing top examples across entire teams when agents have delivered the desired outcome to a customer.
When this happens, agents feel motivated to invest in their performance and development.
When agents are happy, they perform at their best – driving better outcomes for the contact centre and delivering positive experiences for customers.
Contributed by: Frank Sherlock at CallMiner
Engage Agents in the Drive for Productivity

In any drive for productivity, whether the method is helping, supporting, motivating or training, success comes down to advisor efforts.
Engagement in not only customer interactions but the brand policies is required. Everyone needs to be singing the same tune for your services to work in harmony and to achieve peak performance. This is where transparency, smart goals and gamification come in.
Agents need to know what you want to achieve, why and how you are going to help them make it happen.
This involves agents in the process rather than imposing it, potentially even allowing space for agents to volunteer ways they think would help boost productivity.
By avoiding a situation where agents feel pressure is being put on to magic improvements to KPIs from nowhere, productivity can be framed as a way of making work easier, more efficient, less frustrating and more fun.
Contributed by: Richard Gregory at Odigo
Coach Your Coaches
Continuously train supervisors and managers on how to effectively coach and motivate agents to perform well and improve performance.
Encourage leaders to further challenge top performers while nurturing mid- and lower-level performing agents.
Coaches should also work to develop agent soft skills – like empathy, clear communication, and active listening – alongside technical or software training.
Contributed by: KellyConnect
Help Connect Teams

Group recognition and teambuilding will become a challenge over the next few months, because many employees and management have time off planned as well as holiday hours to contend with.
Facilitating those connections in a safe but non-pressured way will be key. In-person and off-site events should be thoughtful and optional.
In the absence of actual events and meet-ups, a simple workplace acknowledgement of effort can suffice and may provide your advisors with much-needed visibility.
Contributed by: Jen Hughes at Alvaria
Promote Communication and Collaboration
Enterprise collaboration tools have had a dramatic effect, boosting productivity in remote workforces.
They have enabled employees to work seamlessly and access information they need to do their jobs wherever they are based.
For contact centres, integration of tools such as Microsoft Teams enables advisors to use a single solution for internal and external interactions, saving time and driving major benefits.
Advisors can communicate one-to-one with individual colleagues and experts to provide faster resolution for customers. Managers also find it easy to use such tools to coach advisors working remotely.
ContactBabel research found 60 percent of contact centres using Microsoft Teams viewed the application as important or very important in improving productivity.
By adapting their approach and blending new collaboration tools into their processes, contact centres can improve the productivity of their advisors and agents and deliver high-quality customer experience.
Contributed by: Simon Adnett at Enghouse Interactive
Remove Barriers and Empower Agents

Recent research from DMG Consulting, "Reversing the Great Resignation", investigated what employees are looking for today.
In addition to fair compensation and benefits, and a clear career path, they were looking for scheduling and work-from-home flexibility as well as empowerment and enablement to do their jobs.
By paying attention to these findings, contact centres can ensure that they attract and retain the best talent to their contact centre. At Hammer we would also recommend that employers pay attention to whether technology is empowering agents or is another source of frustration.
It is important also to recognize that removing sources of customer frustration can improve the work environment for agents.
Earlier this year we commissioned independent research to investigate the state of the contact centre today; two-thirds of contact centre leaders said that dealing with frustrated customers has impacted employees' mental health.
Poor voice quality (especially for home working agents), which can cause needless repetition, delays in CTI screen pops, which mean the agent doesn't have the information they need at their fingertips, multiple transfers, which waste everyone's time, are all problems we hear about every day.
Often these issues are easy to fix, once the source of the problem has been identified. And they can improve both productivity and morale for contact centre agents, as well as reducing customer frustration.
Contributed by: Sandie Simms at Hammer
Optimize Channel Offering to Each Enquiry Type

Feeding agents with the contacts best suited to their skill set increases their productivity. As such, many contact centres have invested in AI-powered routing software.
However, this is only half the battle. Operations should also consider matching customers with the most appropriate channel for their enquiry. Such thinking is rare. Why? Because many operations assume that if they offer more channels, customer satisfaction will grow.
The challenge is that customers don't think in terms of channels. Instead, they consider how to resolve their issue as quickly as possible. Consequently, most still default to voice.
Using AI-powered analytics can identify the channel best suited to solving various types of enquiries. Therefore, pointing customers in the right direction should result in speedy, accurate resolution.
Contact centres can then apply this analysis – supported by analytics-driven reporting tools – to signpost the optimal contact routes along different points of the customer journey The result will be that contacts go through the right channels, boosting advisor productivity.
Contributed by: Jade Turley at Calabrio
Integrate Information and Service Channels in One Place
For contact centre agents, one major productivity killer is having to jump between different service channels or information silos to answer customer queries. Thankfully, the cloud makes it easier than ever to overcome these barriers.
By taking call centre operations off premises, you can give agents access to the information and data they need to respond to customer needs in real time.
Cloud-based contact centres can house all the important data in one place and allow agents to seamlessly move across support channels.
Agents can track customer journeys across different touchpoints, making them more informed when the time comes for the next engagement.
They can also more easily share information across departments, which benefits sales, marketing, and service alike – for a better customer experience across the board.
Use AI to Offer More Self-Service Options
According to survey data from NICE, 81% of consumers expect businesses to offer more self-service options.
AI can empower customers to resolve many issues on their own.
It's not that customers don't want to interact with human agents; they just want to save those interactions for the issues they can't resolve on their own.
Conversational artificial intelligence (AI) technology has now advanced to the point where it's actually possible to allow customer self-service across a wide range of simple service requests.
From chatbots that handle bank account enquiries to conversational IVR systems that allow customers to check order status, AI can empower customers to resolve many issues on their own.
This reserves the human-to-human interactions for the most important issues and allows agents to focus on delivering top-quality service with each customer engagement.
To truly maximize conversational AI capabilities, though, be sure to deploy a comprehensive solution for testing and quality assurance to support it.
Contributed by: Cyara
Simplify Processes

People, process and technology have undergone massive changes in the last 18 months. Internal processes are the one area that the business can always control.
Companies that have examined and committed to streamlining internal processes while giving advisors the opportunity to learn new things in a structured and thoughtful format have seen incredible returns on time invested.
Streamlining processes reduces workload by reducing advisor fatigue or, at the very least, delaying its onset.
Advisor competency, service quality and customer satisfaction all suffer when productivity is low. Prioritizing advisor engagement and productivity demonstrates an investment in all of your employees' futures and overall experience.
The commitment to an enhanced, engaged, advisor experience not only emphasizes your workplace culture, but will continue to attract and retain new and developing advisors, especially during the holidays.
By boosting advisor productivity, your organization demonstrates what it means to be a part of your organization by balancing the employee and the customer experience alongside each other.
Contributed by: Jen Hughes at Alvaria
Don't Waste Agent Time

It's simple, eliminating things which waste agent time allows for greater productivity.
This means chipping away to remove the multitude of tiny things, often monotonous or frustrating, that eat up agent time.
The ways to achieve this largely fall into two brackets: automating tasks and knowledge management.
Firstly, consider auto-fill for forms and automated wrap-up. Secondly, make information easy to access so agents don't need to search for it.
Well-maintained knowledge bases, APIs to provide specific information or AI to make next-step suggestions all help increase the speed and accuracy of agent decision-making.
The result? Not only greater productivity but also improved job satisfaction and the associated benefits to customer experience.
Contributed by: Richard Gregory at Odigo
Simplify the Agent Desktop
As contact centres have grown, advisors often have to toggle between different systems or applications when seeking resolution – all of which takes time and reduces productivity.
Agents may have to use as many as four or five applications, covering customer accounts, payment, suppliers and CRM systems. It may not always be possible to reduce the number, but it is possible to unify them behind a single unified screen or desktop to improve efficiency.
This accelerates agents' access to the information they need while giving them a single comprehensive view of the customer they are interacting with.
As contact centres have grown, advisors often have to toggle between different systems or applications when seeking resolution – all of which takes time and reduces productivity.
A unified desktop solution covering all channels removes complexity from the agent's role and increases customer retention through faster, more consistent responses.
Unified systems also automate the updating of back-office systems at the end of each interaction, eliminating manual errors while making it quicker to train new agents.
Use AI to Make Knowledge Easily Accessible
AI-driven knowledge bases give agents quick access to the latest accurate data for resolution of customer queries.
By analysing customer conversations, these solutions automatically provide suggested answers. The technology learns what leads to successful resolution in relation to specific questions.
When the same questions come up again, having learned what works, the solution will suggest the same answers for the agent to use, reducing time to resolution.
If a contact centre has a single, centralized knowledge base across all channels, including emails and chat, it is easier for customers and agents to find what they want.
Using the power of AI, a knowledge base can highlight more frequently asked questions and the information that is most commonly accessed.
Organizations can then embed this information earlier in interaction journeys to accelerate resolution. Use of an AI knowledge base speeds up access to relevant information so that they can wrap up the call and move onto the next.
Contributed by: Simon Adnett at Enghouse Interactive
Give Advisors the Flexible Work Schedules They Are Demanding

Early results from the 2022 Hybrid Working survey launched in November (and supported by Sensée) confirms one thing that most people knew already – very few contact centres have committed to 'full-time back to the office' after lockdown.
In fact, less than 25% of respondents say that three-quarters or more of their people are back working full-time in the office.
While this can partly be explained by the desire of businesses to save on office space and running costs, the main reason I'd suggest is because people want to work more flexibly.
Employees say that home working gives them the flexibility to work around their other daily commitments as well as cutting out the costly and time-consuming daily commute.
'Giving employees what they want' is a great reason for organizations to support home working! Another is because home workers can be more productive.
In fact, 31% of early respondents to the 2022 Hybrid Working survey said that home workers were more productive, compared to just 19% who said they were less productive. The rest said 'about the same'.
If you consider how early into their new world of work plans most organizations are, these findings are extremely encouraging.
Contributed by: Michael Gray at Sensée
Flexibility
Remote work is the preferred model for 75% of Millennial and Gen Z workers, and half say they'd take a pay cut for a more flexible job (Source: Deloitte).
But flexibility has evolved beyond offering a hybrid schedule.
Yes, younger workers want remote or hybrid work. But new flexibility-focused perks, like a four-day workweek or ability to trade/flex hours or shifts, have gained momentum recently.
Giving talent autonomy empowers individuals to own the agent experience while managing their work–life balance. To get started, ensure management sets reasonable guardrails for the team to operate within, and allow space for feedback and discussion.
Contributed by: KellyConnect
Build Agent Autonomy With Self-Scheduling

According to the Harvard Business Review: "Forget Flexibility: Autonomy is a key driver of human motivation, performance and fulfilment, in the context of hybrid working."
As such, autonomy aligns with productivity. Yet offering contact centre agents autonomy is notoriously tricky.
The most effective way to build agent autonomy is by giving them the ability to create and edit their own schedules in real time and on the move, using their mobile devices. They can move lunches, catch up with colleagues, and make time for new learning.
We often hear customers say self-scheduling is a "brilliant idea" because the simple act of having lunch and taking breaks together helps to "build teammate chemistry" and as such productivity.
Using a modern workforce management solution with agent self-scheduling, contact centres can finally crack the code to give agents more autonomy while keeping service levels under control.
Contributed by: Jade Turley at Calabrio
Define Agent Work–Life Balance

One of the key factors in productivity is employee engagement, which results in both higher profits for the employer and seamless customer experience. But this isn't always easy to achieve, particularly in the era of hybrid work.
To feel their most productive, agents must be able to define their work–life balance. With an AI-powered workforce management system, which provides real-time staffing analysis, staff can choose their own schedules and better coordinate with their colleagues.
And because working from home can make agents feel as though they're "always on", this type of software will enable them to set their communication preferences, such as the days and times at which they can be contacted, and the channels they prefer to use.
Employees can therefore recharge while remaining updated on scheduling opportunities, ensuring they are both happy and equipped to meet customers' needs.
Contributed by: Andrea Matsuda at NICE
Career Pathing for Agent Retention
While the Great Resignation waned in 2022, the year also brought us quiet quitting – the conscious decision by talent to stop going above and beyond on the basis that they just aren't paid to do so.
In 2023, employee development and career pathing will serve as a powerful retention tool. By encouraging managers to become actively involved in employee development and career growth, they'll help employees fulfil their sense of purpose – and they'll see a future in your organization.
Develop horizontal and vertical career plans with cross-training, side projects or lunch-and-learn programmes.
By expanding agent training, role specialization, and agent advocacy, teams see improved experiences for agents and customers alike.
Contributed by: KellyConnect
Rethink First Contact Resolution (FCR) Processes
Many contact centres have moved away from measuring handling times as the main indicator of advisor productivity, instead opting for first contact resolution rates (FCR).
Why? Because it balances agent efficiency with effectiveness.
Yet setting FCR targets is not enough. Indeed, the following graph highlights that, despite the metric's recent hype, FCR rates are sinking across the industry.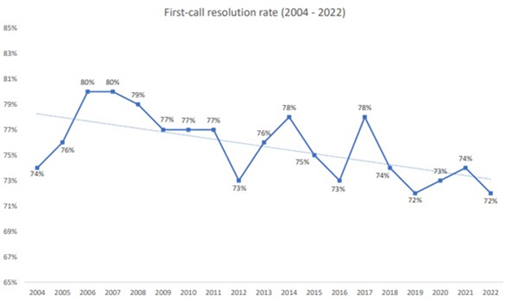 This graph was first published in the 2022-23 UK CX Decision-Makers' Guide
As such, contact centres should reconsider their approach to FCR.
One technique that may help is thinking beyond just eliminating unnecessary repeat contacts and considering how to prevent additional contacts in the first place.
Speech analytics can identify trends in second contacts. With detailed analysis, followed by targeted coaching where required, agents are better prepared to resolve future problems during the first interaction, thereby boosting advisor productivity.
According to ContactBabel's report, analytics provides the most accurate method of measuring FCR.
Contributed by: Jade Turley at Calabrio
For more great insights and advice from our panel of experts, read these articles next: