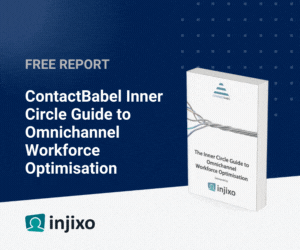 We present the answers to questions that we are frequently asked around shift planning in the contact centre.
These answers come from Vatsana Gordon, a workforce planning consultant, who has worked with brands such as Argos, Vodaphone and HomeServe.
How Can I Improve Schedule Adherence?
The first thing that most contact centres do with schedule adherence is to put a key performance indicator (KPI) against it – with standard practice being around 95% schedule adherence.
Ensure that advisors don't feel as though the KPI is only there to "whip" them into shape.
But what goes hand-in-hand with that should be bringing your advisors up to speed as to why adherence is so important and bringing that to life for them. This helps to ensure that advisors don't feel as though the KPI is only there to "whip" them into shape.
To give them context, it's great to give advisors "power of one" training. This helps to show advisors the impact that being just a couple of minutes late can have on customers, their colleagues and the wider business.
Ideally, power-of-one training should be part of induction training, to help show new advisors how key their role is to business success.
A couple of other ideas to improve schedule adherence are:
Setting ACHIEVABLE targets around schedule adherence, ensuring that advisors don't end up rushing through calls at the end of the shift, worrying that it will impact their "score".
Putting live schedule adherence stats on the advisor desktop, if possible, to ensure that advisors don't slip back into old habits that have a negative impact on adherence.
Find out how you can track schedule adherence as a KPI in our article: How do I Calculate… Schedule Adherence?
How Can I Increase Flexibility in My Shift Patterns?
When recruiting, a big mistake that many contact centres make is just saying to the recruiter: "I need a certain number of full-time staff," and they will have set patterns that they want them to work.
But there are a couple of things that you can do to improve flexibility early on:
Ensure that you have a good full-time to part-time ratio – based on your typical call arrival pattern.
Build a good training programme that is designed specifically for your part-timers.
These are key recruitment considerations to increase flexibility. Other examples will revolve more around the shift patterns that you offer.
One key message is to rethink your rotational shift patterns, as few people live a rotational life.
As an alternative, there are a whole raft of other things that you can do, including:
Seasonal Holiday Hours – Offering more holiday around your quiet periods, with the aim of increasing advisor numbers for busy periods.
Hiring Flexi-Workers – Employ advisors who are paid bonuses to work at a week's notice, whatever hours are available.
Offering Split Shifts – Advisors who work split shifts will work the early and late, with a long break in between, which is useful if you have early and late call peaks.
If you can create an array of methods to put shift patterns together – designed to meet certain people's lifestyles, who you can target in recruitment – that can be a great way to increase flexibility.
How Can I Measure the Effectiveness of My Shift Patterns?
A key metric is schedule inefficiency. This is a measure where you look at the profile of your demand and then measure how close your shifts are to your demand curve.
You will likely never get it to 0% inefficiency, as that will require lots of people to work two- or three-hour shifts around your peak demand.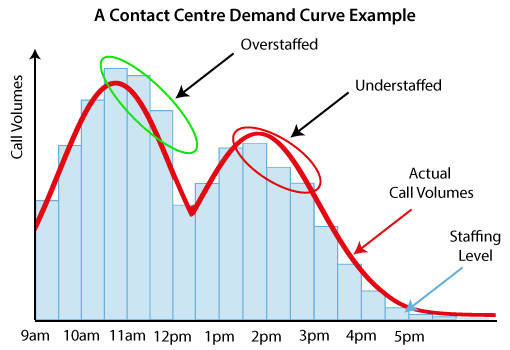 A good target to start with – taking all of your "unders" and "overs" across the day – is around 12.5% inefficiency. That will give you a good understanding of the effectiveness of the shifts you have in place.
Attrition and absence rates across different shift patterns will also enable you to measure the "effectiveness" of shifts from an advisor engagement perspective.
Which Shift Patterns Are Becoming More Popular?
The most popular shifts tend to be the Monday to Friday full-time shift. But this could vary from one contact centre to another.
If you have a young team, what you might well find is that the option of a full-time compressed shift is the most sought-after option.
In this shift pattern, advisors work the full 37.5-40 hour week, but over a period of four days. This gives them an extra day in the week to do whatever they like with.
Other popular shifts typically include the school shift – from 9:30am to 2:30pm – and the student shifts – from 5:30pm to late.
Engage with your team to find out for yourself what the most popular shift patterns would be in your own contact centre.
The key message, though, is to engage with your team to find out for yourself what the most popular shift patterns would be in your own contact centre.
Across the industry, there needs to be more of a focus around what shifts your team want to work, as well as what suits their lifestyle.
What Is Shift Bidding?
"Shift bidding" is a function that is available within almost all modern workforce management (WFM) tools and it is something that is very popular in the US.
There are a number of ways to use the functionality and it really does depend on the flexibility of your workforce.
In many US organizations, they fully utilize the system and allow it to produce the best possible shifts and then allocate shifts based on an agent's preferences and their seniority.
Seniority can be defined by the business and allows an organization to select who will get their most preferred shifts first. Again, in the US they set this based on the performance of an agent.
This isn't a favourable method of allocating shifts in the UK and is the main reason why it hasn't been widely adopted. There are, however, ways to utilize the functionality without going to the fully flexible.
One option would be to survey how many of your advisors would be interested in being fully flexible with a week to a fortnight's notice and first build into your schedule all of your static shifts – i.e. the shifts of those who want more static shifts – and what shift bidding will do is show you what is left.  The flexible advisors can then use the WFM tool to bid for those shifts.
This creates flexibility for advisors, while it allows you to create shifts that align well with you contact centre's demand profile.
How Should I Go About Investing in a Shift Planning Tool?
Your approach to investing in a WFM tool will depend on the size of your contact centre.
If you are a less than 50-seat contact centre, I would not recommend an expensive solution from one of the "big" technology vendors.
Why? Because there is only a certain amount of efficiency that you can get out of scheduling in such a small contact centre, so you won't be able to generate the same return on investment (ROI).
Understand how much efficiency and how many benefits you are going to get out of a WFM system to determine how much you will pay for it.
You need to understand how much efficiency and how many benefits you are going to get out of a WFM system to determine how much you will pay for it.
When you get to contact centres of 100 advisors or more, you will then be looking for something that comes with a lot of functionality.
Things that you want to look out for in a shift planning capacity:
Multichannel and multiskill scheduling
The ability to make manual adjustments
Break and job optimization
Scenario scheduling
Absence management systems
For more on what you should look out for in a planning tool, read our article: Beginner's Guide to Workforce Management Software
How Many Shift Patterns Should I Have?
There is a fine balance here between not overcomplicating things and avoiding "shoehorning" all of your advisors into a couple of different types of shift patterns.
Many contact centres therefore decide to stagger shifts. This often leads to one full-time rotation – i.e. where advisors work an early, middle and late shifts on rotation – and three part-time shifts – i.e. 20, 25 and 30 hours.
A better approach is to create more options for full-timers.
We should be being more creative in how we can give full-timers more options than just a rotational shift pattern.
In resource planning, we spend a lot of time bending to the needs of part-time workers, when we should be being more creative in how we can give full-timers more options than just a rotational shift pattern.
The key message, though, is to conduct a shift review, where you talk to your advisors and consider: what do they want and what can we do as a business? Then you can determine what is manageable.
What Is the Best Way for Staffing Friday and Saturday Evenings?
At these times, absence will typically be higher than usual – especially if you have a system where everybody has to work on a Friday and Saturday evening as part of a rota.
A better way to run this is to ask advisors to apply preferences in the WFM system. This can also be done manually, but it will take a lot of time and effort.
With these preferences, you can highlight a group of people who don't mind working Friday and Saturday evenings and may be willing to do so on a fixed basis. So you can build a shift pattern for them.
You can also separate them. Don't make everybody who works a Friday evening work a Saturday evening. Give advisors the opportunity to have a weekend.
The most important message, though, is to get your communication right at the start of a shift review or a recruitment drive. You need to determine when an advisor definitely can work and what they will struggle with.
Also think about the amount of notice you give advisors when you do need them to work certain hours. Increasing this time may decrease absence rates on Friday and Saturday evenings.
What Is the Minimum Number of Staff to Cover a Night Shift?
Of course, this depends on your overnight requirement. However let's say, for example, that you have a contact centre that has to be open 24/7 but doesn't get much volume overnight. Maybe the requirement is just one person.
Well, that one person needs to have holidays, of course, and could be off sick. A minimum requirement of one then ends up becoming a requirement of three, just to make sure that there is one person that is always there.
Remember that night shifts often have higher shrinkage. So measure your overnight shrinkage and make sure you apply that to your staffing calculations, rather than your average shrinkage figure across the day.
To find out more about measuring shrinkage in the contact centre, read our article: How to Calculate Contact Centre Shrinkage
What is Annualized Hours?
In a lot of companies, work is seasonal across the year. This can be a headache for planners. Annualized hours can be a useful solution.
Annualized hours is a scheduling solution where advisors are paid a flat rate throughout the year, but they might work more hours in the summer or winter, depending on demand through the seasons.
That works from an efficiency perspective, yet one of its downfalls is managing it.
That works from an efficiency perspective, yet one of its downfalls is managing it. Tracking the number of hours everyone works in low or high season can be a daunting prospect.
Why? Because you need to make sure that you don't owe advisors money because they have worked more hours or vice versa.
It can be hard to manage administratively, so you need to have a really good process in place and I'd also advise that you:
Identify your optimum levels of FTE across the year
Set a maximum number of hours advisors can "bank" across each season
Send updates to advisors to show how many hours they have left
For more on how to run such a scheme in the contact centre, read our article: Six Steps to Implement Annualized Hours in the Contact Centre
What Is the Best Way to Deal with Holidays/Vacation?
A classic problem in this arena is that everybody wants their summer holiday. Yet this problem can be much better dealt with if you get your communication right early.
At the start of the year, ask your advisors upfront: what weeks do you want off for summer?
As these are what advisors really want, be proactive and see if you can find the space so that everyone can get their two-week summer holiday.
Be proactive and see if you can find the space so that everyone can get their two-week summer holiday.
From a more general holiday standpoint, one of the things that I like to do is to adopt "seasonal vacation hours".
So, when business is at its busiest, we offer a lower amount of holiday. Not so much that it drives absence, but just enough because we know that we really need that resource.
Rather than flexing and recruiting lots of temporary people, we get our advisors to help us and then we will offer more holiday at lower seasons.
How Can I Improve My Remote Working Shift Planning?
If you can get the infrastructure right, you can get homeworkers to jump on the phone for micro-shifts – of one or two hours – to plug gaps in your schedule.
Having this sort of flexibility in your shift patterns can be really valuable, and many contact centres could really do more to utilize the benefits of homeworking.
Homeworking also makes split shifts much more desirable, as advisors can use the time in between their shifts to pick their children up from school, cook or maybe just complete some housework, before jumping back on the phone.
Not having to commute makes shift types like split shifts and micro-shifts much more appealing, as you remove the commute. These shift patterns can also provide you with much more flexibility.
Also, homeworking opens up your recruitment pool, so it is easier to find people to work difficult shift types, like night shifts, Friday and Saturday evening etc.
In Conclusion
Shift planning is more than just mathematical calculations. Communication and engagement are key components.
An organization's most expensive commodity is its people and it is cheaper to keep your current workforce than to hire new people.
It is even more important to ensure that the shifts that are created in the contact centre cater not only to business requirements but also to provide a better work/life balance for those who work in it. This is a win-win situation for both the employee and the business.
The best resource planning teams are those who think creatively about how they adopt this balance and do more than stay safe with easy-to-administer shifts.
It takes effort to be creative in your shift planning, but in the end, it is the most rewarding strategy.
My advice for anyone going through a shift review is to really listen to what your people want and see how your WFM can support you to build that flexibility into your planning
Thanks to Vatsana Gordon for answering our questions. If you want to find out more from Vatsana, check out Avocado55, the independent business advisory company that she is part of.
For more contact centre scheduling and shift planning content, read our articles: