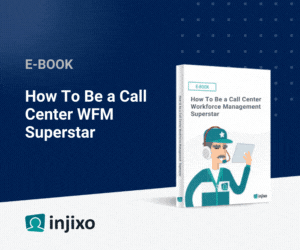 Here we take you through all the basics of contact centre workforce management (WFM) software.
What Is Workforce Management (WFM)?
Put simply, WFM is all about assigning the right staff to the right job at the right time.
Although that might sound simple, it is in fact a complex business challenge, because there are many factors that come into play.
While most still rely on spreadsheets when it comes to staff scheduling, some companies use specialist software for resource planning, customer record management and HR. In fact, almost 45% of contact centres do, as highlighted by the following graph.
Yet, however you choose to do it, WFM has three key areas. These are:
Forecasting your requirements – so you know how many employees with what skills you'll need in the future
Planning your work schedule – so you have exactly the right number of employees to meet your needs
Managing your employees' time – so you can boost efficiency and determine your employees' work time accounts
While doing each of these three things, you should monitor and analyse your results, which will allow you to see whether you are meeting your targets and take prompt action if not.
A WFM system will help you to optimise and automate all of this, as we investigate below.
Forecasting
For workforce planning to be successful, you must be able to predict your short, medium and long-term staffing requirements. When forecasts are inaccurate, the schedules are irrelevant.
A basic WFM system will help you to forecast how your business activities will develop and how these plans will affect your staffing needs, by using historical data to provide predictions about future needs.
Most of these modern systems work across multiple contact centre channels and have been developed so that resource planners don't have to manually put together forecasts, which can be a long, tedious process.
Alongside this, modern WFM systems have other forecasting benefits, which include:
Automatically generating forecasts one year in advance
Automating staffing requirements
Self-learning, so forecast accuracy increases over time
Discussing these benefits, Neil Draycott, a WFM Optimisation Consultant at Business Systems, says: "Installing a WFM system brings tangible benefits across customer service, compliance, employee morale, operational efficiency and productivity."
"The key is ensuring your WFM team receive high-quality training from seasoned WFM experts and ongoing support in making the best use of the system and its capabilities."
"Your provider should have WFM consultants on hand to optimise your tools and processes during tailored workshop sessions, ensuring you gain maximum benefit from the outset."
For more on this topic, read our article: A Guide to Workforce Forecasting in the Contact Centre
Scheduling
The main objective of staff scheduling is to create schedules that align well with forecast contact volumes, while taking into account employees' availability and preferences.
Basic schedules can be created by using an Erlang Calculator, although WFM software can automate this process to best match supply and demand. This helps to minimise under and overstaffing the contact centre.
Basic schedules can be created by using an Erlang Calculator, although WFM software can automate this process to best match supply and demand.
However, there is much more to modern WFM systems than this. No longer is WFM just about having the right number of staff in place at the right time, it's also about having the right skills.
As Neil Draycott explains: "The dynamic nature of modern WFM systems now allows agents who have multiple skills at different levels of proficiency and across a range of different customer contact types to be accurately scheduled where the demand is required in order to maximise performance."
In addition, these systems are flexible to any schedule pattern – whether that's fixed shifts, rotating patterns or annualised hours – the software builds schedules around patterns that you define yourself.
Top-of-the-range software can also work across multiple sites, as well as multiple channels – such as inbound/outbound calls, email, live chat and social media.
For more on creating basic schedules, read our article: How to Work Out How Many Staff You Need in a Contact Centre
Intraday Management
Unfortunately, it is impossible to gain complete visibility into activities that impact future contact volumes, forcing contact centres to do the best they can with available information.
Information gaps occur when contact volumes are driven by activities outside of the contact centre's control or as a result of unexpected events, such as systems problems or lack of communication between departments.
While it's good to have a series of Standard Operating Procedures (SOPs) and to multi-skill advisors to better prepare for these situations, WFM software can guard against this.
WFM systems may have a dashboard that will allow you to monitor key metrics, such as service level, forecast accuracy and queue time, which need to be given close attention to improve performance and for effective time management.
When one of these three metrics starts to "waver", the contact centre can make moves to turn the situation around, to minimise the impact of the unexpected increase in contact volumes.
Discussing the intraday management benefits of having a dashboard like this, David Preece, Customer Success Manager at QStory, says: "It is great to have a centralised view of all of your key metrics to provide you with the 'cue' to take certain actions.  Trying to collate all of the necessary information from ten different sources is impossible."
"However, it is fair to say that this is where most WFM software stops. Everything that you actually need to DO to make the changes needed to react to falling metrics has been manual, time-consuming and labour intensive.  That is why the Real-Time Team was born – to bridge the gap between WFM and reality."
"The next generation is Intraday Automation software that recommends which courses of action you should take to protect service levels or improve flagging productivity scores. It also automates all of the communication and schedule updates that come with wholesale changes."
Why Not Just Use Spreadsheets?
Planners have to take into account a whole range of different factors when setting up staff schedules. Many constraints have to be considered at once, including:
Legislation
Local agreements
Employee contracts
Budgets
Individual employee qualifications
Individual employee availability
Also, of course, schedules must match your staffing needs. Too many staff means extra costs, too few could compromise customer service.
Yet the number of things that contact centres (especially 35+ seat contact centres) need to take into account – as highlighted above – is too large to be handled in a simple spreadsheet. To achieve all the benefits listed below, WFM requires a system with considerable power.
For more information on improving your schedules, read this article: Workforce Optimisation: 10 Ways to Improve Your Contact Centre Schedules.
The Benefits of Using Workforce Management Software
The benefits of putting an integrated WFM system in place can be seen in many areas of the business, but most are operational and employee-related.
Operational Benefits
By allowing you to automate and standardise routine recurring tasks, a WFM system gives you time to focus on what's important.
Also, the system helps you integrate operations, finance and monitoring to reduce costs related to staff, admin and IT.
Let's take a look at four other key operational benefits of having WFM software:
Increased efficiency, as staff planning is always based on your business requirements
Reduced personnel costs, through avoiding unnecessary overstaffing and overtime, eliminating non-productive time and spotting errors in payments, as actual working times are captured
Faster and better decisions because you have access to all KPIs in real time
Reduced management costs as processes are streamlined and integrated
Employee Benefits
A WFM solution allows you to provide a working environment and schedule to suit your employees' needs better, and to match employee skills with business needs.
Other benefits that installing a WFM system may have for the contact centre team include:
Better work–life balance because employees' preferences can be taken into account in staff planning
Lower attrition rate, as employees who are assigned to tasks that match their skills and qualifications are less stressed and more motivated
Greater fairness because popular and less popular working times and locations are evenly distributed, but also allocated in line with regulations and contractual requirements
To make sure that you achieve all of these benefits from WFM software, read our article: What to Look for in WFM Software
Can a Return on Investment (ROI) Be Expected?
Every company has to consider whether a given investment will pay for itself, and over what timescale.
However, the introduction of a WFM solution will likely generate immediate a number benefits, including those listed above.
According to Paul Chance, Sr. Product Marketing Manager at NICE, "The ROI for WFM is massive.  A one or two percent improvement in forecast accuracy can result in £100,000s' worth of salary savings, in large contact centres.  This is why having a solution that corrects for the overstaffing of skills-based routing and Erlang calculations is crucial."
"Employee engagement is also a part of the conversation; as people are the largest cost in a contact centre, reducing churn is an issue that needs to be managed."
"Research suggests that companies that use a WFM solution that provides a high degree of schedule flexibility for the advisor lower churn and save money."
Further Reading
To find out more on the topic of WFM, read our articles:
Originally published in March 2010. Recently updated.