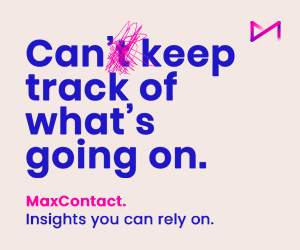 Ben Booth at MaxContact outlines some key tips that contact centres can use to speed up Average Handling Time (AHT).
How Can You Speed Up Average Handling Time?

There are two productive ways we've seen to have the biggest impact with the least investment.
The first is to get the right interactions with the agent that can solve the problem. So either through your IVR or your webchat asking those extra few questions.
Or whether it be an email that comes in, where you read the content of the email, and you get it through to the agent that can solve the interaction, even sometimes by sacrificing the average wait time.
And then the second one is training and knowledge.
Once that interaction gets through to the agent, having the agent who can solve the problem, but also has the tools available to them quickly in order to get the information to solve the problem is becoming pivotal in this day and age, with more complex problems becoming apparent in the contact centre.
If you are looking for more great video insights from the experts, check out these videos next: