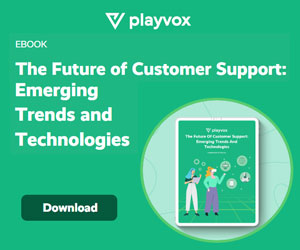 Rohit Rakkar at Playvox outlines how spreadsheets are to workforce management as dial-up is to the internet.
Spreadsheets are a useful way to get your contact centre organized and off the ground but can quickly become a bottleneck to growth and efficient communication.
Your resource planning and quality teams can become bogged down with duplicate sheets, unnecessarily manual processes, and even end up being over-staffed in your contact centre. COVID-19 and the ensuing pivot in working environments we have all embraced are the two compelling reasons to move on from managing your contact centre with spreadsheets.
Spreadsheets have been considered yesterday's technology in the contact centre for a while. Earlier this year we focused on why it's time to replace your scheduling spreadsheet with a WFM tool. Scheduling numerous departments across different time zones in a spreadsheet is a burdensome job. A dedicated workforce management tool improves quality consistency, the agent experience, and data analysis.
But spreadsheets are used well beyond the resourcing department in a contact centre. Here are three reasons why you should pivot from spreadsheets to more robust contact centre software.
1. Efficiency
We all know the saying "time is money." When 20, 50 or even 100 agents need rosters produced for the next four weeks plus monthly calls fed back to them for quality assurance, that time really adds up. If you're relying on spreadsheets alone, even with the most experienced staff, it's still a time-consuming process to collate data and ensure its accuracy before manually sharing the information.
These core functions extend to other parts of the business as well. Let's consider the wider impact of a more holistic tool on efficiency. Integration is key functionality in any system and one of the most important things to consider when choosing the right tool to replace spreadsheets.
HR, payroll, and your telephony system need to be taken into account. Any tool can replace a spreadsheet, but not just any system can integrate with pre-existing functions and drive further benefits for the business.
The key to success is picking the right option that allows you to not only create schedules but to optimize them with other applications, such as your HR suite, or your QM/WFM system to enable quicker access to data and better decision making.
Time spent on repetitive tasks takes away from spending time and resources on more valuable processes, preventing you from spotting trends and being proactive. But the benefits to efficiency aren't just about looking ahead when comparing spreadsheets to a cloud-based platform.
Spreadsheets leave your company open to risks, especially with a varying workforce environment between home and office.
2. Security
Spreadsheets are only as secure as the individual creating them. At times, a spreadsheet is a document with confidential call details intended for a team leader and an agent to have a conversation. That conversation could involve a sensitive customer interaction.
That spreadsheet could then be emailed without encryption, leaving process and customer data vulnerable. Sometimes spreadsheets are password protected and stored in a central location accessible only via a company-issued device.
In any case, there are limitations that restrict how feedback can be delivered, if at all, and how effectively feedback can be provided to improve agent behaviours that result in a better customer experience.
This was less of a concern when the conventional contact centre was centred around a single location or set of buildings. But with the pandemic reconfiguring most contact centres, many companies have to adapt to new hybrid working environments and ensure their office and their employees' homes remain as secure as the office.
This is where contact centre solutions like Playvox can help coordinate your contact centre agents anywhere in the world without disruption.
3. Growth
Contact centres must be proactive and agile. No matter the number of daily customer interactions, any issue could negatively impact the business as a whole. Get things right and you won't need 50% more agents to deal with a 50% uplift in customer communications.
Forecasting and analysis tools exist within spreadsheets, but creating an Erlang expression in an Excel file and having it update daily through a SQL feed isn't a simple task. Attracting the right people with the necessary skills to maintain complex spreadsheets isn't always feasible or fast.
Playvox Workforce Management uses artificial intelligence to remove the burden of manual scheduling. Its suite of tools goes beyond rostering, as all the agent staffing data and volume data can be combined to enable faster decision making, even when demand spikes.
In terms of quality management, car-sharing company Turo went from completing 100 QA evaluations in the first few months to averaging 1,150 per month. The significant increase in evaluations provided tremendous insights into customer behaviour Yur hadn't been able to extract previously.
Whether a result of expansion or to focus growth, analysing and storing large amounts of data in spreadsheets isn't feasible in the long term. The experts at Call Centre Helper believe in moving away from spreadsheets for QM in particular. A trusty template isn't the answer to everything.
Dial Down the Spreadsheets in Your Contact Centre
Just like dial-up can still connect you to the Internet, spreadsheets do work. But just like browsing the Internet with dial-up, you don't get speed, power, or the ability to do anything on the same day.
A cloud-based workforce management solution is your jump to a lightning-fast connection, with ever-increasing capacity, better support and faster, more reliable results to enable you to take your company to the next level.
The call centre is evolving. Customers are contacting companies across a variety of channels, and the singular point of contact, such as the telephone, is disappearing. Web chat, email, and text messaging don't suit the linear spreadsheet template.
Call centres have become complex multi-channel contact centres spanning numerous locations. Don't consider a QM or resourcing tool an expense, but an investment with tangible ROI. It's time to let the spreadsheet go and leap forward to a holistic workforce management system.
This blog post has been re-published by kind permission of Playvox – View the
Original Article
For more information about Playvox - visit the
Playvox Website