The fourth in the series looking at how technology can help to solve contact centre problems.
This week we look at phone calls following email queries.
The problem
A caller sends in an email.  They do not get a response and then call the contact centre.
The phone call solves the issue but there are still multiple email queries clogging up the email queue.
The solution
Match the customer CLI to a known email address/account number and pop the emails to the agent during their call so these can be closed down immediately.
How it works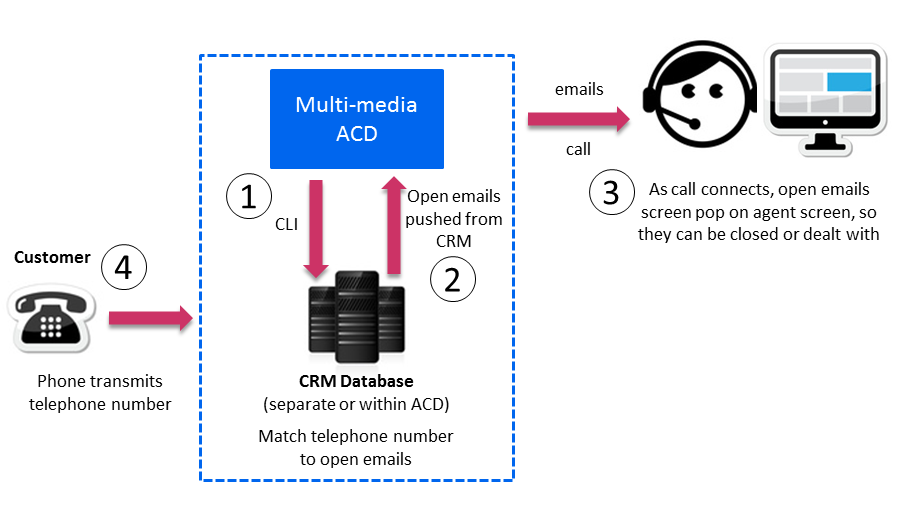 The customer sends an email into the contact centre.  They do not get back an answer as soon as they expected and may send in another email.
On getting no response they then call the contact centre about the same problem.
A multi-channel ACD routes the CLI when the client calls in to a CRM database (this can be located within the ACD). The database matches the CLI to the email address or account number of the client.
All open emails associated with that account are pushed from the ACD, and when the call connects and are screen-popped to the agent.
The agent can close off these emails during the call and they will be removed from the queue. The associated email may also provide the agent with background information.
If required, confirmation emails can be sent by the agent back to client to confirm action agreed in the phone call.
Benefits
By closing off several outstanding emails which are blocking up the email queue you can save the agent time in dealing with these emails at a later time.  You can therefore reduce email response time on other emails and multimedia in queue.
If 1 email takes 5 minutes and you save 300 emails per day, this equates to 25 hours per day saved.
For a 200-seat contact centre receiving 10 calls with associated emails per agent per day, this equates to a saving of over £330,000 per year.
This Technology Toolkit was provided by Susannah Richardson of mplsystems