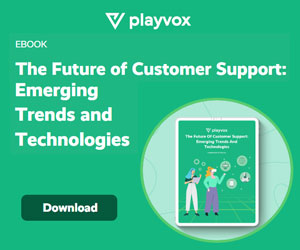 We share all of the secrets to success for developing a popular crowdsourcing initiative that simplifies customer service.
What Is Crowd-Based Customer Service?
Many organizations consider customer service just through the lens of customer–advisor conversations or self-service and automation.
Yet there is a third option of having a base of expert customers helping other customers to resolve their service issues. This support group is known as "the crowd".
Sometimes members of the crowd are paid – as part of the gig economy – for answering customer queries, given kudos or are provided with no reward at all. It all depends on the model that's implemented.
Nonetheless, whatever the model, having the crowd answer customer queries is known as "crowd-based customer service".
The Benefits of Crowdsourcing Customer Service
When a customer helps a customer, the contact centre does not need to get involved. This brings obvious economic benefits.
While you may reward a customer for helping a peer, it should cost less – on a cost-per-contact basis – because you remove overheads, such as employee benefits, telephony expenses etc.
Other economic benefits also stem from the scalability that crowdsourcing provides, according to Paul Weald, Director at MCX.
"Crowdsourcing becomes this elastic, on-demand resource pool, which you only pay for when it is actually needed," says Paul.
This benefit can be of real value for sectors such as e-commerce, where seasonality is a big contact centre problem and part-time advisors need to be hired, fast!
Yet there are many other benefits of crowdsourcing in customer service too. These include:
Human-to-Human Engagement – Connecting customers with people who are passionate fans of the brand will ensure that they feel like the "helper" really understands them and their needs. This can spark positive human-to-human engagement.
Improved Customer Understanding – Sit back and just watch what is going on. The contact centre will soon understand the "F" in their FAQs. They can then bring these answers to the fore and use the crowd to answer a great surplus of queries.
Knowledge Curation – Has an answer from the crowd received a great response from the user base? Well, incorporate that answer into knowledge management systems. It could prove to be an invaluable secret that keeps customers happy.
In many cases, brands have also found crowdsourcing to improve customer experience too. After all, people will often prefer getting advice from an experienced product user than a trainee advisor. Their answers will feel "closer to home".
What Models Are There for Crowdsourcing Customer Service?
The two most obvious models for crowdsourcing customer service are:
Open Crowd – This simply involves creating an environment where anyone can join in on the conversation and share their feedback.
Closed Crowd – In this crowd, only authorized customers can leave their feedback. Just think of Reddit, where someone has to register to take part. In fact, some closed crowds even require an onboarding process to join.
Within these formats, there may also be functions such as:
Liking a response, so the user can see the most popular answers to their query.
Highlighting a response to show that the answer has been approved by the business.
Certifying "helpers" who often leave good, popular responses, so the customer understands they are an expert.
However, there are many more functions and models that can be applied to crowdsourcing that have the potential to improve customer service.
For instance, another model may centre around online events. Such events could include a chatroom for customers to interact, from which feedback can be generated to answer key website FAQs.
Yet this is just one example of many. Let's take a look at some of the others below.
4 Examples of Crowd-Based Customer Service
Many brands are using crowdsourcing as part of their general strategy. Examples include:
TripAdvisor – Like many modern sites, TripAdvisor relies on reviews from its userbase to provide people with information regarding trips.
Wikipedia – The trusty encyclopaedia was a pioneer of crowdsourcing, relying on its community to create collaborative articles.
However, in terms of customer service, it is the following brands that are setting new standards in using crowdsourcing to streamline their operations.
1. giffgaff
Widely acknowledged as the original innovator for crowd-based customer service, giffgaff rewards customers for running different parts of the business.
Through answering questions within the community, as highlighted above, as well as bringing in new customers and promoting giffgaff, customers can win a number of prizes.
These prizes include additional phone credit, cash payments or even charitable donations. Donations are matched by the company as part of their Corporate Social Responsibility agenda, which is a great initiative.
Discover lots more about giffgaff's community within our article: Who Is Using Crowdsourcing for Digital Customer Service Enquiries?
2. Microsoft
Microsoft run a most valuable professionals (MVP) programme, which is a technical community of experts who share their knowledge of Microsoft technologies with others.
Members of Microsoft's crowd are not paid, they instead volunteer knowledge for the recognition of being a Microsoft MVP. This makes Microsoft's model very cost-effective.
Reportedly, MVPs answer over 10 million Microsoft customer queries a year. Not bad going at all!
3. Apple
Apple users very rarely have to contact customer support. Information is instead found in forums where users share their knowledge.
The official Apple forum – known as Apple Support Communities – has several great features, which include the ability to:
Earn points, levels and rewards, as well as other fun perks by answering questions
Gain specialist status and secure a place on their leaderboard
Highlight responses that solved the problem
Users can also follow their favourite communities while managing and streamlining their view of discussions and specific contributors within the crowd.
4. Mila (Swisscom)
Mila, the German tech support company that's owned by Swisscom, crowdsource on-site technical support and service for Swisscom customers.
When customers are having a problem with their smart devices, broadband routers or telephony setup, Mila will connect them with tech-savvy people who will come and help them out.
Over time, Mila have accumulated a network of over 10,000 crowdsourced technicians, who have completed over 200,000 services, while customers rate them 4.87 out of five stars. Not bad at all!
How To Get Started With Crowdsourcing Customer Service
First of all, consider if it is a credible option for the business. Is customer loyalty high and is there a base of possible micro-influencers who will engage in the community?
Then consider: where might it fit?
"Start with the biggest problem or need," says Peter Massey, Managing Director at Budd. "How could you displace that need? This will help you generate ideas for crowdsourcing against key business priorities."
By considering this, a model can be designed that is then piloted as part of a classic digital "test and learn". A business can then adapt its approach as it moves forwards.
Start with the biggest problem or need, how could you displace that need? This will help you generate ideas for crowdsourcing against key business priorities.

Peter Massey Managing Director at Budd
To adapt, simple observations are a key part of the puzzle, as are metrics…
How to Measure the Success of Crowdsourcing
Some metrics will likely be stalwarts for any crowdsourcing strategy. Contact volumes are one great example. Analysing these is a great place to start.
"Look at your call dispositions," says Peter. "Is crowdsourcing taking away traffic from the contact centre and for what call reasons?"
Not only will this indicate cost savings, but it will show how successful crowdsourcing has been in deflecting queries away from the contact centre.
Other metrics that organizations often use to measure the success of crowdsourcing include:
Crowd Size – The more active people sharing knowledge, the greater the chance that good ideas will be shared.
Crowd Activity – This simply shows engagement levels within the crowdsourcing space – i.e. overall number of posts, comments etc. Sign-up rates, for closed forum crowds, can also be an interesting measure.
Crowd Engagement – What is the average number of posts/comments that a user makes? This is useful to see if people are motivated to continuously help others.
Crowd Diversity – This metric ensures that a range of different perspectives are being gathered.
Customer Lifetime Value – Is the increased human-to-human engagement increasing loyalty? Calculating customer lifetime value will show this, as well as the impact of crowdsourcing on customer experience.
Quality Assurance – Crowd-sourced knowledge needs to be helping people. If people are paid to post responses, make sure they are providing value.
Of course, this last metric is also important because some members of the crowd could post offensive remarks, which could harm the business's reputation if not dealt with properly.
How Do I Increase the Size of My Crowd?
The first step to encourage conversation is to provide insightful comments covertly. People will begin to interact more if they get answers.
With that said, be wary of "oversurveillance".
Watch what happens closely and don't act too quickly. Encourage natural conversation first.
Promoting the community on the website, social media and via email will also help to increase awareness amongst the customer base.
A "what's new in the community" email might just do the trick in encouraging engagement.
More ideas to grow the crowd include:
Providing incentives for "top contributors", which could be product/service savings
Promoting members of the community to elevated positions, including "top contributors"
Bringing the community together for video conversations to create connections amongst users
By increasing the size of the crowd through using these tactics, an organization can open up a talent pool that their customer service function struggles to attract. This will make responses even more valuable to contact centre knowledge management.
The Risks of Crowdsourcing Customer Service
"Oversurveillance, failing to learn and being overly optimistic as to the success of crowdsourcing are the three biggest mistakes that I see in crowd-based customer service," says Peter.
By making any of these three mistakes, an organization risks the success of its crowdsourcing initiative.
Yet there are other risks that brands must consider before turning to crowdsourcing. These include:
Lack of Control
Companies can feel a little out of control with regard to the support that customers receive.
With crowdsourcing, companies can feel a little out of control with regard to the support that customers receive. This can be problematic for organizations that have had bad experiences with outsourcers, chatbots and other forms of automation previously.
Also, crowdsourcing often requires collaboration with other departments. Marketing and digital teams may also choose to get involved, which may again cause the contact centre to feel a loss of control.
So, to sell the idea to the whole contact centre, remind them that it's not about taking control away, it's about creating a mobile ecosystem of experts. These experts can provide great knowledge and reduce workloads.
Reputation Dilemmas
With total control over every customer contact, companies feel that their reputation is secure, as all queries are handled by trained employees.
With crowdsourcing, however, companies may feel as though they putting their reputation at risk.
Also, if a crowdsourcing model pays contributors, some organizations will worry that the negative press around "gig work" may reflect badly on their brand.
However, work can be done – and promoted – to keep gig workers happy, while the model doesn't necessarily have to follow the "gigging" route.
Key Takeaways
Crowdsourcing can be a great tool to answer service queries by allowing customers to help one another.
There are many economic benefits to employing a crowdsourcing model, while increased human-to-human engagement, improved customer understanding and better knowledge curation are also big pluses.
Crowdsourcing can be a great tool to answer service queries by allowing customers to help one another.
Such bonuses have seen brands such as Microsoft, Apple and Nissan venture into this exciting world and build their own crowds of product experts.
Yet crowdsourcing doesn't come without its dangers. A loss of control and potential damage to reputation may become problems if crowdsourcing is not managed properly.
So, make sure you follow the rest of the advice within the article to avoid these issues and then reap the rewards of crowdsourcing customer service.
Uncover lots more ideas for great, modern customer service in our articles: