Paul Weald brings us up to date with all the latest information on crowdsourcing and its impact on digital customer service enquiries.
Call Centre Helper last looked at the topic of crowdsourcing back in November 2010 – so, given the rise in digital communities since then, how has the story moved on in the intervening six years? Who are the exemplars that are using the crowd to provide support for digital channels? And what is their business rationale?
The originator was giffgaff
The original innovator for crowdsourced customer service was mobile phone provider giffgaff. They founded their service strategy on getting customers to help each other. In terms of names, 'giffgaff' is an old Scottish term that refers to the process of mutual giving, and they have used the power of the community to build a new type of sharing culture. Significant growth has occurred, with 1.7m customers (who they refer to as members).
Members get rewarded for running parts of the business, like answering questions in the community, getting new members or helping to promote the company. These rewards can either be additional mobile phone credits (reducing the cost of running their mobile), cash payments or a charitable donation, which is then matched by the company as part of their Corporate Social Responsibility agenda.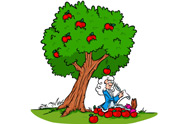 Customers now raise 5,000 posts (queries) per week, with over 90% resolved by other members. As a result, there is only a small formal contact centre which deals with escalated contact and specialist functions, e.g. complaints. This gives giffgaff a genuine cost-to-serve advantage over its rivals.
As well as having a class-leading low contact rate, giffgaff also enjoys the best NPS scores in the mobile sector of +40 (sector average +5).  So this remains a very impressive case study.
The market developments
Many of the pioneers in the crowdsourcing space have been US-based companies, building out and managing remote workforces. Outside of customer service, there are now many cases of these crowd-based solutions in practice. For example:
Onespace have built a network of on-demand workers, as highlighted by their work with online second-hand clothes retailer ThredUp. The collaboration showed that Onespace were able to draw upon 10,000 cataloguers, 5,000 product description writers and 20,000 editors, who were all freelancers, to work as if they are part of a shared resource pool.
Upwork have over ten million freelancers on a worldwide platform, paying them over $1B every year for the work they complete. This includes freelancers who work in graphic design, content writing, internet research, web design and many more popular fields.
In terms of pioneers who are then applying this concept across customer interactions, Needle provide a marketing platform that leverages the power of advocate customers.
Needle identify crowdsourced advocates and then recruit, on-board and certify them on behalf of the brand that they are working for. These advocates then resource a webchat service for pre-sales enquiries, paid by interaction, with part-time working hours that suit their lifestyle.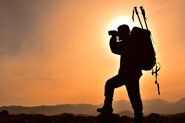 Needle see themselves as a trusted provider of authentic customer experiences so that website users can engage more emotionally in making their purchasing decisions, assisted by these crowdsourced brand advocates.
A relevant US case study is the golf company TaylorMade, who oversaw a sales conversion rate that was almost 3.5 times higher than the overall site average. This was thanks to the use of these brand advocates. Also, the order value of customers who engage with advocates is 50% higher than the site average. A compelling eCommerce ROI!
Applying these concepts to UK customer service
What has changed in the past five years has been the rise in smartphone apps. These are now starting to play a key role in customer support interactions, providing customers with easy access to freelance experts wherever they happen to be.
This concept is illustrated by Limitless, a UK start-up business, who have applied their knowledge of call centre operations to match digital enquiry types with appropriate experts who will be able to answer them.
These queries posed to an organisation via 'contact us' forms etc. that are routed to the crowd to be answered are known as "information-type enquiries". The point being that the question needs to be appropriate for the crowd to answer.
This would be true of general enquiries but would not be true of more complex enquiries that require access to an IT system to look up customer records. These complex issues need to go to a traditional contact centre agent, with just the simpler general enquiries going to the crowd.
It is these information-type enquiries, which do not require access to customer-based IT systems like billing systems, that are most applicable for crowd-based customers to respond to using the Limitless smartphone app.
Also, high levels of customer satisfaction reflect the trust that we have for peer reviews. As review site companies like Trip Advisor first identified, we are far more likely to take note, and therefore value, feedback from other customers.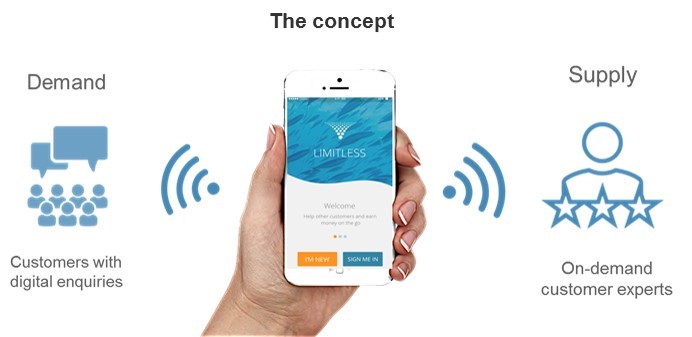 An early adopter of the Limitless app is Unilever Plc, who have this month announced that they are using the crowdsourced customer service approach for three of their brands – Persil, Marmite and Tresemmé.
Limitless have built the platform so that it integrates with leading cloud, CRM and e-commerce systems to intelligently route customer queries to an on-demand network of people in real time.
Brand Ambassadors then earn instant cash or rewards for resolving these enquiries. The result is a much lower cost per contact than using the traditional contact centre, as the crowd require fewer facilities and less infrastructure.
Interestingly, Unilever have also invested in Limitless as they recognise the potential. In their press release, Stan Sthanunathan, Executive Vice President – Consumer & Market Insights at Unilever, says: "We know consumers want more insightful and faster responses from communications with our brands. Limitless offers us a way to provide this whilst helping other consumers at the same time.
"We are excited to work with Limitless to help us scale customer services much more cost effectively across all digital channels on a 24/7 basis and deepen our understanding of consumer needs. We also get to reward our most loyal and passionate customers at the same time."
When a circa 50 billion euro turnover business like Unilever invests in crowdsourcing, you know that there must be substance in the concept.
European examples
A similar approach is being taken by French start-up Toky Woky, who are also focused on the concept of crowdsourced e-commerce. They use an on-site chat module to allow website visitors to ask each other questions in real time. Not only does it give visitors the answers from their peers but it also provides the site with insight on what customers want.
This builds a community where visitors vote for the best answer, engaging and recognising their advocate customers. Content analytics tools then filter visitor interactions in order to understand recurrent issues and questions with each page of the website, publishing content to resolve these issues.
The results for firms like L'Oréal Paris are much higher levels of engagement with the website, leading to increased site conversion rates.
Another French-based service provider is iAdvize, who market their crowdsourced webchat agents as ibbü – an online community of savvy enthusiasts paid to enhance customer experience and boost online sales. These crowd-based agents are experts that give advice on products that they know well based on their own experience.
On average, a chat conversation with an ibbü expert lasts over 15 minutes, which shows that they provide high-quality support and enjoy sharing their expert knowledge.
These crowd-based resource pools can also be used to supplement in-house service agents.  For many retailers, customer service and sales teams are overwhelmed over the Christmas and January sales period when dealing with customer enquiries. This is where tapping into an on-demand resource of experts can help.
Webchat analytics can then target chat interactions based on customer activity on the site – with pre-sale enquiries routed to crowd experts, and after-sales enquiries to internal customer service agents. UK customer House of Fraser are already using the iAdvize chat technology platform, with plans to extend this to include ibbü agents later this year.
A different use case is provided by German company Mila, who have applied crowdsourcing to provide customers with on-site technical support.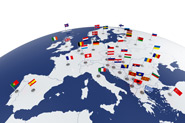 Focused on the telecommunications industry, when customers are having difficulty using their new smartphone, connecting a broadband router or upgrading a digital TV box, they can find, book, and rate tech-savvy people, who then come to their home to help them out.
Now owned by Swisscom, some 4,000 service requests per month are handled by the crowd. The service is not cheap at CHF89 per appointment (about £70), but users rate the service at 4.8 stars out of 5.
Relevance to the public sector
Given the impact of austerity, we are beginning to see crowdsourcing innovations in the public sector – whose contact centres are tasked with doing more from less.
One example is Red Kite Housing, who are working towards a different way of working 'with' their customers rather than simply 'for' them. They see the potential in their tenants and local community not just to self-serve but also to self-regulate and help others to resolve their issues.
Red Kite are basing their approach around their new 'knowledge sphere'. This is the central point of reference for anything their staff need to know – equivalent to an organisation-wide Google. But they are going one step further based on providing knowledge-sphere access to selected customers so that they can become the experts for helping other customers.
What's next for crowdsourced customer service?
A key pain point for many organisations is handling email, where the corporate service level response in measured in days, whereas consumer expectation is measured in hours or minutes. So using crowd-based resources could be a neat solution for those simple email enquiries in a much more timely way, reducing failure demand and channel switching as a result.
The use of the crowd could also be relevant for the latest emerging digital transformation of customer experience through contact channels such as Facebook Messenger or WhatsApp. These allow a brand to interact with customers in the same way as they do with their friends, through a reassuringly familiar interface. Instead of having to switch applications and hunt around a company's website to find their webchat, they can stay on a familiar platform that they like to use every day.
I think we can expect to see this becoming a development opportunity for crowd-based service in 2017 as it allows incremental contact demand to be handled without any increase in internal contact centre staffing levels.
For more from Paul Weald, visit www.mcx.co.uk