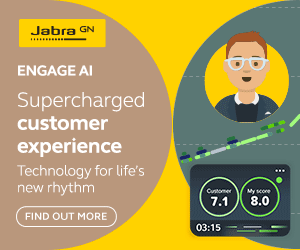 We asked our experts how to get the very best from your headsets.
Use extension cords to prevent clumsy breakages
Headset clips can be easily broken while they are being removed from sockets or consoles, especially if they are awkward to get to because of all the equipment on your desk.
However, an extension cord should allow you to bring it to a more convenient position. This is especially useful when using a wireless headset as it keeps the base and power lead away from your phone, preventing tangles with your handset cable.
Keeping the base at a distance will also help reduce the likelihood of sound interference from having it too close to your IP telephone or console.
With thanks to Nigel Squire, Proprietor at S W Communications
Get your agents to clean their headsets at the start of each shift
Take two minutes out at the start or end of the working shift to quickly clean the headset with anti-bacterial or sanitising wipes.
It's especially important to clean the headsets if sharing devices, as infections can easily be spread.
Position the microphone 2-fingers width away from the mouth
Ensure optimal voice clarity on every call by positioning your headset microphone correctly.
The microphone should be positioned 2-fingers width away from your mouth in order to maximise the sound quality and ensure you can be heard clearly by the other person on the call.
Put them away properly at the end of the working day
Look after your headsets. Although they are built to withstand the daily demands of a busy call centre, ensuring they aren't left lying around to be broken, aren't repeatedly dropped or cords aren't constantly played with, will all make them last longer.
You should ensure that corded headsets are put back in their bag, and rest wireless headsets in their base unit to recharge at the end of the working day.
Wear your headsets properly for maximum comfort
Make sure your agents are wearing their headsets properly for maximum comfort; a headband style should be placed centrally on the top of the head, while the T-Bar end of a one ear-piece should be placed directly above the ear.
Encouraging your agents to wear their headsets properly will not only ensure comfort but should also help to block out ambient noise in the workplace and allow for the customer to be heard clearly on the other end of the phone.
With thanks to Amanda Bowbanks, Customer Marketing and PR Manager at Jabra
Wireless headsets for training
When training new hires, take advantage of your wireless headsets to listen-in on their calls and gain the best insight into their performance.
With this information, you will be able to provide new staff with the constructive feedback they need to improve.
Rely on your vendor for service
Make the most of your vendors' service portfolio. They should be able to repair or replace malfunctioning devices quickly and with minimal hassle.
Keep your headsets fresh and clean
Change your headsets' cushions and voice tubes regularly, not just to maintain high quality sound during calls, but also to ensure the hygiene and health of employees.
Additionally, avoid purchasing repaired headsets, as often neither the performance nor the safety of these products is guaranteed.
With thanks to Richard Kenny, EMEA Marketing Manager at Plantronics
How do you ensure that you get the best out of your contact centre headsets?