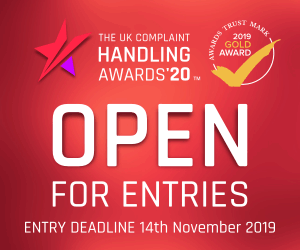 About the Event
Now in its 4th year, the UK Complaint Handling Awards continues to be the only awards programme in the UK to recognize the inspiring organizations who are dedicated to effective complaint handling.
The best companies don't shy away from complaints – they use them to strengthen their reputation and retain a loyal customer. Joining the Awards this year means you can showcase your amazing initiatives whilst rewarding your team's dedication.
The UK Complaint Handling Awards promotes excellence and best-practice sharing, by gathering hundreds of leading business professionals together under one roof. The event also offers excellent brand positioning and unparalleled networking opportunities with organizations from across the economy.
The overall winner is the entry with the highest score out of all the finalists, using the scores awarded by the judges. 50% of the score is for the online submission and 50% for the live presentation.
The overall winner will be awarded at the end of the awards ceremony on the 5th March 2020, at Park Plaza Riverbank, London.
Date and Time
Starting:
Monday 1st July 2019

Ending:
Thursday 5th March 2020
Location
Date and Time
Starting:
Monday 1st July 2019

Ending:
Thursday 5th March 2020
Location