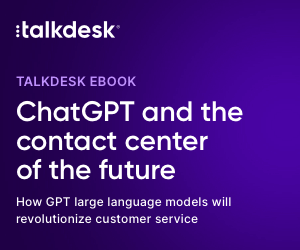 Lídia Dias at Talkdesk describes how more than just assigning shifts, workforce management builds the foundation of a smooth-running call centre.
If you talk to a call centre manager, they'll probably say that one of their biggest challenges is workforce management. Not because people are difficult to manage (well, sometimes they are), but because so many external factors have to be considered that, in the end, it seems much more like guesswork.
But it is not. Call centre workforce management has a great impact on call centre performance indicators, such as customer satisfaction and service level, and makes a great difference if it's done with the most appropriate tools.
In this blog, we take a look into this topic, the impact it has on several aspects of the business, and how workforce management software can help.
What Is Call Centre Workforce Management?
Simply put, workforce management refers to the way companies organize and manage employees and their workload. It is like solving a puzzle in which all the pieces have to fit together and even the smallest gaps can be significant.
Call centre workforce management involves ensuring the right number of agents are scheduled, at the right time, so no customer is left without having their problems solved.
As any of your call centre managers can tell you, this is a daunting task: there are a ton of external factors that need to be considered to keep things running smoothly.
The good news is that today, there are plenty of workforce management software solutions available to help call centre managers do this without a hitch, ensuring the call centre team is staffed appropriately to meet clients' demands.
The Building Blocks of Call Centre Workforce Management.
Call centre workforce management is comprised of four basic parts: forecasting, scheduling, assigning agents, and managing intraday activity. To be able to better understand the benefits of having a dedicated call centre workforce management system, you need to understand what each part involves.
Forecasting.
Forecasting, in the context of contact centres, includes estimating future query volume and the number of agents needed to handle those queries.
Call centre forecasting is essential to predict staff needs with reduced effort and a low error rate, maintaining a high level of service, and ensuring your customer satisfaction rate doesn't drop.
Forecasting is usually made through historical data—information about seasonal spikes, volume trends, and year-over-year changes that may affect the number of agents needed. It should also include predictions based on future launches, annual sales, or major updates.
Scheduling.
The next step is to find the perfect balance between the number of available agents and the data provided by forecasts to determine shifts and hours of coverage.
With an accurate prevision of future contact centre demands, supervisors need to look to the skills of each agent, the contract work rules, and the calendar items to optimize the schedules.
Assigning Agents.
This is the most delicate part of the process. Managers and supervisors want their teams to be useful and productive, but not overwhelmed.
To ensure agents keep engaged and motivated, supervisors usually take into account the level of expertise, length of service, and performance when assigning agents to a specific shift.
Intraday Management.
A lot can happen from the moment the supervisor assigns shifts. Call centres are fast-paced environments with unforeseen events (like sick leaves or sudden spikes of volume) that can happen. Call centre supervisors and managers should be able to easily realign shifts and schedules to meet service levels.
The Impact of Workforce Management.
Other than saving call centre supervisors' time, is there any other advantage of using workforce management software?
Undoubtedly yes. If the contact centre isn't aligned with the rest of the organization, you can't achieve your business goals. Workforce management has a great impact on:
Agent Engagement.
It's not a difficult equation: happy agents make happy customers. Employees that are motivated and engaged create better experiences for customers. While this is not easy to translate directly to the bottom line, you'll see the negative effects of distressed, unhappy employees in the long run.
Workforce management software allows supervisors to leverage performance data to give better feedback, optimize training, and engage agents with metrics so they'll feel motivated to perform better.
Customer Satisfaction.
Customers don't care if you're understaffed. They don't care if call centre supervisors are running spreadsheets or have the assistance of a strong workforce management platform.
Unless that reflects on their experience. Customers want quick, efficient resolution without being put on hold or having to wait for long. Having the right agents at the right moment is fundamental to hitting targets in customer satisfaction scores and providing a stellar customer experience.
Operational Efficiency.
Having data at your fingertips is fundamental to making better business decisions. With the insights taken from the workforce management platform, managers can better respond to business targets without compromising customer and employee engagement.
Budget Management.
If managers don't know how many agents they'll need for a certain period of time, they'll definitely under or overestimate it. While understaffing damages customer satisfaction and the company's reputation, overstaffing will increase significantly your payroll expenses.
Features of a Workforce Management Platform.
From a technical perspective, these are the features you should look for when considering a workforce management platform:
Intelligent Forecasting.
AI-powered platforms help you generate forecasts based on historical and real-time data.
Analytics and Insights.
The ability to create customizable dashboards and reports helps you analyse key performance metrics and make better business decisions.
Automated Scheduling.
Choose a platform that allows you to automate and optimize the scheduling process based on shift templates, break rules, agent skills, and KPI goals.
Adherence Monitoring.
Accurately monitor and compare actual agent behaviour with scheduled activities.
Omnichannel Support.
Generate forecasts and schedules that support your omnichannel workflows.
Smart Agent Requests Workflow.
Manage agent requests through a conversational chatbot and a streamlined workflow that automatically updates schedules for approved changes.
FAQs.
What Is Workforce Management?
Workforce management refers to the task of assigning the right people to the right task, during a certain period of time. It may sound simple, but it includes many managing internal and external factors to be able to:
Forecast staffing needs.
Plan schedules.
Manage employees' time.
Manage call centre's budget.
Monitor and analyse results.
Can't the Supervisor or Manager Just Use a Spreadsheet?
Of course, they can. However, this is a highly fallible method and we do not recommend it. Managing a call centre and its staff means taking into consideration things like work legislation, local agreements, and budgets as well as agents' contracts, skills, and availability. The number of combinations is too large to manage within a spreadsheet, not to mention how time-consuming it is.
Why Opt for a Third-Party Workforce Management Platform?
It's pretty much up to each organization. But there are some factors to consider if you're not sure about an in-house workforce management solution or a third-party software:
How many employees have to be registered, what is the extent of functionalities, and how many registration devices do you need?
Which processes and tasks are expected to be handled through the workforce management solution?
How will the workforce management platform integrate with the existing systems?
Which type of vendor do you prefer: best of breed or a vendor with a broad suite of products?
This blog post has been re-published by kind permission of Talkdesk – View the
Original Article
For more information about Talkdesk - visit the
Talkdesk Website