Webinar: Modernising the IVR
---
Webinar Date
- Thursday 14th May 2020 at 14:00pm UK time
Click here to register
First impressions count. When a customer calls into your IVR, it's likely to be the first point of contact they have with your business, from a conversational perspective.
Unfortunately, in many contact centres, the IVR is a static channel. It is often outdated and has the potential to drag on customer satisfaction.
So, what can you do?
In this webinar, we give you everything from quick fixes to wide-scale changes that will take your IVR system to the next level. And as it will be an interactive webinar, you will also have the opportunity to share tips and ask questions of the audience and other attendees. We run an interactive chat room in parallel with the webinar.
Panellists

Steve Hindley
iNarratorOnHold

Fernando Santos
Talkdesk

Rachael Trickey
Call Centre Helper
Topics to be discussed
Is your IVR messaging right?
How to review your current IVR effectiveness
IVR redesigns for impatient customers
Common IVR mistakes contact centres too often make
New innovations that are modernising the IVR
Top tips from the audience
---
Speaker Biographies
Steve Hindley | iNarratorOnHold
Heading up the creative team at iNarrator OnHold my responsibilities include liaising with clients, undertaking telephone system audits, overseeing script writing and IVR design, voiceover recording and production. I manage day to day operations, ensuring the timely supply of scripts and audio, to make our clients' telephone systems sound great.
Our aim is to supply high quality telephone marketing audio at affordable rates to clients of all sizes from SMEs to large multinational corporations.
On-Hold Marketing Audio - My background in the radio and marketing industries enables me to understand clients' marketing activity, then write effective and engaging On Hold Marketing Audio to reinforce that activity to the full and keeps callers holding the line because lost calls are lost revenue.
IVR Prompt Recording- We provide IVR recording and production services to a range of multinational corporations, ensuring companies create the right first impression when customers call their contact centre. If your contact centre has a high call abandonment rate take a look at your IVR Menu Tree and the quality of the voice prompts; we can help you improve every aspect of callers' experience.
Call Centre Audio - In addition to IVR Prompt Recordings, our team work with call centre managers and marketing departments to improve the whole customer telephone experience. The first point of contact for customers is the telephone and if you don't sound great then you could be losing callers before you get to speak to them.
Connect with Steve on Social Media:
Linkedin
Fernando Santos | Talkdesk
A marketing enthusiast with a passion for Digital Marketing. Defining strategies, analyzing metrics, delivering the best content and permanently looking for innovation are my true drivers. Lead generation and nurturing through Marketing Automation have been some flagship projects of my B2B IT marketing caree
Connect with Fernando on Social Media:
Linkedin
|
Twitter
---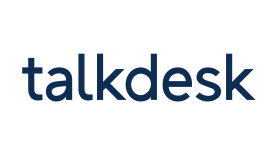 This webinar is brought to you by Call Centre Helper and is sponsored by Talkdesk.
You won't want to miss this exciting webinar.


Click here to register
This webinar is held at 14:00pm UK time, 15:00pm in Paris, 15:00pm in South Africa and 9:00am in New York. A replay facility will also be available.
If you are attending one of our webinars for the first time, we suggest you arrive 10 minutes early to allow for the software to download successfully.
---