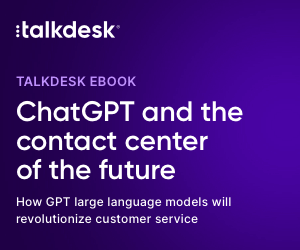 First impressions count. When a customer calls into your IVR, it's likely to be the first point of contact they have with your business, from a conversational perspective.
Unfortunately, in many contact centres, the IVR is a static channel. It is often outdated and has the potential to drag on customer satisfaction.
So, what can you do?
In this webinar, we give you everything from quick fixes to wide-scale changes that will take your IVR system to the next level.
Agenda
Introductions – Rachael Trickey, Call Centre Helper
Steve Hindley, iNarratorOnHold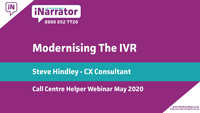 Fernando Santos, Talkdesk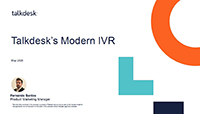 Topics Discussed
Is your IVR messaging right?
How to review your current IVR effectiveness
IVR redesigns for impatient customers
Common IVR mistakes contact centres too often make
New innovations that are modernising the IVR
Top tips from the audience
Winning tip – "Keep your options as simple as possible! We recently moved from giving customers specific options like "for help with signing in, billing questions, etc" to just "for customer service" and we are seeing calls routing to the correct queue more often" thanks to Laura51
Original Webinar date: 14th May 2020
Webinar Timeline
0:11: Introductions – Rachael Trickey, Call Centre Helper
3:37: Steve Hindley, iNarratorOnHold Presentation
12:08: Poll with results from the audience. Asking "On a Scale of 1-5 – What Kind of First Impression Does Your IVR Create?"
17:08: Poll with results from the audience. Asking "Who Recorded the Messages on your IVR System? "
26:57: Take-aways from Steve's presentation
27:53: Quiz
31:36: Top Tips, Opinions and Questions from the audience
35:39: Fernando Santos, Talkdesk Presentation
43:52: Poll with results from the audience. Asking "Do you change your IVR in Emergency Situations?"
48:51: Take-aways from Fernando's presentation
49:21: Top Tips, Opinions and Questions from the audience
57:49: Winning Tip
Panellists

Steve Hindley
iNarratorOnHold

Fernando Santos
Talkdesk

Rachael Trickey
Call Centre Helper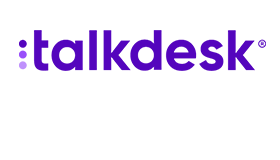 This webinar was brought to you by Call Centre Helper and is sponsored by Talkdesk