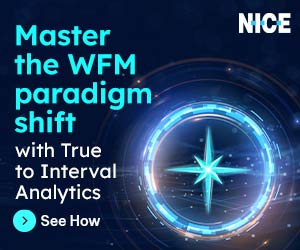 Customer self-service capabilities have been helping manage workload in contact centres for decades. IVRs have been automating self-service since the 1970s. Improvements in search engines have given customers direct access to knowledge base systems to conduct their own troubleshooting and problem-solving.
These and other tools have been running alongside the contact centre workforce for many years, giving the contact centre a much-needed reprieve in headcount requirements. In today's world, the newest self-service gadget is the "bot".
The COVID-19 pandemic accelerated not only the adoption of digital channels but also the widespread use of bots in contact centres. Before the pandemic, clients used chat and AI bots less than 10% of the time, but that could reach up to 35% by the end of 2021, according to Bloomberg.
Eight in 10 consumers are more willing to do business with companies that offer self-service options, a survey by NICE found, and 74% of chat interactions result in a first-contact resolution—higher than that of agent-assisted transactions.
In fact, AI trained by subject matter experts to analyze contact centre interactions claims companies can reduce support ticket volume by up to 80% and cost by over 90% per customer contact, according to VentureBeat.
That increase in usage—and the benefits contact centres realize as a result—has raised some key questions related to the role of workforce management (WFM) in a bot-infused world. Here's what you need to keep in mind.
WFM Forecasting
Robust WFM systems are focused on workforce management, which is where the challenging business problems lie. That means WFM should capture the contact history of the work hitting the employees, not the history of what bots, IVR, or other self-service channels have handled.
As a result, the forecast for planning employee headcount will already be cleaned of what bots/IVR/self-service channels are doing. If the bot/IVR/self-service success rates increase, then the history of what is hitting the agents automatically decreases.
If the bot/IVR/self-service success rates decrease, then the history of what is hitting the agents automatically increases; there's no user intervention required.
WFM Scheduling Practices
The effectiveness of your bots has no direct bearing on how you schedule employees.
The impact of bot activity indirectly impacts employee schedules through the natural ebb and flow of customers using self-service – the ebb and flow will appear naturally in the employee-based history collected for the purpose of forecasting demand and scheduling employees.
The misconception of managing employee headcount based on bot activity is no different than the misconception of managing employee headcount based on IVR completed transactions or any other customer self-service transactions—there's no need to take one into account for the other.
Just as you wouldn't look to your WFM system to plan employee schedules around IVR success rates, there's no need for a WFM system to plan employee schedules around bot success rates.
This is true when you focus the attention on what matters at the point of data collection: the management of the workforce.
WFM Change Management
WFM forecast algorithms should be built to self-adjust and understand the indirect impact of changes in self-service success rates. These self-adjustments came about with the proliferation of IVRs in the 1980s.
The algorithms automatically scrub the queue history to remove outliers that may be caused by unexpected changes in bot/IVR/self-service success rates. They pick up on the ebb and flow of what the bots/IVR/self-service are (or are not) doing.
In addition, the WFM system should generate a forecast per interval, not per day, which significantly improves the contact centre's ability to respond quickly to unique changes in bot/IVR/self-service success rates that may be time-of-day sensitive.
With a strong WFM system like NICE WFM, automated intraday reforecast algorithms automatically adjust the employee forecast in near real-time based on the bots/IVR/self-service success rates.
Bots—and their ability to understand complex customer service scenarios—are improving at an unprecedented rate, and the market share is nowhere near saturated.   The good news is that WFM solutions on the market today are already set up to accommodate this increase in usage.
There's no need to schedule bots in WFM; this results in the contact centre having to license additional seats for the bots in WFM—an added, unnecessary expense.
This blog post has been re-published by kind permission of NICE – View the
Original Article
For more information about NICE - visit the
NICE Website