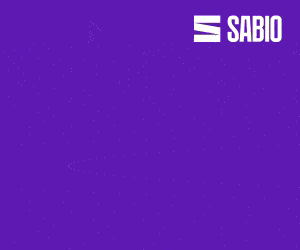 Paul Conlin of Sabio discusses what customer experience or "CX" is and why it matters.
Customer experience is vital to the success of a huge variety of businesses. But what is customer experience?
Customer experience is how your customers perceive your brand after one or many interactions. Customer experience, often shortened to CX, is made up of many different factors or touchpoints, including:
1. Your Website
It should be intuitive and easy to navigate your website. Does your website work on a mobile? Is it fast or painfully slow? All style but no substance?
Is your website a sales or service tool? If sales, is your website up to date with the latest stock details, opening times and contact details? If service, can your customers find the support and help they are looking for or is it like searching for a needle in a haystack?
2. End-to-End Journey
Having a flashy website doesn't solve the CX question. Is your end-to-end customer journey consistent with the website experience? Do you have products in stock or is there a delay for items? What about your logistics partners/channel, is that a consistent experience for your customer?
If you employ your own delivery or installation teams, are they trained and supported to answer customer queries and resolve any issues?
3. The Contact Centre
If there are long call-wait times for customers to speak to your contact centre, this can be frustrating for customers – especially if there's particularly annoying on-hold music! Do you know your customers and offer a personalized experience and relate the engagement to where they are in their customer journey?
When customers do get through, they expect agents to be polite, friendly, easy to hear and knowledgeable. Do your agents have the necessary tools and information available to offer exceptional customer experience?
Ultimately, customers want to resolve their issues in one phone call. Only transfer to another agent in exception, and when you do, ensure it's seamless and the customer does not have to repeat the information again.
4. Your Chatbot and Live Chat
Some chatbots and virtual assistants answer questions brilliantly – Sabio's virtual assistant typically cuts enquiries to a contact centre by 30%. But poorly designed bots can confuse customers, driving them to pick up the phone or just give up and shop elsewhere.
If your website uses live chat, does that help to resolve customer queries quickly? It is critical to use the right technology and the right time for the right customer, if a chatbot can help for complex engagements, don't offer a chatbot, rather offer human contact.
5. Your Premises
Are they clean, accessible and worth the effort of travelling there for customers? Are they consistent with the online branding and experience?
Do they feel safe in the current climate? Your staff should be welcoming and knowledgeable. They are some of the strongest ambassadors for your business.
6. Your Social Media Channels
Are they up to date, in line with your brand values and tone of voice, and frequently monitored? Things move fast online so it's important that customer queries are answered in a timely manner.
Many brands that don't monitor social media channels outside office hours make this clear in their bio.
7. Your Products and Services
Do you offer quality products and services that your customers actually want? Have you asked your customers this question? Sabio's Voice of the Customer solutions can offer invaluable insight into how your customer really feels about your organization and branding.
8. Marketing and Advertising
Customers can be disappointed and even angry with brands if they get their marketing wrong. Advertising must always be on brand and promise only what the business can deliver. Do not over-promise but under-deliver.
All of these CX elements contribute to your overall customer experience. If one goes wrong or falls short of customer expectations, that can negate any positive experiences that came before.
For example, it's easy to forget how quick and easy it was to buy that book online if the wrong one's delivered, or it's damaged when it arrives and has to be returned.
However, businesses come in many different shapes and sizes, so all of these customer touchpoints won't always apply. And some customers may only ever encounter one or two of them.
For example, many banking customers choose to bank online. While they may chat to a contact centre agent occasionally, they do not visit their local branch.
For any business to improve the overall customer experience, it's important to focus on the things that matter most to your customers. But first, you need to find out what those are.
Improving the Customer Experience
The key to improving the customer experience is research.
Start by researching the market and your competitors. What already exists out there that's similar to your offer? What do competitors do better or worse than you? How do your products and prices compare?
Visit your competitors' stores, download their app, try out their chatbot – put yourself in their customers' shoes. And then do the same for your business.
Next – and this is really, really important – do primary and secondary research on your audience or audiences. You need to ask your customers what they think and what they want from you. We see many businesses who believe they know what customers want. But customer demand changes rapidly, as does the technology available.
Who would have thought, for example, that in the space of a few weeks in 2020 demand would surge for toilet roll, self-raising flour and face masks?
For many businesses to survive the initial lockdown and meet customer demand, they had to adapt their business model, working practices and CX almost overnight. The challenges were huge. But many companies and sectors showed that it could be done.
A great customer experience should create an emotional connection with your audience. You'll never achieve this if you don't take the time to understand what matters most to them right now.