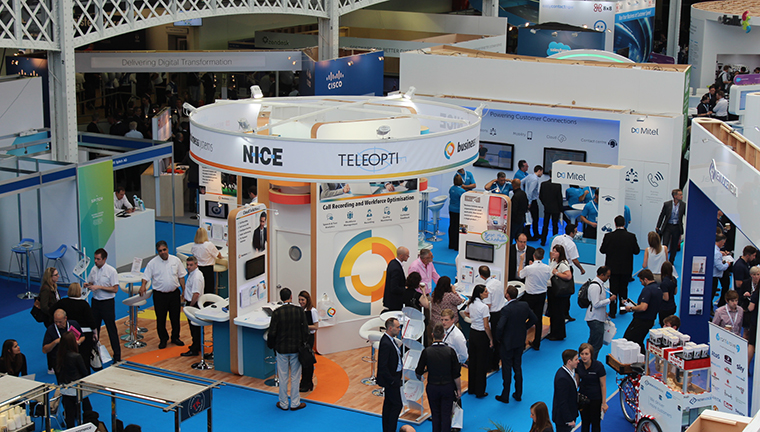 405
Filed under -
Archived Content
,
Aspect
,
Business Systems
,
CallMiner
,
Ctalk
,
Customer Contact Expo
,
Genesys
,
IFS
,
injixo
,
QuickScripts
,
Syntec
,
Ultra
,
Verint
The Customer Contact Expo 2016 will be taking place on 28 – 29 September 2016 in London. Find out what not to miss while you are there!
Aspect Software – C620
The launch of Aspect Via will be celebrated on Aspect's stand at 3pm – 5pm on Wednesday 28th September with a special drinks reception, with a personal appearance by Great British Bake Off 2015's Mat Riley. Mat will be presenting Aspect with a very special cake and is available for photos and autographs on a first come, first served basis.
11:40 AM 12:00 PM – Redefining customer service, planning & colleague engagement in a multi-channel environment
Solution Theatre Workplace
Speakers
Colin Whelan, Senior Solutions Consultant, Aspect
---
Business Systems – C440
Can you beat the scheduler?
Eager for a chance to show off your scheduling and resource skills? Then test your skills in our latest game – Beat the Scheduler. It's simple – look after your 10 man team by moving their lunches around in 5 moves to improve the service level to 85.2%. Can you beat the scheduler? Prizes are up for grabs if you do!
Win a GoPro!
When at our stand, don't forget to enter our competition where you will be in with a chance to win a GoPro Hero 4! One lucky winner for each day – will it be you?
Speaking slot: Analytics & Agent Insight
Don't miss our talk on Analytics & Agent Insight in the Customer Experience theatre 28th September @ 10:15am, and discover how Interaction Analytics and Business Intelligence can drive a culture of performance and success within an organisation.
Consultancy Clinic Slots
Don't miss out on your chance to book in a complimentary expert consultancy slot with one of our Business Systems advisors where you can discuss in more detail specific technologies and best practices, as well as fresh ideas on the latest and greatest contact centre trends.


---
Genesys – C630
Genesys' customer Marks & Spencer will also be speaking about eCommerce on the morning of the 28th September.
10:00 AM 10:30 AM – Disposable ecommerce: Going bigger, faster, sharper & cheaper
Customer Insights Theatre
Speakers
Sam Hill, Chief Architect for Digital, Marks & Spencer
---
Interactive Intelligence – C540
Visitors to our stand will also get the chance to re-imagine what they think the future of customer experience will look like, with demos and insights from contact centre experts about technology that enables contact centre agents to do just that.
There's also a photo opportunity with a real DeLorean, so make sure to drop by and pick up your photo!
11:40 12:20 – Hacking your assets: The price of convenience
Conference Theatre 2
Speakers
Ralph Echemendia, Cyber Security Expert, On behalf of Interactive Intelligence
10:15 AM 10:35 AM – Improving large healthcare organisations' strategic contact centre planning process with Interaction DecisionsTM
Solution Theatre Workplace
Speakers
Jos Mols, Business Development Manager EMEA for Interactive Decisions, Interactive Intelligence
---
mplsystems Limited – C610
CEO Paul White and Software Developer Neal Jones will be hosting a keynote session during the Expo on the rise of AI and Virtual Assistance in the Contact Centre. The session will look at real examples of contact centres who are implementing virtual assistants and automated chat as part of their digital strategy and explain how this is integrated into the contact centre to ensure a true omni-channel customer journey.
You can catch mplsystems' keynote session in the Customer Experience Theatre at 12.30pm on the 28th September 2016
---
Professional Forums Ltd – C1342
02:30 PM 03:00 PM – 7 secrets to customer-focused ecommerce
Customer Insights Theatre
Speakers
Chris Rainsforth, Senior Customer Contact Specialist, The Forum
Paula McKillen, Head of Customer Experience Development, RS Components
---
Syntec – C435
Integrated contact centre systems specialists and level 1 PCI DSS service providers Syntec are hosting a keynote session on:
How to de-scope your contact centres from PCI DSS compliance whilst ensuring seamless multi-channel customer service & trust for your customers
28th September, 14.00 to 14.20 in the Solution Theatre Customer Experience:
Speakers
Simon Beeching, Business Development Director, Syntec
---
Ultracomms – C430
As a PCI DSS level 1 certified service provider, Ultracomms will also be hosting a keynote session 'Everything you ever wanted to know about PCI DSS compliance but were afraid to ask' in the Customer Experience Theatre on 29th September at 11.40am.
They will also have their compliance experts available on the stand to answer any questions.
---
Verint Systems – C622
29 September 2016 at 10:15 AM 10:35 AM – Technology & cultural adoption: how to get the most of your WFM solutions
Solution Theatre Workplace
Speakers
Graeme Gabriel, Strategic Back Office WFO Consultant EMEA, Verint
---
Aspect Software – C620
Business Systems – C440
Callminer – C430
Contact Babel – C704
Ctalk and QuickScripts – C510
Freshdesk – C410
Genesys – C630
Greenlight CRM – C450
Interactive Intelligence – C540
injixo – C402
KURA – C552
mplsystems Limited – C610
Professional Forums Ltd – C1342
Syntec – C435
Ultracomms – C430
Verint Systems – C622
Published On: 21st Sep 2016 - Last modified: 22nd Mar 2017
Read more about - Archived Content, Aspect, Business Systems, CallMiner, Ctalk, Customer Contact Expo, Genesys, IFS, injixo, QuickScripts, Syntec, Ultra, Verint
---